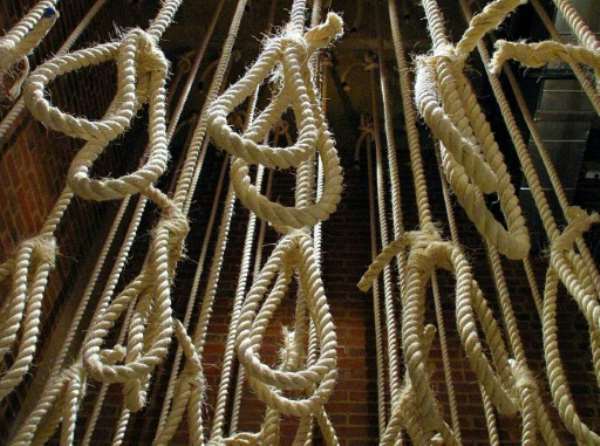 The right to life is a fundamental human right in any society irrespective of one's tribe, race, creed or culture. The right to life is a universal right and it is the duty of the state to ensure that each and every person enjoys this right. However, various jurisdictions recognise permissible limitations on this universal right, like in the case of Nigeria. Section 33 (1) of the Nigerian constitution specifically the cited section provides the death penalty in some crimes which include: murder, treason, and conviction for armed robbery etc. This section was often abused especially by the military regimes as a way of fighting political and ideological differences.
The death penalty is "often used as a tool for political repression or disproportionately imposed on the poor and powerless."[1] It is the ultimate form of cruel, inhuman and degrading punishment. So, on December 2012, the National Assembly approved an amendment to the 'Terrorism (prevention) Act 2011, confirming the death penalty for acts of terrorism. The bill was passed by the House of Representative on 11 October and by the Red Chamber (Senate) on 17 October. But the contradiction was that the senate version prescribed life imprisonment for the offences under this clause while the Green Chamber prescribed the death penalty. According to them, this law would provide effective prevention and combating of acts of terrorism and the suppression of the financial sponsors. It defines "act of terrorism" as any act that involves or causes an attack upon a person's life which may cause serious bodily harm or death; kidnapping of a person; destruction of a government or public facility, transport system, an infrastructural facility including an information system, a fixed platform located on the continental shelf, public places and public property likely to endanger human life or result in major economic loss."[2]
The same law was put in another form by the Delta State House of Assembly. The Assembly also stipulated the death penalty in a bill entitled "Law to Prohibit Terrorism, Kidnapping, Hostage-taking, Cultism, Use of Bombs and Explosives and other matter thereto."[3] It was in the best interest of the Deltans (commoners) when Governor Uduaghan declined to sign the bill into law in 2010 and 2011 on the grounds that the death sentence has not stopped the perpetuation of capital crimes since it was introduced into our constitution. By this very patriotic and courageous act, the Governor implies that the death sentence cannot serve as deterrent or antidote to crime.
Even before the presentation of the above bills for consideration, already president Obasanjo made some positive moves to eliminate death penalty in the constitution by his act of pardoning some convicts. That is why in January, 2000 president Obasanjo pardoned death row inmates who had been awaiting execution for over 20 years and commuted to life the death sentence of inmates who had spent between 10 and 20 years on death row. Obasanjo when explaining his action to the HOC delegation said, "as president I am committed to saving lives and not eliminating them."[4]
Thinking this trend would continue, on June 24, 2003, Nigeria abandoned her moratorium on executions and hanged four persons in Benin prison. They were Chima Ejiofor, Daniel Nsofor, Osarenmwinda Aigbuoman, and Richard Igagu. They were convicted of offences ranging from murder to rape and arm robbery. It is sad to state that many a citizen have been laid six feet under because of this law and, sometimes the judgements were not fair since our judiciary itself lacks independence, credibility and fairness. For instance, in 2013, at least 141 death sentences were pronounced, mostly for murder and other crimes such as armed robbery. In 2012, 56 people were sentenced to death, compared to at least 72 people in 2011 and at least 151 in 2010. At the end of 2013 according to Amnesty International, 20 juvenile offenders were on death row in Nigeria[5]. By executing juveniles, the problematic state of this law on death penalty makes it worrisome and questionable as far as morality is concerned.[6]
In recent times, the sentence of military officers who sacrifice their dear lives in fighting Boko Haram insurgents is still fresh in the minds of Nigerian and international communities. On September 15, 2014, 12 soldiers were convicted by the general court-martial. The soldiers were tried on sundry charges ranging from disobedience to a particular order, insubordination, false accusation, criminal behaviour, conspiracy to commit mutiny, and mutiny under the Armed Forces Act 2014. As if that is not enough, on December 17, 2014, after a secret trial of 111 Special Forces Battalion in Abuja, 54 soldiers were charged with criminal conspiracy to commit mutiny and mutiny and were sentenced to death by firing squad by the Nigerian Army's 7 Division General court-martial. The officers were accused of disobeying the order of their commanding officer to dislodge the insurgents in north-east, Nigeria[7].
On the contrary, according to war analysts and seekers of justice, the soldiers refused to take part in the operation because of the failure to provide adequate and up-to-date equipment. If this is true, then the army hierarchy is prosecuting these junior officers to cover up their own failure as well as their corrupt practices, since the money for arms and ammunitions was granted and withdrawn. This ugly behaviour makes the ex-army General Williams[8] lament, "those playing politics with the lives of these soldiers who were being sent to commit suicide in the name of fatherland and they refused, have to be ashamed...The army's top hierarchy is covering up its weaknesses by court-martialling these soldiers." He added, "anywhere in the world, a soldier/soldiers is/are allowed to disobey orders which will lead to certain death because of poor officership or inadequate logistics.[9]"
It is crystal clear that the army hierarchy has a second agenda for this unpatriotic act of sentencing these young officers to death. Furthermore, it is painful to state that most of the soldiers who are been convicted joined the army around 2012 with little experience or tactics of war. The question that is ringing in the hearts of many Nigerians and the seekers of justice is: Where are the army generals, lieutenant generals and major generals? Where are the brigadier generals, colonels and lieutenant colonels? Instead of going to defend the territorial integrity of their nation, they remain adamant and prefer to divert the money which is meant for the salaries and for the purchasing of arms to their selfish, corrupt and personal use. Sadly, "instead of bringing such unpatriotic officers to book, the military authorities have engaged in the diversionary tactics of wasting the lives of innocent soldiers by sentencing them to death without any legal justification."[10]
To confirm to the fullest the dubious, unpatriotic and corrupt nature of the army authority, it will be of importance to examine and analyse critically the experience of an officer who left the service because of inhuman and cruel treatment meted out by the army authorities. He cried, "it is pertinent to let you know how we were equipped for the war. Before the battle, they gave us three armoured tanks, three artillery guns, five APCs, grenade launchers and AK47 rifles with three magazines per soldier. But on the day we started advancing, only one armoured tank, five APCs, and artillery guns advanced with us.[11]" He added, "We were supposed to be paid N5000 daily but what our commanders paid was N1000. If you sustain injury in the battle field, you spend your money treating yourself. The worst is that we were not adequately equipped for the war. We only got to the battle field with our rifles, no kits, no vision goggles etc and this is an oil rich country where politicians embezzle trillions yet, this battle that calls for the best in both incentives, morale and equipment is being fought this way at the grave expense of our dear lives."[12]
Despite the conviction and the strong desire by the army hierarchy to bury the truth and avoid justice, the slain soldiers have been vindicated. The evil intentions of unpatriotic people have been thwarted. According to the people's lawyer, Falana, "in view of the disclosure by the government that it had just acquired adequate equipment for the armed forces and invited foreign instructors to train the soldiers on the use of the equipment, the officers and soldiers who had consistently demanded for weapons to fight the war had been vindicated."[13] Therefore, the basis of the conviction and sentence of the soldiers can no longer be justified. It also questioned the morality and the constitutionality of the death penalty in our statute book since judicial independence and fair legal trials are rare in the country.
Another good demonstration and call from a distinguished Nigerian, Justice Sylvester Ngwuta of the Supreme Court of Nigeria on 29 June 2013 stressed that the death penalty should be expunged from the country's statute book. He wondered whether it could really help to eradicate crime in society. He added that two wrongs do not make a right and, thus he opined, "some of the crimes really stink to high heavens but then that doesn't make it a situation. You kill ten today, ten commit the same offence tomorrow.[14]" To support his position, a learned colleague of his, Justice Oloboba of Lagos High Court in 2012, nullified the death sentence passed on five persons who were convicted for various offences between 1984 and 1995. Oloboba described the said sentence as a violation of the right to human dignity of a person as provided by section 34(1) of the 1999 constitution. He explained, "Death by hanging or by firing squad amounts to a violation of the condemned's right to dignity or the human person and inhuman and degrading treatment. It is consequently unconstitutional."[15]
It is true that the constitution specifically provides for the death penalty and the Supreme Court has, in a plethora of cases, upheld the constitutionality of the death sentence in Nigeria, but does that make it moral? If the judiciary were fully independent and adjudicated according to the constitution without discrimination or favour, then, the constitutionality and morality of the death sentence would have been praised by the seekers of justice. But the question still remains, who are the people most affected by this law? Are they not those from poor backgrounds? How many Presidents, Governors, or Senators etc have been sentenced to death? Yet, these people's lives are known to be full of criminal activity. Is our judicial system independent, impartial and courageous enough to give fair hearing and trial to a common person in the society? Experience have shown a capital NO. Nobody is justifying criminality or encouraging the proletariat to revolt but the reality remains. Most victims of this law are those from the slums and poor backgrounds without any political or economic muscles in the society.
Again, the Nigerian government seems to contradict itself when signing international documents and treaties, which recognise the inalienable right to life. It sometimes makes one wonder because the government signed the United Nation Declaration of Human Right adopted by the United Nations General Assembly in December 1948, which recognises each person's right to life. Article 4 and 5 of the African Charter also re-emphasized this inalienable right to life and Nigeria is a signatory to it. Nigeria, also ratified the Rome Statute of the International Criminal Court, which provides life imprisonment as the maximum penalty that the court can impose, yet the government is not adhering to those signatories. If such treaties are invalid by virtue of section 1 of the Nigerian Constitution, why do they sign them in the first place?
In this case, 'the seekers of justice' are calling on Nigerians and parliamentarians to have a rethink about the desirability of a moratorium on the death penalty. And since such a moratorium could not be sustained without a constitutional review and amendment, the government must look for alternative means if it feels too cumbersome. Life is a gift and must not be joked with. That is why Pope Francis affirms in his encyclical by quoting Saint John Paul II that "death penalty is inadequate from a moral standpoint and no longer necessary from that of penal justice. There can be no stepping back from this position. Today we state clearly that "the death penalty is inadmissible" and the Church is firmly committed to calling for its abolition worldwide."[16] Death penalty is never an antidote for crime.
By Aondoer Cyprian Chia: A seeker of justice, a patriot and citizen of the world and finally, a student in search of God and of world peace.
---
[1]Amnesty International Report 1993 (London: Amnesty International Publications, 1993), 15.
[2] Cf. www.handsoffcain.info/bancadati/sch...(12/9/2014).
[3] Ibid.
[4]www.handsoffcain.info/bancadati/sch... (12/9/2014).
[7] Cf. https://www.voanews.com/africa/54-nigerian-soldiers-sentenced-death-mutiny.
(21/11/2020). Or, Cf. https://www.premiumtimesng.com/news/headlines/173538-exclusive-inside-the-secret-military-trial-leading-to-death-sentence-for-54-soldiers.html (21/11/2020)
[8]Mr Williams was the chief of Defence Operation, Planning and Training at the Defence Headquaters before resigning in 1993. He is a former honorary Secretary General of Transparency in Nigeria (TIN) and currently the executive secretary of s security research organization, Pan African Strategic and Policy Research Group (PANAFSTRAG). Cf. www.premiumtimesng.com/news/headlin...
[9] Ibid.
[10]www.huffingtonpost.com/2014/18/n...
[11]See the Online Version of Vanguard News on the heading, Boko Haram: Battle-field of a Military Deserter in www.vanguardngr.com/2005/02/boko.
[12]Ibid.
[13] Cf. Online Version of Thisdaylive of Monday on the heading, Falana Calls for Release of Convicted Soldiers or see, www.thisdaylive.com>HOME>NEWS.
[14] Cf. http://www.handsoffcain.info/bancadati/africa/nigeria-18000067 (21/11/2020).
[15] Ibid.
[16]Cf. Pope Francis, Fratelli Tutti, no. 263.