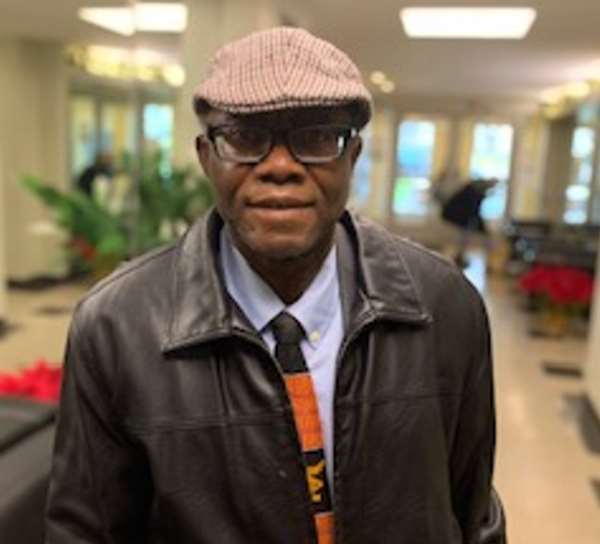 Appearing before the Parliamentary Appointments Committee (PAC), Ms. Sarah Adwoa Safo, the US-educated lawyer and former conjugal spare-tire of Mr. Kennedy Ohene Agyapong, the well-known Assin-Central Member of Parliament and media mogul, at least by Ghanaian standards, was reported to have declared war on the Lesbian, Gay, Bisexual, Transgender, Queer and Intersexual (LGBTQI) Community (See "LGBTQI 'Nonnegotiable Criminality' Culturally 'Unacceptable' – Adwoa Safo" Modernghana.com 2/17/21). You see, we cannot simply choose what or which mores and/or moral principles best suit us at whim and then proscribe all the other equally momentous principles and edicts which we self-righteously deem not to apply to us.
First of all, we need to critically and deeply interrogate the basis and philosophical and practical origins of the law or laws prohibiting non-heterosexual expression of the sort that the Dome-Kwabenya New Patriotic Party (NPP) Member of Parliament (MP) cited to roundly condemn homosexual existence and lifestyle, when the daughter of renowned industrialist and auto manufacturer Apostle Kwadwo Safo, also a former Kennedy Agyapong concubine, appeared before the PAC. What yours truly is obviously getting at here is that in order to perfectly stand to reason, Ms. Safo and her ilk of parliamentary associates and self-appointed moral and cultural policemen and women must be able to categorically point to any established customary and common laws in any of our major indigenous cultures that expressly and unreservedly prohibit the voluntary decision by two consenting adults to either regularly and perennially cohabit with one another or consort with one another in a conjugal setting or manner.
Already, Ghanaians accept the sort of clerical homosexuality that runs riotously rampant in the Roman Catholic Church in the dubious Pauline name of Celibacy, and the latter's attendant lurid acts of pedophilia and the sexual molestation of young women and nuns, especially on the African Continent. So whence comes this self-righteous hifalutin rhetoric and liturgical nonsense about Gay Rights being a gross violation of normal/natural human behavior? Then also must be promptly observed that the age-old practice homosexuality far preexist either of the two major transplanted religions in the country, namely, Christianity and Islam, both of which have Judaic/Judahite provenance or roots. If gay lifestyle precedes the "Holy Scriptures," and here I also include such major Eastern Religions as Hinduism, Sikhism, Buddhism and Shintoism, then there may very well be fundamentally something inescapably "natural" about the practice, its belated Biblical/Scriptural proscription or express prohibition notwithstanding.
You see, we, heterosexual humanity, cannot cavalierly impose our peculiar or unique set of sexual habits and preferences or lifestyle on members of the LGBTQI community merely because we think and believe that we have the coercive powers of the State to legislate our sexual preference or preferences. We need to come up with a far better justification than such glib and thoughtless mythical nonsensicalities and inanities as "Be fruitful, increase and multiply." If the preceding mantra were that sacred, as many an ultra-conservative Christian and Muslim would have the rest of us believe, then it logically goes without saying that the very basis and purpose of Family Planning or Planned Parenthood may be deemed to be the most execrable or detestable act of criminality to have been introduced into the healthcare system of Civilized Modern Society. The preceding, of course, happens to be the case with the members of the ultra-conservative Christian and Muslim communities. But there is also a far greater number of neoliberal Christians and Muslims who believe in Planned Parenthood and Population Control.
Now, what Adwoa Safo needs to do is to look Ghanaians straight in the face and in the eye and boldly and frankly tell us whether her rather morally lax and patently untenable decision to scandalously "conjugate" or "congress" with the "Assin Republic's Life-President," as one of Mr. Agyapong's well-known platoon of "Side-Chicks" and "Baby Mamas" recently had occasion to jab and gibe on social media, was one of the rarefied and cherished Christian principles and precepts taught her by her beloved father, Apostle Kwadwo Safo. And by the way, does the same Eurocentric statutory law or act that Ms. Adwoa Safo cited to shore up her argument against LGBTQI lifestyle promote polygamy or the multiple conjugal lifestyle or "Mpenatwe" – in the Akan language – of the kind of which the Minister-Designate for Children, Gender and Social Protection was a willful and prominent participant for quite sometime before her recent decision to "acquire" her own conjugally unattached husband?
Truth be told: And it is that absolutely no one group of Ghanaian or Global Humanity has any superior claim to ownership of this Earth any more than any other group of earthlings. If, indeed, as Judeo-Christian and Islamic precepts and/or principles counsel, "Vengeance is the exclusive preserve of Divine Providence," then it clearly violates common sense and humility for heterosexual humans to so casually presume that we have a fundamental inalienable human right to wantonly persecute those who do not either think or behave like the rest of us. This is the very height of the sort of pride and arrogance that make us far worse humans than those whose detested lifestyles we so cavalierly presume to be obligated to rectify on the dubious grounds of Manifest Destiny or collective moral self-righteousness. There are some ethnic groups in Ghana that I personally would love to have proscribed out of human existence. But do I really have an inalienable constitutional right to do so? Remember that age-old Ewe dictum: "Blewu, Nyebro!"
*Visit my blog at: KwameOkoampaAhoofeJr
By Kwame Okoampa-Ahoofe, Jr., PhD
English Department, SUNY-Nassau
Garden City, New York
February 25, 2021
E-mail: [email protected]