NPP briefed on Amoako Tuffuor death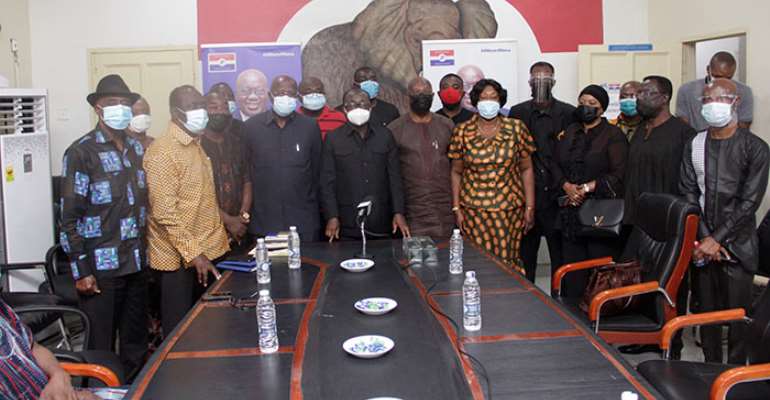 THE FAMILY of the late Dr Kwame Amoako Tuffuor has officially notified the ruling New Patriotic Party (NPP) of his demise.
On Monday morning, a delegation from the family visited the NPP Headquarters in Asylum Down, Accra, where they formally broke the sad news and presented two bottles of schnapps in accordance with customary practices.
Speaking on behalf of the family, Edward Kwasi Akuoko, a representative of the NPP in the Ashanti Region, disclosed that the late Dr. Tuffuor "was not too well" for some time and was sent to the 37 Military Hospital in Accra for medical attention where he unfortunately passed on.
According to him, some members of the family, including the children, informally visited some leading members of the NPP to inform them about the demise of Dr. Tuffuor who was the first head of the Ghana School Feeding Programme.
"After informing the party at the regional level, it is right that the family comes to the leadership of the party to do same.With heavy hearts, we are here to formally inform the leadership of the party that sad as it may be, our dear father, and your own colleague is no more here with us," Mr. Akuoko announced.
In his remarks, National Chairman of the NPP, Freddie Blay, described the late Tuffuor as "a good fighter and example" to many.
"We have always known that he was a good fighter. It is always good to be on his side or for him to be on your side. He fought a good fight and I believe he was a good example to the younger generation and to members of the party, particularly the leadership," he said.
He assured the family of the party's unflinching support and cooperation in ensuring that the late doctor was given a befitting burial.
"Our role is that we will be with you and stand by you in these moments of grief.
"We assure you, the family, that we will put together a team led by the National Organizer, Sammi Awuku, and the National Women's Organizer, Kate Gyamfuwaa, to work closely with you to ensure that everything goes on successfully," he said.
---Daily Guide