Nkrumah Mausoleum Is a Japanese Idea – Part 1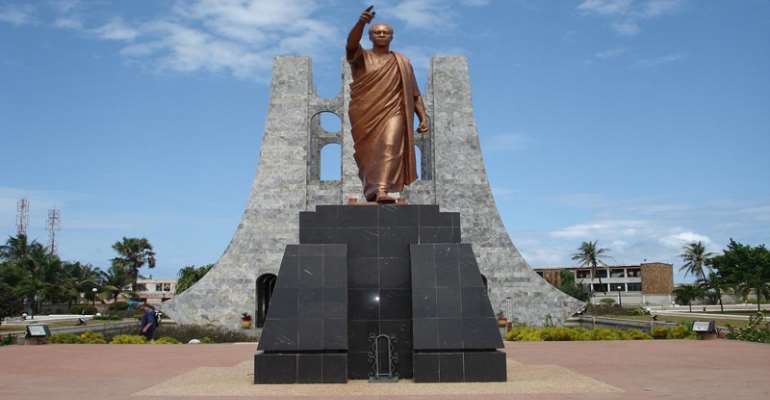 He prides himself with being a very good historian, so I expected Capt. (Retired) Nkrabeah Effah-Dartey to know that it was a visiting Japanese Prime Minister who first asked to be shown the tomb of Ghana's first postcolonial leader, President Kwame Nkrumah, assuming the same to be located somewhere in the Greater-Accra Metropolis, only to be disappointingly informed that he needed to travel by road some 200 miles west towards Ghana's border with the Ivory Coast (Côte d'Ivoire), to the village of Nkroful, before he could be shown Nkrumah's tomb. If memory serves me accurately, that Japanese Premier would eventually make it to Nkroful and to the tomb of Ghana's globally celebrated African Show Boy, to lay a wreath on the tomb or in the tomb of the immortalized Ghanaian leader.
It was also the same Japanese Prime Minister who was widely reported by the local Ghanaian media at the time to have suggested that a more meaningful way of preserving the memory of Mr. Kwame Nkrumah was to have the fast-deteriorating mortal remains of the Ghanaian leader relocated to the more appropriate and convenient location of Accra, where visitors converging on Ghana's capital for various reasons and purposes, all-year-round, could pay their respects to our country's most renowned and celebrated leader. The foregoing, in essence, is precisely how the Kwame Nkrumah Mausoleum came to be so majestically constructed and located in Accra. By and large, Ghanaians do not tend to be generously endowed with a remarkably progressive sense of the jealous preservation of our history and our national memory.
So, we continue to hopelessly wallow in willful or self-imposed ignorance, thus being significantly diminished in stature and global might than we could otherwise have become. We witnessed the same abject lack of a salutary sense of history when it came time for the historic construction of the Chinese Government-sponsored National Theater in Accra, on the same location as the erstwhile Efua Sutherland-constructed Ghana Drama Studio or the Ghana National Experimental Theater, originally constructed in 1958 or thereabouts. As Prof. Mohammed Ben Abdallah once told me the story nearly 20 years ago, the Rawlings-led junta of the erstwhile Provisional National Defense Council (PNDC) was lightning-speed-ready to totally demolish the old Drama Studio, until the visibly bewildered and disappointed Chinese architects and builders of our present National Theater rather shamefully enlightened our local Ghanaian leaders about the imperative need to preserve the rich historical and cultural legacy represented by the Drama Studio, the same open-air theater where I first saw my first professionally, or rather seriously, performed play by students from the erstwhile School of Music and Drama of the University of Ghana, our beloved country's premiere tertiary academy and my later father's alma mater. That was in the summer of 1967 or thereabouts.
As Prof. Ben Abdallah, the renowned playwright and former Ghana's Cultural Affairs Minister, told me, with a glint of delight in his eyes of epiphanic dimensions, what the Chinese architects and builders of the National Theater did was to sectionally remove the prefabricated walls and structures of the Efua Sutherland-built old Drama Studio and carefully transport the same some 13 miles north of Accra onto the campus of Legon, as the University of Ghana is locally known, and reassembled across the street on the open field opposite the School of Music and Drama, presently renamed the School for the Performing Arts. Now, what has all the foregoing got to do with the collaborative decision by the Rawlings family and the Akufo-Addo Administration to have the mortal remains of Chairman Jerry John Rawlings laid to rest on the same sacred grounds with recently deceased titans like Profs JH Kwabena Nketia, Ghana and Africa's foremost musicologist and musical scholar of his generation; and (John) Atukwei Okai, Ghana's foremost performance poet of the late 20th century; and Mr. Kofi (Atta) Annan, Nobel Peace Prize Laureate and unarguably Ghana's most famous global personality in the post-Nkrumah and post-Mandela era?
Well, it is the rather bewildering but not altogether surprising fact that Capt. Effah-Dartey would so cavalierly and disdainfully presume to shoot down the fact of whether, indeed, Ghana's longest-ruling dictator cum democratically elected leader really deserves or qualifies to have his mortal remains interred among the handful of our most distinguished and illustrious citizens laid to rest at the Teshie-Burma Camp Military Cemetery (See "Rawlings Burial…. Why Not Asomdwee[sic] Park? Asks Nkrabea Effah-Dartey" Modernghana.com 1/19/21). You see, what is interesting and significant to point out here is that Capt. Effah-Dartey goes about his argument suavely but egregiously disingenuously, almost as if the writer has absolutely no remarkable sense of how Geese Park or Asomdwoe Park came to be the burial place of the late President John Evans Atta-Mills, Ghana's first Fourth-Republican President to have "mysteriously" perished in office.
Then again, wasn't this legally trained old soldier also the "historian" who recently "informed" his readers that the geopolitical landmark of Togoland, formerly including much of the present-day Volta Region, had been named after a German soldier-conqueror/ invader by the name of General Togo? Well, it turns that that the "Togo" or "Togoland" may very well have been a corrupted version of "Tongu" or "Tonguland," which in the Ewe language means "The people by the lake," according to one native Ewe speaker. And that absolutely no German general existed who invaded and colonized most of the present-day Kangaroo Republic of Togo and Ghana's Volta and Oti regions.
At any rate, when I last visited the country some two years ago, I had the chance to drive around the vicinity of the so-called Asomdwoe Park, almost a stone's throw from the old Christianborg Danish Slave Castle and former seat of several postcolonial Ghanaian governments. The place did not look nearly spacious enough to be permanently converted into a long-lasting mausoleum for generations of Ghanaian leaders or Presidents. Then again, who said that only Presidents or Former Presidents ought to be buried in any such specially created cemeteries? I mean, it ought to be clear to most of us by now that not all of our present and past Presidents have equally distinguished themselves well enough to be deemed worthy of having their resting places converted into majestic monuments of tourist attraction. There are some who did absolutely nothing remarkable at the Presidency and are desperately itching to be allowed back to Jubilee House, so they could correct their past mistakes.
*Visit my blog at: KwameOkoampaAhoofeJr
By Kwame Okoampa-Ahoofe, Jr., PhD
English Department, SUNY-Nassau
Garden City, New York
January 19, 2021
E-mail: [email protected]