Bekwai SDA SHS 1989 batch of old students build modern bathroom for alma mater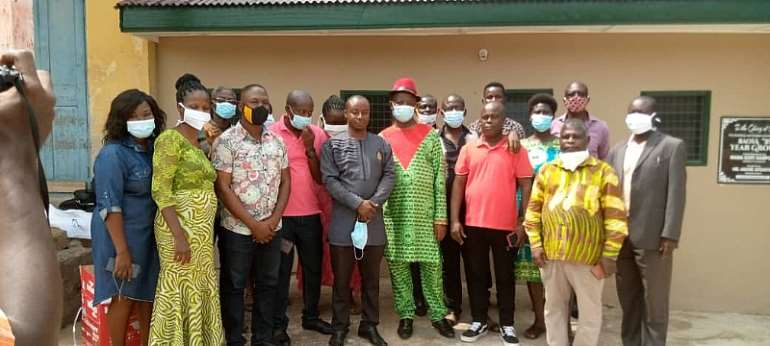 In a bid to ensure better living conditions on campus, the 1989 batch of Bekwai SDA Senior High School students provided the school with state-of-the-art bathroom to alma school.
The facility valued at several millions of Ghana cedis was in fulfilment of their cherished dream; and that the school that helped shape their formative stages in life and also to contribute to the ever-growing success story of Bekwai SDA Secondary School.
Handing over the multi-million facility to the school authorities, the Global President of the Bekwai Seventh Day Adventist Old Student's Association (BAOSA) Nana Kofi Sarpong called on all stakeholders in secondary education to work more closely and collaborative to ensure that students of today are not only given holistic education but also preserve the vision for which schools were founded.
According to Nana Kofi Sarpong, every school had a vision and it was the responsibility of the management of the schools, staff, students, parents and old students to ensure that the schools, despite the odds, are able to fulfill their mission.
He noted that, over the years, the school and its stakeholders – staff, its students and products have worked in tandem to ensure that the vision remained on course, contributing to not only raising responsible adults who are now playing various roles in the nation's development, but has kept the school as one of the best in the country.
The president of the group therefore called on all old students, students and Ghanaians in general to imbibe this spirit as it was the surest way to turn the fortunes of the school in particular and the nation in general around.
"It is not only important for all stakeholders to maintain such healthy working relationship to ensure that the credibility of the school is maintained, but necessary for all stakeholders in the provision of education to adopt that relationship.
Nana Kofi Sarpong also urged the students to make good use of the facility to enhance their academic performance.
The Global President of Old Student's Association Mr Kofi Sarpong added that they will continue to do more for the school and hope the school will take care of the New Bathroom to encourage them to do more.
The Head Master of Bekwai SDA Senior High School, Mr Annane Afoakwa thanked, the 1989-year Group for the project adding that "the new dormitory has come at the right time".
Mr Annane Afoakwa urged corporate Ghana to take a cue from 1989-year Group's gesture and come to their aid especially, at a time that intake of students continues to increase each academic year.
The Head Master who spoke to OTEC News' reporter Efia Serwaa Blessing, commended the provision of Scholarships for the needy students, mentoring of some the students after they graduate and providing of Personal Protective Equipments (PPEs) in the fight against COVID 19.