Day 8: Bobi Wine still under house arrest; complains of food shortage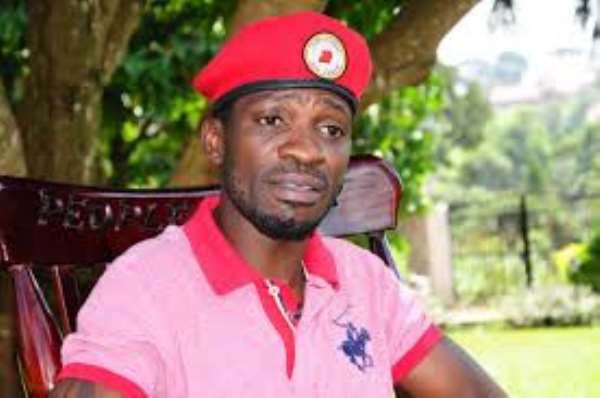 Ugandan pop star cum politician, Robert Kyagulanyi popularly known as Bobi Wine is still under house arrest after the military besieged his house at the night of elections.
The military has since been stationed at residence of the presidential candidate of the National Unity Platform (NUP) and is not allowing anyone in or out of the house.
He has complained of shortage of food, the military's refusal to allow him access to his lawyers and has thus called on the international community to come to his aid.
"We have run short of food supplies but when my wife tried to go to our garden to pick food she was assaulted by the military. The only practical plan now is to inform the world to see that fellow citizens of the world can help us," he revealed.
Uganda's longest-serving president Museveni, won his re-election attempt with almost 59% of the votes and Bobi Wine, his closest contender came second with 35%.
Wine has since rejected the results and alleged widespread fraud. His party has claimed that it has in its possession video evidence military men stuffing ballot boxes, casting ballots for people and chasing voters away from polling stations.
He has vowed to legally contest the result of the presidential election of January 14, 2020. However, there are doubts about whether justice will be served considering that the previous election court cases against Museveni have produced nothing close to justice.
Museveni has entrenched his stay in power by changing the constitution to allow him to run for a fifth term after being in power for the past 35 years. He became president at the time his main contender in the just-ended election was just 4 years old.
It has also emerged that not only has the military denied his lawyers' access to him but also the ambassador of the US was also denied entry.
He had earlier said that the military denied access to the father of an 18 months old baby "who had paid a visit to her Aunty (my wife) be4 we were raided & besieged. … We have run out of food and milk".
He has also petitioned the United Nations over his arbitrary arrest. On Wednesday he twitted that "Nigerian human rights lawyer Femi Falana has filed this complaint on my behalf to the UN Working Group on Arbitrary Arrest. We are challenging my continued illegal confinement by the Ugandan police and the military".