Ghana's Benighted Age of Prophetic Madness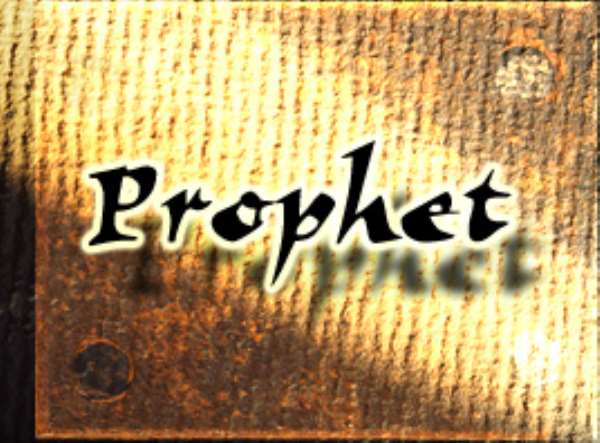 When I saw the WhatsApp videoclip in which the recently trounced Candidate John "Akonfem-Kanazoe" Dramani Mahama looked desperately drunk for the fake prophecy of Trump lickspittle and so-called Archbishop Duncan Williams, I knew that for the most part Ghanaians were not the least bit done suffering the criminal usurpation of our otherwise salutary political space by these one-man charismatic cultish church leaders. On the aforesaid videoclip, the self-proclaimed bosom friend of twice-impeached former American President, Mr. Donald John Trump, the man who once described Ghana and other Third-World countries as "Shithole Countries," was telling the European Airbus-SE Payola Scam-Artist that he had already won the 2020 Presidential Election in the "spiritual realm."
Now, Dear Reader, you tell me: What kind of God or Divine Providence would so heartlessly impose a thievish Ford Expedition Payola-soliciting extortionist on the prayerful citizens of a country that His/ Her anointed messengers claim S/He so dearly loves? And then a business-crushing Dumsor for some four-and-half of the most drawn-out political years, that may also have caused the destruction of hundreds of thousands of human lives at the various hospitals and health centers across the country? And now, not surprisingly, we have another psychotic "Apostle" of a funny and a clearly illiterate and morally benighted and grossly misguided establishment called Soldiers of Christ Prayer Group of All Churches in a village near Kumasi, the Asante Regional Capital, called Aboahyia – I hope I have the name of the village spelled out correctly – with the equally scandalous name of
Apostle King Airl Dirl Marshal, telling us that it was the "god" that Apostle King Airl Dirl Marshal claims to worship with his obviously desperate, hopeless and ignorant disciples and spiritual slaves who came down from the mythical heavens like Otumfuo Osei-Tutu's Gold Stool, the original Osei-Tutu, I mean, to establish the New Patriotic Party (NPP).
And that this "god" who nobody knows or has ever heard of except, of course, this Fake Apostle and his disciples and spiritual slaves, had preordained Mr. Alan John Kwadwo Kyeremateng to rule Ghana after the second term of President Addo Dankwa Akufo-Addo ends in 2024. Significantly, the same "god" who told or revealed to Prophet-Apostle King Airl Dirl Marshal that it is Mr. Kyeremateng who has been divinely ordained to succeed Nana Akufo-Addo, does not tell this same Fake Prophet and Apostle and his congregation and the global Ghanaian community whether it had been part of the spiritual plan of this same "Fufu Kisa" or stale fufu-eating "god" to have the John Agyekum-Kufuor and Kyeremateng faction of the New Patriotic Party systematically sabotage the presidential ambitions of the now-President Addo Dankwa Akufo-Addo for the 8 years that the Kufuor-Kyeremateng faction among the ranks of the New Patriotic Party consistently and systematically sandbagged the Akufo-Addo Presidential-Election Campaign.
It is also quite obvious that Apostle King Airl Dirl Marshal never heard about the statutory edict of the Separation of Church and State in Fourth Republican Democratic Ghana, an edict which Ghana's 8th Parliament must swiftly move to rigidly and healthily enforce, or Ghanaians may soon find our beloved nation swamped and completely taken over by these fake Bible-wielding extortionists and unconscionable self-serving political scam-artists. Indeed, if the New Patriotic Party really risks collapsing or disintegrating, as Apostle Airl Dirl Marshal reportedly claims, the source and cause of such destruction would be false prophets and fake apostles like this ethnic chauvinist and culturally self-alienated Christian pretender who do not seem to respect or have any value for their own God-given traditional African names.
*Visit my blog at: KwameOkoampaAhoofeJr
By Kwame Okoampa-Ahoofe, Jr., PhD
English Department, SUNY-Nassau
Garden City, New York
E-mail: [email protected]