Could a Supreme Court Judge be involved in Corruption?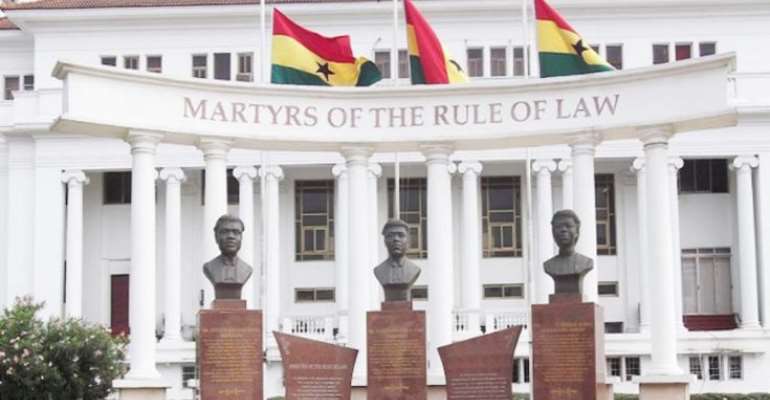 As human beings with potential to do the unthinkable, everything could be possible irrespective of one's social standing in the society.
Mohammed Muntaka Mubarak (Hon), the Member of Parliament for Asawase constituency, has come out alleging that a Supreme Court judge has committed a reprehensible act of corruption unworthy of his or her calling to the legal profession and the Supreme Court justiceship.
You and l were not there, courtesy of Vice President Dr Mahammudu Bawumia. The only third party to be there, or to have witnessed the alleged scandalous incident of corruption, is Muntaka himself. Therefore, l cannot confirm or deny his allegation made until it is proven.
However, by what l have come to consider as very despicable and unprofessional modus operandi by Ghana's revered investigative journalist Anas Aremeyaw Anas, to catching criminals, some Ghanaian judges are corrupt.
Anas has been revealed to employ the methodology of enticement, entrapment and blackmailing to flush out some of the corrupt judges within the Ghana judiciary.
Much as l find his method not only unprofessional but criminal, he has been able to prove to the world that some Ghanaian judges are corrupt while others are incorruptible. While some judges accepted his gifts or bribes to twist justice in favour of those he, Anas, had sought favour for, other judges threatened to cause his arrest when he approached them with his bribery proposals.
As it is obvious, the NDC membership presently have a distrust for the Supreme Court judges. They talk about their composition of who appointed them. Therefore, they have become suspicious about how honest they will be with their trial of the 2020 presidential election petition filed by their leader John Dramani Mahama, at the Supreme Court.
Could this unsubstantiated distrust oozing from their figment of imagination or the fear of their own shadows not be the basis for Muntaka's quick allegation of corruption against one of the Supreme Court judges?
One thing l know is,q you are innocent until proven guilty. Another thing l have come to know as a curious researcher for my own self-confidence is the internationally acclaimed legal dictum, "Fraud vitiates all contracts"
Until the result of any known fraud case pending before the Supreme Court of which l may be aware is declared, l cannot at this juncture accuse them of corruption.
Corruption is not only by someone accepting bribe as often understood by many a Ghanaian, but also, about abusing one's position to favour others or him or herself.
Assuming one uses someone else's school certificate to secure a job as say, the headmaster of a Senior High School. He has been in the job for ten years. It is now discovered that the certificate used to obtain the job was not his and the real owner is claiming his certificate back.
What will the Supreme Court do if such a case is brought to their attention by way of a complaint lodged in a criminal suit, having unsuccessfully gone through the ranks of the lower courts?
Will they allow the headmaster to continue in his job because he has been in it for the past ten years and loved by the students?
Has whatever crime he has committed using someone else's certificate expired owing to the duration he has been working with the certificate?
Is it after all, a crime to work with someone's certificate or to falsify a document to obtain a position that will otherwise not come to you without the falsification? Is falsification a crime at all?
In the case of the headmaster, will the lie from someone to the judges that the students will riot should the headmaster be arrested, prosecuted and convicted, scare the judges not to find him guilty but declare him innocent to continue with his job?
Going back, corruption is the bane of the socio-economic development of Ghana in particular, and Africa in general. Therefore, any form of corruption brought against any official in position of trust must be treated with seriousness and all the scorn it deserves.
I am in no way to believe or disbelieve pugilist-cum-loquacious Muntaka, alias Muntaka Pampers, at this point until his allegation is proven as true or false.
Ghana's development depends greatly on our judges. The speed and fairness by which they decide cases will help with the nation's development. However, the obvious lackadaisical corrupt approach to dealing with court cases through the unnecessarily incessant adjournments, as often influenced, is a deterrent to Ghana's development. The rank and file of the Ghana judges had better take note.
Rockson Adofo
Wednesday, 20 January 2021