No finance minister has served two terms in the Fourth Republic of Ghana: Would Ken Ofori Atta break the jinx?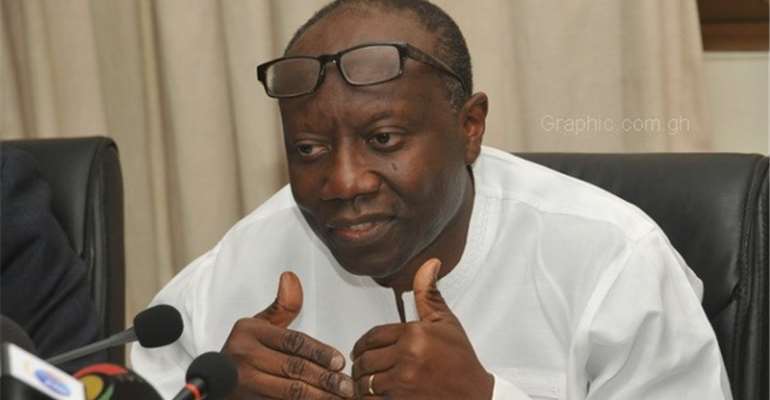 Ghana has had a chequered history with coup d'etat forming a major part it. Even during the military dictatorship finance ministers were appointed to run the economy of our dear country.
Whether it is during the military regimes or elected governments of the various during our various truncations, Ghana has had some very distinguished men who have performed their duties and served as finance ministers for our dear motherland.
But, in our stable Fourth Republic thus far, no finance minister has enjoyed a second term in office in any government be it during an NDC or NPP administrations.
The reason for this can be discussed in another write-up but, that isn't the focus of this piece.
Our fourth republic was ushered in by Flt. Lt. Jerry John Rawlings in 1992 when he had the opportunity to rule from 1982 till 2001.
During his tenure, he appointed the Dr. Kwasi Botchwey and he served in Mr. Rawlings' first term from 1992 to 1995 as Ghana's first finance minister in the Fourth Republic.
Before exiting in 1995, Dr. Botchwey had served in that capacity from 1982 to 1995. Thus a whopping thirteen years of service as finance minister but couldn't enjoy under the same presidency of Mr. Rawlings second term under a constitutional government.
He was succeeded by Richard Kwame Peprah who served in same portfolio from 1995 to 2001.
Mr. Rawlings' government came to an end after he had successfully served his two terms as a democratically elected president but not his finance minister.
President Kuffuor took over the reins of government from 2001 to 2009 after a hotly contested election in the year 2000. In his first term, the Venerable Yaw Osafo Marfo was appointed as his finance minster between 2001to 2005.
Indeed during his tenure as finance minister, Ghana went for the HIPIC programme and successfully he existed the country. These plus other achievements made Osafo-Marfo arguably one of Ghana best finance ministers in our fourth republic but he wasn't reappointed to the same post by president Kuffuor even though he and the NPP won a reelection bid.
He was also succeeded by late Kwadwo Baah Wiredu who served from 2005 till his untimely death in 2008 in September of that year.
The NPP government lost the 2008 elections and an NDC administration was ushered into office in 2009 January.
President Mills appointed Dr. Kwabena Duffuor who served as Finance Minister from 2009 till 2012 when president Mills' government came to an end.
Before his appointment as a finance minister, Dr. Duffuor had served as Governor of the Central Bank of Ghana. He was named as one of the four best Central Bank Governors in the World at an IMF/World Bank meeting in 1999.
With all these accolades when John Dramani Mahama became president in 2013 January, even though of the same NDC stock, he never reappointed Dr. Duffuor but rather Mr. Seth Terpke instead. He served Ghana from 2013 to 2017.
The NDC lost the 2016 elections and the NPP party led by Nana Addo-Danquah Akufo-Addo won.
President Akufo-Addo appointed Mr. Ken Ofori-Atta as Ghana's finance minister who has served from 2017 to 2021.
The NPP and Nana Akufo-Addo have been reelected into office for another four years, even though being challenged at the Supreme Court by former President Mahama but, the big question is: Will Ken Ofori-Atta be able to break the cycle of finance ministers who only serve one term?
He has steered the affairs of the ministry with some distinction and navigated the turbulent times of Covid-19 economic management. But, will he get a second bite at the cherry?
Time will surely definitely tell.