Will there be consequences for many - Were the next Jerry Rawlings to strike?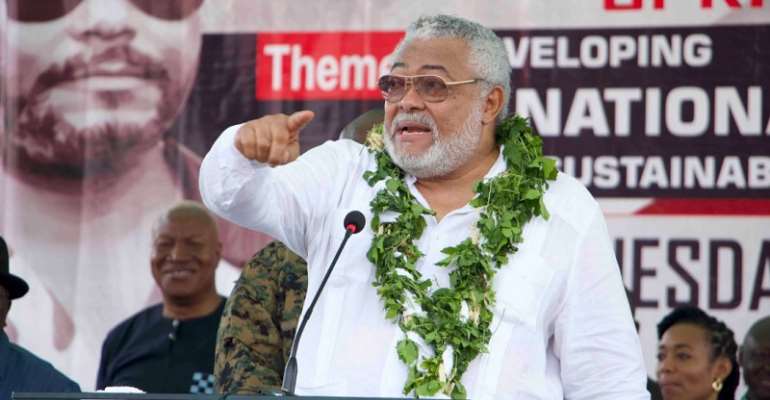 The latest outrage, in the ongoing saga, of the desecration of forests across Ghana, has been reported from the Manso Forest Reserve, area. That egregious-crime-against-humanity, by galamseyers, said to be mining for gold without proper regulatory permits, are allegedly sponsored by greedy and ruthless New Patriotic Party (NPP) bigwigs. Hmmm, eyeasem, ooooo...
The outrage, and scandal, in all this, is that those NPP bigwigs (according to bush-telegraph sources), apparently only have an exploration license, permitting them solely to drill for tests. Nothing more, nothing less. Case closed. Full stop.
To add insult to injury, the fools desecrating the Maso Forest Reserve, with such impunity, are actually protected by a detachment from the Ghana Armed Forces (GAF). How can that be, I ask?
In the final analysis, the question we must all ponder over, as a wise and aspirational people, is: Why have those now constituting the current leadership, of the GAF, consistently allowed the honour of the noble profession of arms, to be prostituted, so, by constantly looking on helplessly, as cynical thieves-in-high-places, manipulate Ghana's military, so easily?
Finally, if the 8th Parliament fails to stop the egregious-pillaging, now going on, by today's thieves-in-high-places, who seem to think that Ghana is a conquered vassal state of the NPP, that they can toy with, there will be serious consequences, for many, in today's Ghana, should the next (digital-native!) Jerry Rawlings strike, to do a year's emergency-period-housecleaning-exercise, ooooo, Massa. Hmmmm. Yooooooo...