Osei Kyei Mensah-Bonsu Is Simply Not a Good Parliamentary Leader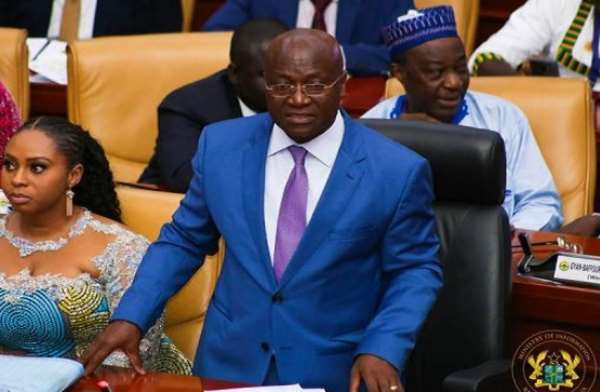 I have been calling for the prompt removal of the Kumasi-Suame New Patriotic Party's Member of Parliament ever since I can remember, and for his prompt replacement by somebody expertly trained in the application of the law who also has a deep appreciation of the nuances of Constitutional Law. Which, in essence, means somebody who is much smarter and a much more knowledgeable legal light than the infamous plagiarist Parliamentary Minority Leader of the National Democratic Congress (NDC), namely, Mr. Haruna Iddrisu. This belated eleventh-hour resurrection of Mr. Mensah-Bonsu's name change in secondary school, that is, from Lawrence "Larry" Addae to his present name, has absolutely nothing to do with the widespread but decidedly wild speculation that the Parliamentary Majority Leader has, somehow, been avoiding lobbying for a major cabinet portfolio because of the obtrusive existence of some humongous skeleton in his closet from 40-plus years ago (See "NDC Confirms Kyei Mensah-Bonsu's Past Name, Lawrence Addae; Claims It's Why He Fears Public Vetting" MyNewsGH.com / Ghanaweb.com 1/12/21).
The simple fact of the matter is that the man is crassly and grossly incompetent as Leader of the New Patriotic Party's Parliamentary Caucus. Besides, whatever crime it was that he committed nearly two generations ago which caused the son of the late Mr. JK Addae to change his name from Lawrence Addae to the far more socio-politically advantageous, significant and distinguished and/or prominent name of Osei Kyei Mensah-Bonsu, definitely far pales in significance and/or seriousness than most of the major political and economic crimes committed by Mr. Johnson Asiedu-Nketia, the dynastic General-Secretary of the National Democratic Congress, who smugly presumes and scandalously pretends to be morally superior to the nationally renowned alumnus of Ghana's arguably finest secondary school in the 1980s, namely, Okwawu-Nkwatia's St. Peter's Secondary School, affectionately known as PERSCO. And, of course, foremost among Mr. Asiedu-Nketia's legion crimes must be listed his criminal complicity with Mr. Jabesh Amissah-Arthur, the immediate younger brother of the late Vice-President Kwesi Bekoe Amissah-Arthur, to sell overpriced shlocky cement blocks to the Government of Ghana and, by extension, the wantonly exploited Ghanaian taxpayer, for the partial construction of Ghana's second largest Hydro-Electric Power Plant, namely, the Bui Dam. This single Class-A Felony should make whatever crime or crimes they were that the former Mr. Lawrence Addae must have committed at PERSCO seem like an angelic rope-jumping prank on the playground.
Moreover, the fact that the former Mr. Lawrence Addae was given the disciplinary equivalent of a feathery tap on the wrist, that is mere academic suspension, instead of outright expulsion or dismissal, means that whatever misdemeanor or even crime that the former Mr. Lawrence Addae must have committed at St. Peter's, was definitely the sort of crime or crimes that normal teenagers routinely commit. You see, at St. Peter's, during the "bootcamp-like" tenure of the late German-born Rev.-Father Josef Glatzel, the same Physics Tutor or Instructor of Archbishop Palmer-Buckle, at Koforidua's Pope John's Secondary School, one could be meted an off-campus academic suspension for simply appearing on the weekly published "Punishment List" three times or one more. And appearing on the punishment list could range from talking loudly during the afternoon siesta period – that is, between 2 pm and 3:30 pm – and being absent from one's bedstead without permission from your House Prefect or your Dormitory Monitor. The gravity of such minor infraction comes nowhere near Mr. Asiedu-Nketia's rather communistic decision to summarily expel from the National Democratic Congress, a local party organizer who was bold enough to challenge former President John "Akonfem-Kanazoe" Dramani Mahama for the party's presidential nomination in the leadup to the 2016 General Election.
Or illegally and unethically colluding with the late former President Jerry John Rawlings, by callously and criminally twisting the arms of some jurists of the Supreme Court of Ghana, in order to have the old bloody dictator's eldest daughter, Dr. Zanetor Agyeman-Rawlings, clinch a parliamentary seat, without having to break a single drop of sweat or having paid her annual party dues for nearly a decade. Short of his glaringly and abjectly poor leadership skills, it is very obvious that Mr. Osei Kyei Mensah-Bonsu is far more morally upright than the overwhelming majority of his counterparts among the vanguard ranks of the country's main opposition National Democratic Congress. And, by the way, the ministerial portfolio of Parliamentary Affairs Minister is not the least bit nearly as marginal or minor as the likes of Messrs. Asiedu-Nketia and Mohammed Mubarak Muntaka suppose. It entails a lot of politically highly charged responsibilities in any serious Constitutional Democracy, such as Ghana's, and deserves not to be pooh-poohed in the jejune and sophomoric manner in which these two key National Democratic Congress' operatives suppose.
*Visit my blog at: KwameOkoampaAhoofeJr
By Kwame Okoampa-Ahoofe, Jr., PhD
English Department, SUNY-Nassau
Garden City, New York
January 15, 2021
E-mail: [email protected]