Mrs. Ursula Owusu-Akandoh? – Part 2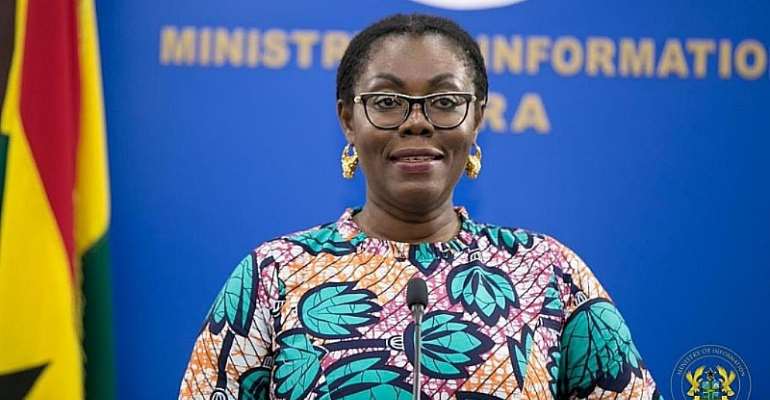 As I noted in Part 1 of this column, his subterfuge does not cut ice, in Woolfian parlance, because it was the National Democratic Congress' Parliamentary Minority who had flagrantly and rudely infringed on parliamentary protocol by forcibly occupying that section of the House's chamber that had been occupied by the New Patriotic Party's Parliamentary Majority for the past four years. While we clearly have a Hung Parliament, with both parties in possession of an equal number of seats, nonetheless, the one Independent NPP Parliamentarian who had been literally pushed out of his party, in retrospect, after he successfully went solo, on point of principle and democratic justice, has publicly stated that his natural home and abode is the New Patriotic Party, and that he could not fathom himself consorting with the members and operatives of the National Democratic Congress.
At any rate, what is important to elucidate here is the likelihood that an infamously abrasive and no-nonsense Mrs. Ursula Owusu-Ekuful had decided, all too justifiably, that she could not abide the intransigent and perennial scofflaw attitude of the "Umbrella Terrorists." These unprovoked characteristically aggressive tendencies of the NDC's House Members was what impelled the Ablekuma-West MP to cross into illegitimately cannibalized Enemy Territory. It is also very evident that Mr. Kwabena Mintah Akandoh was deliberately spoiling for a "fight" when the Juaboso Street Toughie decided to occupy the seat of Mr. Cletus Avoka, the Gentleman from Zebilla, who, we are informed by Mr. Akandoh himself, had either stepped out of the parliamentary chamber to make or receive a phone call. The Ablekuma-West Gentlewoman had briefly occupied Mr. Avoka's seat, amidst heckling from Mr. Akandoh and some of his National Democratic Congress' colleagues and associates of Enemy Territory. She had moved away but, for reasons not clarified to readers by the reporter of the piece of news item or article under discussion (See "You Are a Married Woman – Akandoh Slams Ursula Owusu" Ghanaweb.com 1/9/21), Mrs. Owusu-Ekuful was making it back to the empty seat she had already been told was occupied by a temporarily absent Mr. Avoka, when a petulant Mr. Akandoh, who had apparently underestimated the fighting spirit and resolve of Mrs. Owusu-Ekuful, hurried in to cannibalize the aforementioned Avoka seat.
The naturally livid Ablekuma-West Gentlewoman had no other alternative but to slump into the laps of Mr. Akandoh, who clearly appears to have been looking for just such a moment of bump-and-grind stimulation, as it were. In all likelihood, it was the Juaboso Street Toughie who was the one sexually rearing to go or roiling up on the inside, as it were. Perhaps the former Communications Minister may want to do us, her readers and audience, the much-craved favor of telling us precisely what the temperature felt like on the laps of Mr. Akandoh, once she had decided to dare the devil and let hell either break loose or freeze over. Equally significant ought to be put into critical context the electoral commotion then raging on the august floor of the House, the well-angled shots of which were shown and seen all over the world. Mr. Akandoh would tell a captive audience of reporters and curious onlookers at a press conference that he had resisted the temptation of pushing Mrs. Owusu-Ekuful off his laps, because he did not want to escalate the already tense, boiling-point situation in the august House. We would learn later that, indeed, Mrs. Owusu-Ekuful had been pushed by another of the caddish NDC-MPs and landed on her knees in the chamber of the august House. So much for National Democratic Congress' male chauvinist gallantry.
The press conference subterfuge by Mr. Akandoh clearly appeared to have been primarily crafted for the consumption and appeasement of his wife and, perhaps, his in-laws as well. It, obviously, seems to have some validity, until one quickly comes to the revelatory realization of the unmistakable fact that Mr. Akandoh may very well have been looking for precisely what he got, when the Juaboso Street Toughie quickly moved in to occupy the seat of the Gentleman from Zebilla because he felt irritated by the impetuously expressed desire of the Gentlewoman from Ablekuma-West to occupy Mr. Avoka's seat. You see, if the National Democratic Congress' parliamentary bullies thought that they had an inalienable "revolutionary right" to occupying a section of the parliamentary chamber to which they had not been officially assigned for the 8th Parliament, then, of course, it goes without saying that the Gentlewoman from Ablekuma-West was equally justified to move in and comfortably occupy just a teeny bit of illegally cannibalized Enemy Territory.
I sincerely don't see the sort of "disgrace" that the Juaboso Street Toughie is talking about here because, if anything at all, it was Mr. Kwabena Mintah Akandoh who was petty-mindedly behaving like the 40-year-old overgrown child or an emotionally stunted diapered baby that he clearly appears to be. I mean, really, what has being a married woman got to do with boldly asserting one's inalienable right to occupying the taxpayer's bought-and-paid-for-seat in the august House of our National Assembly? By the way, did the good and hardworking people of Juaboso send you, Mr. Kwabena Mintah Akandoh, to Parliament to occupy the seat assigned to the Honorable Gentleman from Zebilla, or just to mind their goddamned business and bring home their fair share of the proverbial National Ofam, Abodoo or Tuo Zaafi? What bloody nonsense to talk about Mrs. Akandoh's entertaining a lawsuit against the Very Honorable Mrs. Ursula Owusu-Ekuful?!
*Visit my blog at: KwameOkoampaAhoofeJr
By Kwame Okoampa-Ahoofe, Jr., PhD
English Department, SUNY-Nassau
Garden City, New York
January 9, 2021
E-mail: [email protected]