Why we must deal ruthlessly with Ghana's wicked-cohorts of Galamsayers, illegal Sandwinners and illegal loggers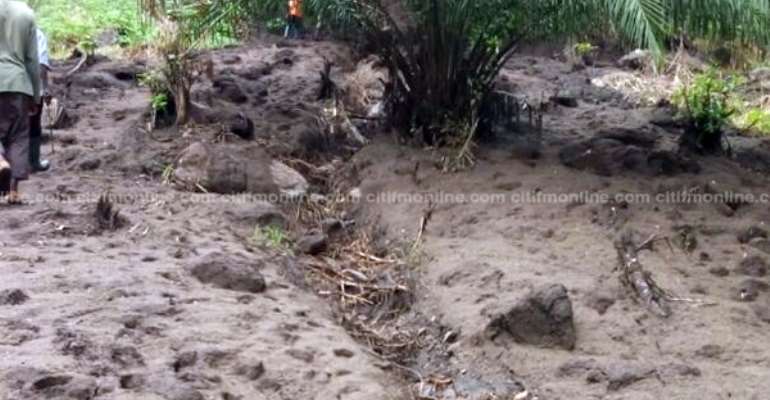 My takeaway-observation, yesterday, after inspecting damage caused by illegal sandwinners, to my family's incredibly beautiful, and idyllic, farmland, at Thompsonakura (five minutes as the crow flies from Kyekyewre, which is off the Accra-Kumasi highway, between Teacher Mante and Asuboi), is that, clearly, conditions now exist, for the super-wealthy destroyers of our collective natural heritage (currently engaged in galamsey, illegal logging, for bush-cut chainsaw lumber, as well as illegal sand winning, nationwide), to become tomorrow's super-dangerous and murderous-warlords.
Fellow active-citizens, of Nkrumah's Ghana, as aspirational and civilised Africans, if we are not careful, those vile, evil-greed-filled-individuals, will eventually end-up dominating our dear nation - if preventative-measures are not taken immediately, by Ghanaian officialdom. As sure as day follows night, the unfathomable-greed that drives them will turn our mostly-beautiful countryside, into a vaste swathe of unproductive-wasteland, which creeping-desertification will then claim, as its next victim, in sub-Saharan Africa. Yoooooo...
If that tragedy were to occur, there is no question that ours will become an African country, in which the rule of law apparently exists, but only on paper, and, in reality (nationwide on the ground), is an accursed-jurisdiction, that is a jungle in which might is right, and, applicable-statute-book-laws, are those of the jungle, and only the strong-and-most-brutal, survive, and thrive. Yoooooooo...
One's humble advice to the well-off middle-class citizens, of Nkrumah's Ghana, such as the comfortably well-off middle-class individuals, who are active environmental activists (such as members of the Awula Serwah-founded dynamic Eco-Conscious Citizens group), is simply that, as a privileged-demographic, they must act, quickly, now, to avert that future-catastrophic-possibility, outlined above, by helping society to find our younger generations, alternative income-streams (such as co-operatives of unemployed youth growing coconuts, bamboo and industrial hemp, for example, on abandoned mined-out sites, nationwide, perhaps?).
If that is not done, now, those desperate and disadvantaged young people will be inveighed into becoming foot-soldiers, who, when not being exploited as galamsey workers, or as area-specific specialist-illegal-sand winning-workforce, by their murderous, and evil, super-wealthy environmental-vandalist-employers, moonlight as AK-47-wielding armed robbers, terrorising you, to survive, oooo. Yooooooo...
Eeiiiii, Oman Ghana, enti yewieye paaa enei? Hmmmm, eyeasem, ooooo. Asem kesie, bi, ebeba debi, ankasa, ooooo. As a democratic society, we must deal ruthlessly with all Ghana's wicked-cohorts, of galamsayers, illegal sandwinners and illegal loggers, before they become too powerful to control, oooo. Yooooooo...