The Complicity of the State and the Catholic Church in The Dehumanisation of Pregnant Unmarried Women in Ireland
Looking At the Cultural and Religious Dimensions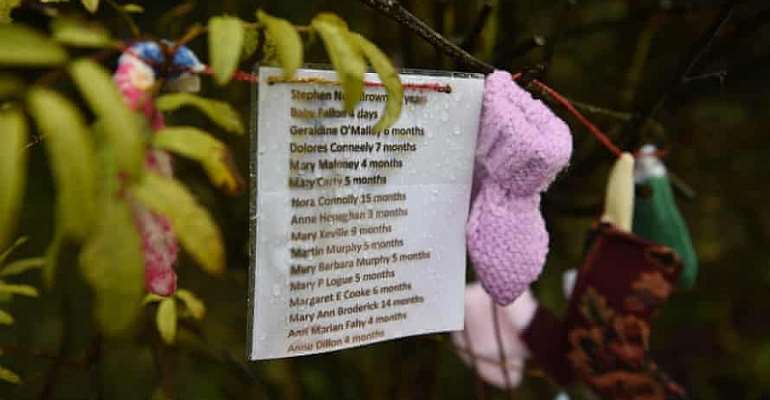 The continuity of the human race on earth is only guaranteed if humans would continue to give birth of their kind.
With this at the back of the minds of humans, pregnancy and child birth are seen as sacred. Indeed, inasmuch as most humans cannot predict the future of an unborn child, is even the reason why in most societies, no one tempers with any pregnancy.
This holds more sway on the sacredness of every life and why pregnant women are given some preferential treatment and the herald of the birth of a child is greeted with joy and happiness.
The most acceptable form of pregnancy in most societies is when the women are married before they decide to make babies. But, this not withstanding, should a woman get pregnant out of wedlock, there are processes that makes the man who got the woman pregnant or his family responsible for the pregnancy. This is common in Ghana and especially among the Akan ethnic group.
I am yet to read nor hear that, in the Ghanaian or the Akan sociocultural milieu, unmarried pregnant women are ill treated as outcast or are camped somewhere as has happened in Ghana with the witches camp situation up north.
Also to think of it, I am yet to read and nor hear from any religion or culture that supports the dehumanising treatment meted out to women just because they got pregnant out of wedlock but, as has happened in Ireland.
A report of an investigation conducted on about 18 institutions especially baby homes run by nuns of the Catholic Church has revealed complicity with the state in the ill treatment of pregnant unmarried ladies and their children. This egregious behaviour has resulted in the death of 9000 infants and babies in Ireland.
According to Carroll (2021) who wrote an article titled "Irish church and state apologise for callous mother and baby homes" for The Guardian and published on Wednesday, 13th January, 2021 said and I quote "About 56,000 women and 57,000 children were placed or born at the homes, most run by nuns, from 1922 until the last one shut in 1998."
"Families brought the women to the homes, which doubled as orphanages and adoption agencies, to hide what was deemed the shame of pregnancy and birth out of wedlock".
No culture, not even in Ghana deliberately repudiates a pregnant women just because they got pregnant out of wedlock let alone allowing such women to be kept out of home.
The irony of the Ireland situation is that, because of their strong Catholic leanings as a state, it is deemed shameful if one got pregnant out of wedlock. The only option available for families whose daughters found themselves in such a situation, was to carry them to baby homes normally run by nuns.
My difficult is, what has the Roman Catholic Church made the citizens of Ireland imbibe to the extent that families see unmarried ladies as shameful, hence the repudiation of same and sending them to baby homes?
With this, can't it be said that, with the strong Catholic orientation, if girls got pregnant out of wedlock, then it can be said that, then Church had failed in instilling proper moral discipline into the children of Ireland. The blame should rather go to the church and the state and not the innocent ladies whose curiosity to satisfy their physiological needs got them pregnant.
The abuse of the rights of young female adults by the state and the Catholic Church just because they got pregnant out of wedlock is highly reprehensible.
Following the release of the report, the Prime Minister of Ireland has spoken about it and stated "We did this to ourselves, we treated women exceptionally badly." "One hard truth in all of this, is that all of society was complicit in it" [(Talmazan, Suliman & Skinner, (2021)].
The above statement from the Irish Prime Minister explains everything, but the difficult is, what religious or cultural bases underpins this kind of treatment of unmarried pregnant women? This ill treatment from the state and church started in the 20th century and ended with the closure of the baby homes in 1998.
With such dehumanising treatment experienced by pregnant women out of wedlock, the Irish Premier further stated "We did this to ourselves as a society - we treated women exceptionally badly; we treated children extremely badly."
He continued "We had a completely warped attitude to sexuality and intimacy and young mothers and their sons and daughters were forced to pay a terrible price for that dysfunction."
"As a society we embraced judgementalism, moral certainty, a perverse religious morality and control which was so damaging." "But what was very striking was the absence of basic kindness" (bbc.com, 2021).
One striking feature in the apology of the Irish Premier, is his admission that their society have been too judgemental with a certain perverse religious morality to the extent of being unkind to their fellow citizens.
As society evolves, we all expect to see and experience better attitudes within our society that places emphasis on human dignity. Since when did the perverse religious morality start in Ireland? How can a church which must show us the way of love and care can be complicit in the maltreatment of pregnant unmarried ladies?
According to the report some of the women in the baby homes were, "Verbally insulted, degraded and even slapped" in these Catholic nun baby homes and received very appalling treatment from the managers of these homes to the extent that portions of the report posits that "Appalling rate of infant mortality in the homes, and "probably the most disquieting feature of these institutions."
What baffles some of us is, what actually happened and which part of the Bible prescribes such punishments for unmarried pregnant women? If it is a cultural aberration in Ireland to get pregnant out of wedlock, why didn't the state have its own baby homes but chose to rely on those run by the Catholic Church and supported same?
Was the infant mortality that high because of the bad treatment the nuns gave the inhabitants? If yes as seen in the report, then which part of the Bible or which religious beliefs allows the maltreatment of children just because they were born out of wedlock?
When the news broke out, the Catholic Primate of all Ireland, Eamon Martin, issued a statement on behalf of all Bishops and nuns for the central role the church had played in the dark chapter of Irish history stating "I accept that the church was clearly part of that culture in which people were frequently stigmatised, judged and rejected. For that, and for the long lasting hurt and emotional distress that has resulted, I unreservedly apologise".
Portions of the report further stated that, the investigations into baby homes were prompted by the revelation that there were no burial records for almost 800 children who died at a mother and baby home in Tuam, County Galway. Excavations conducted subsequently uncovered significant quantities of human remains in a disused septic tank (Carroll, 2021).
Upon what bases would Catholic nuns behave in such a manner? Which portions of the Bible or the Catholic doctrine teaches that when someone dies, the dead bodies should be discarded in such a manner? How did the nuns apply the ethical training they received as nuns in dealing with babies and their mothers? Was this known to the Catholic authorities in Ireland or it happened at their blind side?
Another disturbing issue that emanated from the investigation revealed that, these baby homes run by Catholics nuns allowed the kids of other women within their care to be used as guinea-pigs for some vaccine companies. The report identified seven vaccine trials, which involved a number of children in the baby homes, that took place from 1934 to 1973.
Indeed, some portions of the report are disturbing and depicts the nuns as very inhumane towards the mortality of kids. "In the years before 1960 mother-and-baby homes did not save the lives of 'illegitimate' children; in fact they appeared to have significantly reduced their prospects of survival", stated the report.
The report added "The very high mortality rates were known to local and national authorities at the time and were recorded in official publications" (bbc.com, 2021).
If this is true, then how can a respectable Church like the Catholics who are supposed to help us find God, can have an outfit that denigrated the dignity of other humans like that? What sociocultural or religious upbringing were the nuns taken through to be able to exhibit such flagrant disregard for their fellow ladies who were pregnant? Are there some secrets that the church runs on, which isn't know to the outside world?
As the news unfolds which frowns upon sane behaviour and portraying the Irish to the world as barbaric and savages, some of the nun groupings have issued a public statement in admission of wrong doing.
The Sisters of Bon Secours religious order, which ran the home at Tuam, County Galway, apologised. "We acknowledge in particular that infants and children who died at the home were buried in a disrespectful and unacceptable way. For all that, we are deeply sorry".
All this story has come about because of an amateur local historian, Catherine Corless, who first shed light on the issue of maltreatment at the homes.
Her investigations have brought to the fore, the dark side of religion and culture; and how some practices which may be deemed right by society; and supported by the church have infringed upon the rights of minorities.
Had this be unearthed in Africa, what would have the Caucasians of Europe and America have said about our culture and religion?
Over the years Africans have been branded as savages because either most people don't understand our ways of life or some of the things we did was seen as an affront to the dignity of humanity.
What we are reading and watching on television in 2021, is contained in a report which was delivered in 2017 but got leaked within this week for which Pope Francis issued as apology on his official Papal visit to Ireland in 2018.
The most baffling aspect is how a Catholic doctrine had affected the cultural fabric of the state and to be so entrenched. Are these the same Catholics who are supposed to help us find God? Where was their God in all these barbaric treatment meted out to innocent children and their mothers?
I cannot be wrong if I conclude that, each culture or religion have some inherent traits that can be seen as unacceptable. Or better still they might have exhibited such tendencies in times past and have evolved over time.
For a major religious faith like the Catholics and the state of Ireland to be complicit in such an act is worrying. To dehumanise other humans and to look in while babies die when no religion teaches that, and the Bible doesn't prescribe such punishment is even more bizarre.
I can comfortably conclude that, what we are taught as church doctrines might after all not be what we need to know and go to God. All the doctrines might be part of schemes meant to make us part of an organization to swell their numbers for some benefits that we don't know.
Otherwise, it would be very unthinkable to read that a mother and baby home run by Catholic nuns can meet out such discriminatory treatment to others even at the peril of their lives.
As society evolves we expect all these unacceptable behaviours and practices from across the world to be eliminated and those who are complicit in such barbaric practices to be dealt with.
After all, no religion or culture prescribes such inhumane treatment towards the pregnant unmarried women and their babies.