W/R: 1,034 schools to be disinfected in Western Region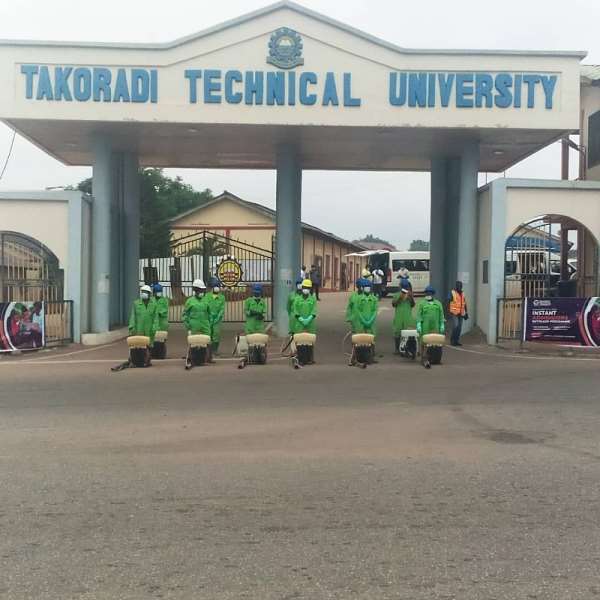 A total of 971 basic schools, 55 Senior High Schools and eight tertiary institutions are expected to be disinfected in the Western region by Zoomlion Ghana LTD ahead of the reopening of schools across the country.
"The basic schools, we have about 971 basic schools to disinfect. This is aside the western north. The western north is 746 basic schools. We also have Senior high schools, we have 55 senior high schools in the western region here to disinfect and we have in the western north, we have 20 senior high schools."
"Then with the tertiary, tertiary we have a total of 11, 8 of them is what we will be doing in the western region, then we will be doing 3 in the western north," according to the General Manager of Zoomlion Ghana LTD of Western Region Alhaji Abdulai Abdallah.
He mentioned during day two of the company's disinfection exercise in the Western region as part of efforts to curb the spread of COVID-19 in the country following President Akufo Addo's announcement on Sunday.
According to him, the exercise is scheduled to be completed on the 17th of January, 2021.
He added that additional gun spraying members have been recruited and being carried out simultaneously expected to disinfect about 80 to 90 schools a day.
He urges the academic community to keep adhering to the COVID-19 protocols to ensure a safer environment.
"We also want to say that having disinfected these facilities, we still want to encourage that people should continue the COVID-19 protocols; the use of nose mask, the use of hand sanitizers and regularly washing our hands under running water and once we stick to these protocols we will certainly be sure that the numbers of COVID-19 will come down and finally be eradicated," he said.
Deputy Registrar of Takoradi Technical University (TTU) Kenneth Boateng said the institution will be operating from three campuses to ensure social distancing.
He noted that the institution will ensure members of the institution strictly adhere to the safety protocols.
He also mentioned that the institution is expecting about 50,000 new entrants for the 2020/2021 academic year.