John Boadu defends NPP's decision to retain Mike Oquaye as Speaker of Parliament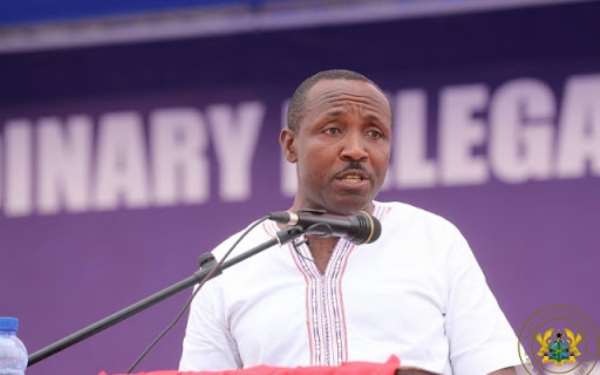 The General Secretary of the ruling New Patriotic Party (NPP) says the decision of the party to retain Prof. Aaron Mike Oquaye as the Speaker of Parliament will be in the best interest of the lawmaking body.
He believes that Prof. Oquaye exudes the right qualities needed to steer the affairs of the new Parliament which has the National Democratic Congress (NDC) and NPP sharing equal number of seats; 137 each.
"We need consistency, we need to have somebody who will not create any friction whatsoever. We've seen some before. In 2004, we had a situation where our Speaker was changed and the brouhaha that went with it was not okay. Even in that case, we had a bit more majority than our opponent, but this one is very keen, so we prefer to go with the current Speaker of Parliament," he said.
A new leadership of Parliament must be put in place at the stroke of midnight on 6th December 2021 ahead of the swearing-in of the new parliamentarians.
The National Council of the NPP on Monday, January 4, 2021, after a meeting, endorsed a proposal for Professor Aaron Mike Oquaye to be maintained as the Speaker of the new Parliament.
The former two-term Dome-Kwabenya MP served as the Second Deputy Speaker of Ghana's Parliament between 2009 and 2013.
Prof. Oquaye was MP for Dome-Kwabenya from 2005 to 2013.
From 2001 to 2004, he had served as Ghana's High Commissioner to India.
In February 2005, he became Minister of Energy, and later he was moved to the post of Minister of Communications.
Meanwhile, the National Democratic Congress (NDC) is proposing Ghana's longest-serving legislator and Member of Parliament for Nadowli Kaleo in the Upper West Region, Alban S.K. Bagbin as the Speaker of the new Parliament.
According to Citi News sources, the proposal was made by the leadership of the NDC caucus in the House.
Mr. Bagbin is the Second Deputy Speaker of Parliament of the soon-to-be dissolved 7th Parliament.
— citinewsroom