Pictures, they say, sometimes speak louder than words. To some extent, that might be true. It is just as these colourful pictures captured the vibrancy of the chieftaincy title-taking ceremony of Professor Kingsley Chiedu Ayodele Moghalu, Deputy Governor of the Central Bank of Nigeria (2009-2014) and Presidential candidate of the Young Progressives Party (YPP) during the 2019 presidential elections. The event took place in his native Nnewi Community on Monday 28 December 2020.
Professor Moghalu was conferred with the traditional title of "Ifek'ego" – meaning "Greater than Money" – by the traditional ruler of the Ancient Kingdom of Nnewi, HRH Igwe Dr. Kenneth Orizu III at the Igwe's 57th annual Ofala celebration. The Igwe celebrated the Ofala on his 95th birthday anniversary and used the opportunity to honour a few indigenes of the community who distinguished themselves in various disciplines. Professor Moghalu was honoured in recognition of his achievements towards the development of Nnewi Community.
Moghalu is a well known political economist and leader who has continued to make notable contributions to the stability and wealth of nations, communities and individuals within the academia, within economic policy, banking and finance, entrepreneurship, law and diplomacy. When he was the Deputy Governor of the Central Bank of Nigeria he led the team that undertook extensive reforms in the Nigerian banking system after the global financial crisis. He was a member of the Bank's Monetary Policy Committee that brought inflation down to single digit at the time.
A professor of International Business and Public Policy at the Fletcher School of Law and Diplomacy at Tufts University in Massachusetts, USA he taught and mentored graduate students from more than 40 countries of North America, Europe, Africa and Asia, to take on leadership roles in their countries and careers – from business to government service and from non-profits to military intelligence.
Moghalu served as Chairman of the Board of Directors of the Nigerian-Export-Import Bank (NEXIM) and the Financial Institutions Training Center. He was also Board Director in the Central Bank of Nigeria, the Securities and Exchange Commission of Nigeria, the Asset Management Corporation of Nigeria and the global Alliance for Financial Inclusion (AFI).
Professor Moghalu worked for the United Nations for 17 years during which time he successfully led national reconciliations and nation-building efforts in fractured societies. He was strictly involved in risk management and management reform in the UN and raised billions of dollars for social investments in developing countries by The Global Fund to Fight AIDS, TB and Malaria in Geneva. A visionary and thoughtful leader, he is the author of several books, an international keynote speaker at industry conferences and a frequent commentator in the global media including CNN, BBC World TV, Bloomberg and the Financial Times. Moghalu founded the Isaac Moghalu Foundation, a non-profit organization that provides support for literacy, educational institutions and access to education for underprivileged children in rural communities in Nigeria.
Educated at the London School of Economics and Political Science where he did a Masters degree in Philosophy and a doctorate degree, Moghalu also attended the Fletcher School at Tufts University for an M.A. degree and the University of Nigeria, Nsukka for his degree in Law. After a stint at the Institute of Risk Management in London, UK, Moghalu completed executive leadership programs in economic transformation, macroeconomic management, global leadership, corporate governance, and strategy at Harvard Kennedy School, Harvard Business School, Wharton, Chicago Booth School of Business and the International Monetary Fund Institute.
Professor Moghalu was born in Lagos on 7 May 1963. He is the first of five children. His father, Isaac Chukwudum Moghalu was a Nigerian Foreign Service Officer, one of a small group of promising young Nigerians inducted into the Ministry of Foreign and Commonwealth Affairs after Nigeria's independence in 1960. His mother, Lady Vidah Chinelo Moghalu, was a schoolteacher at the Breadfruit School on Lagos Island who later became a professional dietician. Shortly after his birth, his father was posted to Geneva, Switzerland.
The Moghalu family spent a year in Switzerland and then moved to Washington, DC in 1964 when Isaac Moghalu was posted to the Nigerian Embassy there. In 1967, the family returned to Nigeria and Isaac Moghalu transferred to the Eastern Region Civil Service as the Nigerian political crisis gathered momentum and later snowballed into a full-blown war. Isaac Moghalu joined the Cabinet Office of the Eastern Region, and later the Ministry of Foreign Affairs of Biafra. The family remained in Eastern Nigeria after the civil war ended in 1970 and Prof. Moghalu's father later rose to become a Permanent Secretary with a strong reputation for probity. This background influenced Chiedu Moghalu's strong value system — a sense of family honor and a family tradition of public service
Professor Moghalu is the Founder & CEO of Sogato Strategies LLC, a global strategy, risk and macroeconomic advisory firm that has helped multinational corporations, global banks, private equity and asset management corporations make successful investments in emerging market countries.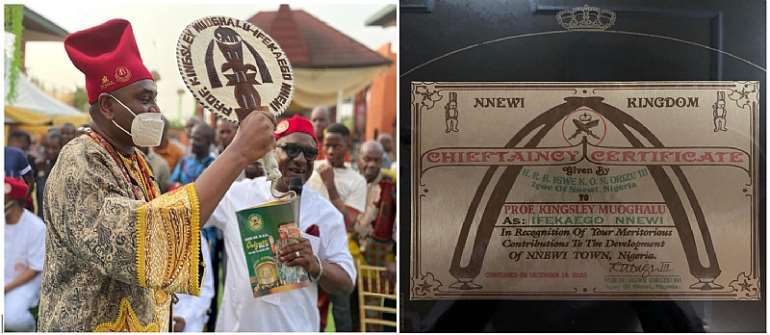 Igwe Kenneth Onyeneke Orizu III was born in 1925 and is the 20th Obi of Otolo and Igwe of Nnewi Kingdom. Traditionally, he is the Supreme Ruler and spiritual leader of Nnewi Community which is one of the prominent Igbo communities in Nigeria. He is a member of the Nnofo Royal lineage. He succeeded his father Igwe Josiah Orizu II, his grandfather Igwe Orizu I and great-grandfather Igwe Iwuchukwu Ezeifekaibeya. Unlike most Igbo monarchies, there were kings in Nnewi Community before the arrival of Europeans. In Anambra State, Igwe Kenneth Orizu III is the vice Chairman of the Anambra State House of Chiefs and as of 2020, he remained the longest-serving monarch in the entire Nigeria.
The Nnewi monarchy, like the British monarchy, is based on traditional inheritance of the throne predicated on paternal heredity by the first son. In Nnewi the traditional monarch is called the Igwe. The Igwe is born and not made or elected, and the institution of inheritance is his traditional right and privilege. The position is neither transferable nor negotiable. The present reigning monarch, His Royal Highness Igwe Orizu III is the 20th monarch in the Nnofo Royal lineage. He succeeded his father as Igwe Orizu III in 1963 after the death of his father Chief Josiah Nnaji, HRH Igwe Orizu II, Obi of Nnewi.
Igwe Orizu III was educated at Hope Waddell College, Calabar and completed his education at New Bethel College, Onitsha in 1942. Before his enthronement, the Igwe worked as a Representative of the then Eastern Nigerian Outlook Group of newspapers, in the defunct Eastern Region of Nigeria. He was also a very successful businessman in Kano.
The reign of Igwe Orizu III is said by his people to be an era of amazing transformation and development. They say it has been a period of phenomenal reawakening, rediscovery, progress and unification. It has been a period of reconciliation and reconstruction of the people and their ancestral land. They say the reign of His Royal Highness ushered in tremendous transformation in all facets and phases of the town.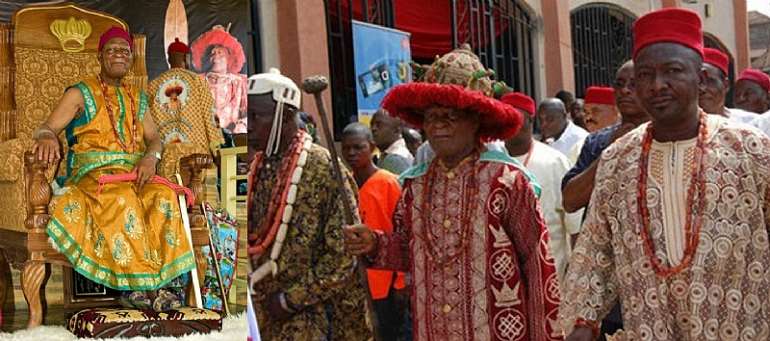 The King was the first Nigerian monarch to abolish the Osu caste system and make everyone in Nnewi Community free born. Igwe Kenneth also discouraged waste of resources at traditional marriages and funeral ceremonies and constituted elders who prepared bylaws to that effect. But most importantly it was reconciliation – healing wounds and bringing the people together by forging a united front for reconstruction, development and progress that has endeared him to his subjects.
The success of Igwe Kenneth Orizu III was not because the Igwe was an extraordinary genius or that he had the Wisdom of Solomon. The Igwe was very successful because he had a very large heart, very listening ears and very admirable and charming dynamic leadership qualities. He is so very approachable and full of humility and magnanimity. His mind and his palace are always open and receptive to all ideas: modern and strange, but also very mindful, respectful and protective of the people's intrinsic social, moral and spiritual values. Above all, His Royal Highness is highly religious and God fearing. This is why His Royal Highness is always seen and revered as the symbol of the unity and the strength of his people. And so, having chosen those to honour on his 95th birthday anniversary, we rejoice with our friend and brother, Professor Kingsley Moghalu on the recognition accorded to him. Today, a prophet is recognized by his people.
By Emeka Asinugo, KSC