Press freedom rapidly deteriorating ahead of elections in Somalia: Journalists and media directors arbitrarily arrested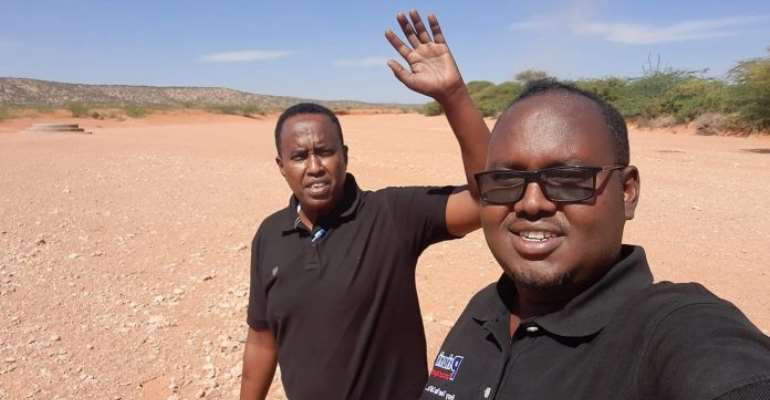 MOGADISHU, Somalia, 27 December 2020 "Somali Journalists Syndicate (SJS) strongly condemns the recent arbitrary arrests against journalists and media directors in Mogadishu, Beledweyne, and Baidoa amid worsening pressures and threats on press freedom ahead of the country's general elections.
On Wednesday 23 December, Hirshabelle police raided a hotel in Beledweyne, Hiiraan region, and subsequently detained freelance journalist Abdukadir Mohamed Farah Dulyar who also doubles as the secretary-general of the Journalists for Human Rights.
The raid and the arrest followed a day after Dulyar interviewed the commander of an armed rebel militia, Abukar Warsame Hud on the outskirts of Beledweyne town, according to Dulyar himself and colleagues interviewed by SJS. The interview, which angered the Hirshabelle authorities, was partially broadcasted by the Mogadishu-based Radio Kulmiye on 23 December.
On Thursday 24 December, the Beledweyne police also detained Mohamed Osman Makaran, the director of Radio Hiiraan Weyn, who also chairs the Somali Media Association (SOMA) after visiting the police station where journalist was detained.
Both of them were, however, released on the afternoon on 24 December without charges. Hiiraan police chief declined to respond when contacted by SJS.
On Friday 25 December, Somali police and officers from the National Intelligence and Security Agency (NISA) in Mogadishu violently attacked and arrested two Goobjoog Media journalists: reporter Abdikarin Ali Adan and cameraman Abdirizak Abdullahi Fagas who were covering an opposition demonstration in Hodan district.
According to the journalists and eyewitnesses, a plain-clothed NISA officer shot two times from his pistol towards cameraman Fagas before detaining the two Goobjoog journalists and holding them at Hodan police station. Local media also reported the same officer pointing his pistol at protestors and shooting into the air during the demonstrations. In the afternoon, police detained Goobjoog Media director, Hassan Mohamed Mohamud after visiting the arrested journalists. They were all freed late in the afternoon without charges.
Separately, SJS is also concerned by the increasing threats and intimidation against journalists in South West State of Somalia, particularly those deemed critical to president Abdiaziz Hassan Mohamed (Laftagareen) administration.
On 20 December, armed police officers in Baidoa raided the home of RTN TV reporter Mohamed Abdirahin and detained him over an online article that has critically analyzed the second anniversary of president Laftagareen's administration.
According to the journalist, police freed him without charge after holding for six hours in the police cell and warned him against future articles that could be critical to the president.
"We are alarmed by the increased arbitrary arrests and attacks against journalists and the media workers in Mogadishu, Hirshabelle, and Southwest states of Somalia. It is extremely concerning that these violations are committed by known officials just in the lead up to the country's general elections," Abdalle Ahmed Mumin, Secretary-General of the Somali Journalists Syndicate (SJS) said.
"Journalists should not be targeted for their reporting while exercising their fundamental freedoms provided by the law. We call for authorities and their security officials to refrain from arresting and threatening journalists and media workers in this critical time," Mr. Mumin added.