Tribute To Dr Jones Ofori Atta ("Akwasi Jones") - Part 2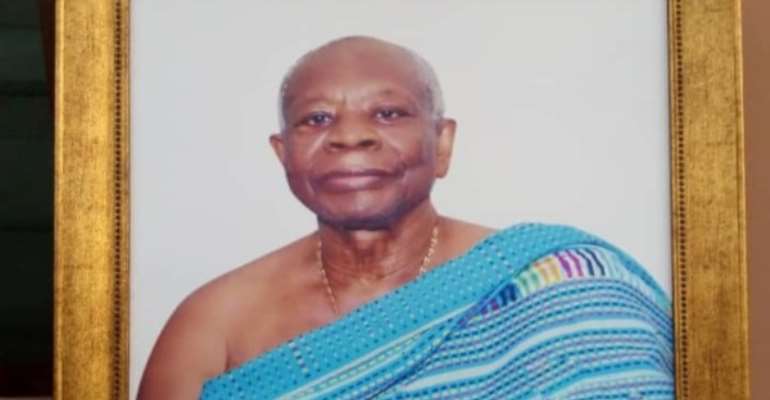 The trouble in writing a description of a person for people who might never have come across him, is that the writer might pick on things which interest him about the subject, but which only represent a fraction of the sum total of what the subject was.
On reading what I've been writing about the late Dr Jones Ofori Atta, many people might make the mistake of concluding that he was a very solemn person, obsessed with solving Ghana's interminable economic problems. I have put a lot of emphasis on his eloquent defence of Ghana's economic interests, especially as regards the "Abbott Agreement" of 1967 (which he torpedoed, almost single-handed), yes.
I have also related his role in trying to solve the extremely serious inheritance of External Debts whose repayment terms dogged the Busia Government between 1969 and 1972. On the debt issue, I reiterate what I have said before: that if Jones and his Minister, the late Mr J H Mensah, had been accorded the full confidence of the Prime Minister, Dr K A Busia, with regard to their approach, Ghana would not have needed to devalue the Cedi and the Progress Party Government might not have been overthrown on 13 January 1972 – that is, a few weeks after the stupid devaluation.
Now, please do not make the mistake of regarding my speculation as an idle conjecture, for the single most important step taken by General Kutu Acheampong, upon seizing power, was to use the arguments advanced by J H Mensah and Jones, and which were available to him in the files of the Ministry of Finance and Economic Planning, to declare "YENNTUA!" [WE WON'T PAY!] re the external debts. In other words, the evidence is self-contained! Acheampong became extremely popular after "YENNTUA", and any hope of the Progress Party regaining the popularity it had demonstrated with its victory in the 1969 election, became forlorn.
YENNTUA was a salutary slap in the face of the Western creditors, letting them know that Ghana was fully aware that many of the external debts had been incurred through corruption and sometimes, deliberate deception amounting to fraud. Acheampong obtained information from banking sources that convinced him that the Western Governments that were chasing Ghana for their "pound of flesh", were in fact aware of the nefarious practices through which previous Ghanaian Governments had been milked: under-declaration of exports and over-invoicing of imports on the companies' part (for example). Many of the projects sold to Ghana also proved to be unviable, ab initio and would have been seen to be so, had due diligence not been neglected, due to the taint of corruption.
These confidence tricks were well-known to the Western Governments, yet they behaved as if the companies involved were paragons of virtue to whom debts owed by foreign countries should be considered "sacrosanct". It appeared evident that so long as the companies brought huge profits home to butter the bread of their shareholders, their dishonest activities -- such as distributing free Mercedes Benz limousines (in one instance) were to be overlooked.
But, of course, J H Mensah and Jones were wrongly regarded by the West as "radicals", and they were ruthlessly undermined by a misrepresentation of their attitudes to Dr Busia. Pretending to offer Busia dosinterested economic advice, "prestigious" entities (such as the "Harvard Advisory Group") and Western political agents pretending to be Busia's friends, sold IMF ideas to Dr Busia. And he listened to them, in the baseless belief that the Western Governments would favour him if he did as the foreign advisers told him.
Now, would you expect a person in the centre of such extremely serious international economic tussles to display a perpetual sense of humour? Yet those close to Jones Ofori Atta would have been giggling whenever they were in his company – even during days of enormous political pressure. I remember him and the late Isaac Tufuor of the History Department of the University of Ghana engaging in pleasant banter while we were having a drink at the Accra Continental Hotel. Apparently, campus life produced a lot of hahas which we outside the academic "ivory towers" had no idea about.
Or just listen to Dr Ofori Atta talking about a guy who had been caught red-handed dipping his hands into the funds of his Ministry: "When I asked him why he had done it, he surprised me by giving me a straight answer. He told me, "Boss, I jost wanted to put op some small strockchor for my retirement!" Jones mimicked the guy to a tee, and one couldn't help but explode with laughter. "Small strockchor "indeed!
Another example of Jones's conviviality: his occurred when the occasion when we were discussing the complaints in a petition filed by the spokesmen of the staff against the manager of an industry. "Among their complaints," Jones revealed, "was that he had brought disgrace upon their organisation by going to eat in the canteen and ordering only "bushmen's food" – such as "cocoyam-leaf soup with snails in it!"
"They thought it was disgraceful to eat 'abun-abun'? I queried.
"Yes!" Jones expatiated: "You have no idea how snobbish these our so-called elites are!"
In 1986, I had the privilege of being in Kampala, Uganda, when Jones arrived there to assume duty as the new Economic Advisor to the Governor of the Bank of Uganda. Before being overthrown by the National Redemption Movement, General Idi Amin had run the Uganda economy to the ground and there were many jokes about how much money was needed to buy a simple meal. (It was reminiscent of Ghana's bad old kalabule days of the late 1970s!) Jones set about straightening out the Uganda shilling with an equanimity almost amounting to nonchalance.
Now, we soon discovered that Uganda too grows the type of plantain we "in the Ghanaian bush" call apem.They call it gonja. It was cheap in the markets because the Ugandans prefer green bananas to plantains like gonja. On making this discovery, Jones and I lived on apem ampesie in Kampala. Meat was cheap there, so making soup or stew was easy. But we jokingly speculated on how a Ghanaian of Gonja descent would take it if we expressed gratitude to him/her, on the grounds that he/she had enabled us to survive the hard economic realities of post-Amin Uganda!
I say: Long live gonja! I shall eat some for you, Akwasi, this very day!