CACFIG Identifies With Less Fortunate -As It Opens National Office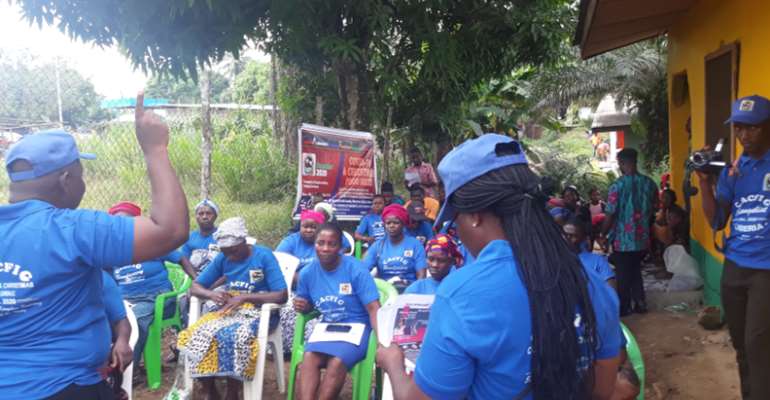 The Liberia Chapter of Christ Ambassador's Christian Foundations International Group (CACFIG), Incorporated, on Saturday, December 19, 2020, put smile on the faces of several less fortunate Liberians.
CACFIG distributed rice and other food items among widows, blind, physically challenged and other vulnerable people from various communities in and around Monrovia, under its program "COVID-19/Christian Food Drive".
The occasion, which also marked the official opening of the religious group's Liberia head office at the Bishop Kula Junction in Zubah Town, Du Port Road, saw beneficiaries jubilantly walking away with bags of rice and other items.
Beneficiaries are also people who receive the gospel through CACFIG's trained evangelists and other soul winners.
In separate interviews, two struggling ladies, Madam Hawa K. Sekou and Ma Cecelia Gaylah, praised God for the gesture and commended CACFIG for providing for them during this festive season.
"I come here today because of God business, only God business I on now. La Reverend (Rev. Joseph A. B. Gueh, CACFID-Liberia Coordinator), called me to come. He can always call me so I thank him for making to feel fine," Ma Hawa said in broken English.
For Ma Cecelia, life has become unbearable, but said her hope has been restored after encountering CACFIG, that tells her all is not lost once she believes in God.
Further explaining her ordeal, Ma Cecelia, whose one hand is crippled due to illness, said CACFIG continues to identify with her. "See my condition; I wor up interior working with one hand. I wor planting yam with one hand and do everything with my one hand. Today, I thank the people for helping me," she said in broken English.
For his part, CACFID-Liberia Coordinator, Rev. Joseph A. B. Gueh, said while the group is intended to spread the gospel, it goes beyond by assisting the needy.
Rev. Gueh CACFIG was founded through the vision of its Executive Director, Mrs. Blayson Kabia, a US-based Liberian, to propagate the Christ and also assist the need.
"While we are meeting the inward need (gospel) of the people, it is also important to meet their outward needs (materials) because they are human beings," Rev. Gueh explained.
He said, CACFIG's aim is to ensure that people accept the gospel and attend any Bible-believing Church, adding, "We have evangelists who carry the gospel to various communities and, depending on our resource strength, we assist as many less fortunate people with whom we spread the gospel."
Rev. Gueh said the current operations of the organization in Liberia are funded by the founder, Mrs. Kabia, because the Liberia branch was established in August of this year.
He used the occasion to reveal that the group has acquired land to engage in agriculture, beginning with piggery for sustainability.
Meanwhile, Rev. Gueh said the group welcomes partnerships from institutions, individuals and others once they go in line with the vision of spreading the gospel and assisting the needy.
CACFIG also operates in six other countries, including USA, Philippines, Ghana, South Africa, Nigeria and Kenya.