Did Mike Pence indeed not feel a thing about the COVID Jab?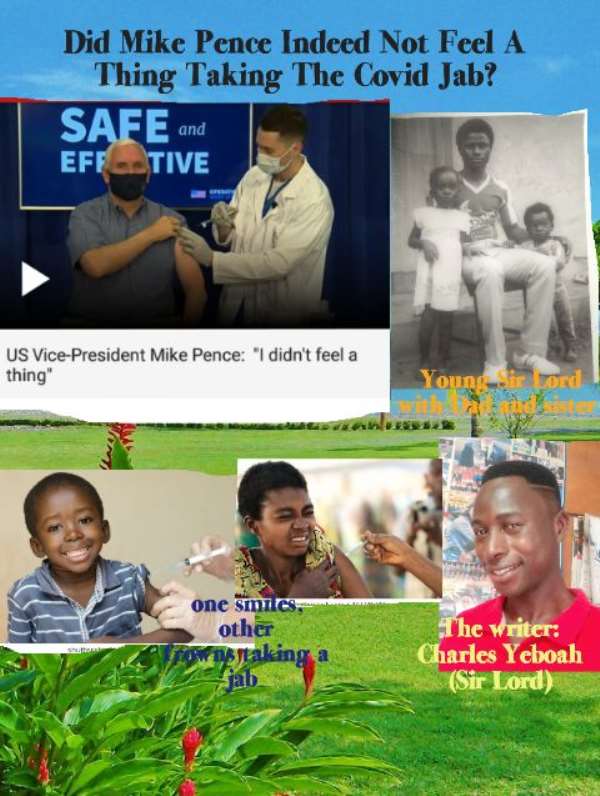 I remember growing up in my native Goka, my Dad boasted about me to those in a long queue who pulled back when the health experts came to inject, vaccinating children against diseases they warned was lethal.
Immediately it got to my turn to be injected, my father will say about me, 'for this my son, he doesn't fear taking injections. He'll rather be injected than swallowing a pill'.
He (my Dad) received the praises for grooming me to be that fearless even as they who were older than I did shifted positions to be at the tail-end of the queue when it got to their turn for the shot.
What my father didn't know was that, like the Goka people say it: I was with fear swallowing a bone.
The boldness with which I took the needle under my skin was to appease my father, and boost my status amongst friends that I'm one as that fearless.
No a doctor has diagnosed me yet of being trypanophobia, (having unreasonable fear for injections), but in fact, within my own self, I've never liked it being injected as my Dad falsely believed it that I was.
I've always not liked the idea of taking Orthodox medicine, hence always showing this healthy appearance even when I am under the weather.
Thank God that apart from such mass vaccinations, you'll hardly see me admitted to the hospital. It was during High School games that I had a dislocation in my hip, and I spent three days in a hospital. The other one was when a boss threatened to show me the exit door if I don't see the doctor when this malaria unleashed a shivering cold on me in Accra.
I have only two encounters with those in the hospital, and with my fear of syringes, I pray the two should remain so, or I visit there when others are admitted.
So, this evening (18/12/2020), before I started penning this writeup, I laughed uncontrollably when I saw the US Vice President Mike Pence telling live audience after he'd taking the Pfizer/BionTech jab on live television from inside the White House, alongside his wife, Karen, and other staffers, that: he didn't feel a pain.
Mr. Pence, even after his distorted face gave him up, showing to viewers that he feared the syringe, as the doctor pierced his flesh with the shot and brought out the needle, he said to the gathering that: "I didn't feel a thing".
Really? Or the vice president wanted us to see him literally wail and tears stream down his cheeks that we'll learn he felt a thing?
Sir, if you own up on your fears, not even the North Korea's Kim Jong -un, that will say: America didn't get a bold leader in you, Mike Pence, the Veep of the United States of America. Fearing at times in fact makes us humans.
Sure, as a global drive to whip interest into the inoculation against the devastating Coronavirus, it'll take progressive leaders as Mr. Pence to take the lead, erasing doubts spread by Covid sceptics, including the Boss himself of the White House, president Donald Trump, and his friend in Brazil, Jair Bolsonaro, and many others scattered across the world and here in my country Ghana and almost everywhere in Africa.
My fears of being injected does not translate into me playing foolhardy, saying: there is no virus, and hence vaccine is a biological weapon meant to doing what evil there is to mankind.
As I did in my infant days, taking shots upon my father's encouragement, I'll avail myself wholeheartedly to be one of the first to take the jab when Ghana rollout nationwide vaccination against the Covid-19.
Africa as at now, (safe the Madagascar's dying Covid mixture), we do not boast of any tested and approved vaccine to battle the global pandemic that ran aground all global economies in this hellish year, 2020.
But, if it's the Pfizer/BionTech or the Moderna vaccines, Ghana cannot stand alone fighting the currents of science. It's a global phenomenon, if others are morphing into animals, we'll be their next prey if we keep on maintaining our human status, saying: it's BigPharma that's out to kill Africans for our land. Or some devil's incarnate are bent on inserting chips into our body under the guise of inoculation, and other many unsubstantiated theories against conventional medicine.
It's a medicine miracle. The speed with which vaccines have been produced to take us back into normal life vis-a-vis what the Coronavirus took from us since the first half of this year, and counting, is commendable.
God bless the scientists, the World Health Organisation (WHO), and make our world a happy place again without elbow-bumpings, whilst we can shake hands warmly as humans, and throw away those suffocating nose-masks and the pungent hand sanitisers.
Written by: Charles Yeboah (Sir Lord)
The Founder of One Ghana Movement (#1GhM)
Email: [email protected]