Church-run centre appeals for support to fete children in street situations in Kumasi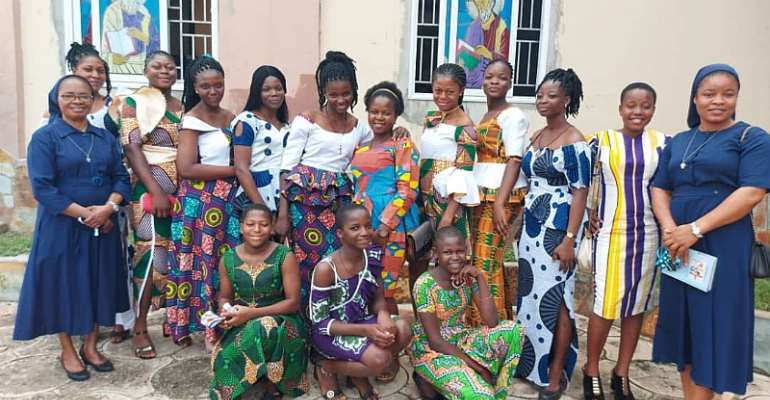 As Christmas is a time to for showing love to one's neighbour, Safe-Child Advocacy and the four members of St. Louise Community of the Daughters of Charity (DC) of St. Vincent de Paul Congregation in Kumasi, have decided to once again to dedicate this year's Christmas celebration to feed about 1000 poor and vulnerable especially children in the streets of Kumasi.
With the good intention of showing love to the less privileged in society, the management of Safe-Child Advocacy, a humanitarian organisation of the catholic Archdiocese of Kumasi and the Nuns are appealing to Catholics and Ghanaians in general to support this worthy cause.
"For us Daughters of Charity, Christmas is one of the moments we stand side by side with the poor. We celebrate Christmas with them to incarnate God's love revealed in the mystery of the incarnation," says Sr. Catherine Eking, head of the Community ahead of the Christmas celebrations.
"We never spend Christmas away from our communities because we need to celebrate with persons in poverty. They are our Lords and Masters in the words of our founders. We make the choice to serve them and so we do our best to make them truly celebrate Christmas."
"Although we celebrate birthdays with our children, Christmas celebration is different. This year we are planning with our girls how they want to celebrate and the list is a long one. Carols, picnic, cooking, dancing, variety shows, fun, fun, fun," Sr. Eking added.
Sr. Olivia Umoh, the Director of Safe-Child Advocacy, a humanitarian organisation owned by the Catholic Archdiocese of Kumasi and managed by the DC Sisters said "As Daughters of Charity, we celebrate pre-Christmas and Christmas activities with Children in street situation in line with the charism of our founder St. Vincent de Paul,"
"Christmas is a special time at for children in street situation in Kumasi. At Safe-Child Advocacy, we make it a tradition to celebrate Christmas with children in street situation. Our children look forward to our Christmas celebrations with its variety shows," she added.
She emphasized that the reason SCA celebrates Christmas with children in street situation, though they are generally Muslims, is because Christmas is a celebration of love.
"God's love made manifest to humanity through the incarnation of Jesus Christ His son. Jesus' love made no distinction between Jews and Greeks, freed and slave, blacks and whites, children on the streets and children at home," Sr. Umoh said.
She pointed out that "All children are special to God and God loves you all, Christmas is a time of giving and sharing and we should all try to share with others around us whatever little we have."
Amid the COVID-19 pandemic, the Sisters would from December 20 to 22, 2020, cook and share food to about 1,000 children and homeless persons around the principal streets of Kumasi.
According to the Director of SCA, "The children are preparing to display a Christmas play during the Carol on the eve of Christmas at the St. Paul's Parish at Appiadu in Kumasi.
"As for Christmas dance, it is a 'must' as my children will say. The children are even proposing a dance competition," she added.
On December 25, 2020, the Daughters of Charity Sisters also have plans to host a Christmas party for children who reside at St. Louise Vocational Training Centre, Appiadu, Kumasi where some of the girls who trained at the Centre will be expected to visit their families to connect with them.
One of the key events anticipated by the Sisters for this year's Christmas party for children is Christmas Carol for 35 to 40 children who would be left at the Centre.
"If not for coronavirus, the children being catered for by the Daughters of Charity Sisters proposed a variety show including a football competition and other sporting events to celebrate Christmas. But, due to the pandemic, everything has been put on a low key for protection and safety of all," Sr. Umoh stated.
"I told the children that we need to stay safe to enjoy many Christmases," said Sr. Umoh, adding "I would say our children are looking forward to a Christmas this year with lots of excitement."
"As Sisters belonging to a congregation dedicated to the poor and vulnerable, we aim at putting smiles on faces of children in street situation in Kumasi during the yuletide by sending some out to exciting places like the Kumasi Mall and Children's or Rotary park also in Kumasi."
Unlike this year, the Kumasi Community of DC Sisters celebrated Christmas in 2018 with children in street situation at their centre during which about 50 girls themselves did the cooking and decoration for the celebration since they live in the Centre.