Some Three Strategic Indiscretions NPP Leaders Must Avoid Henceforth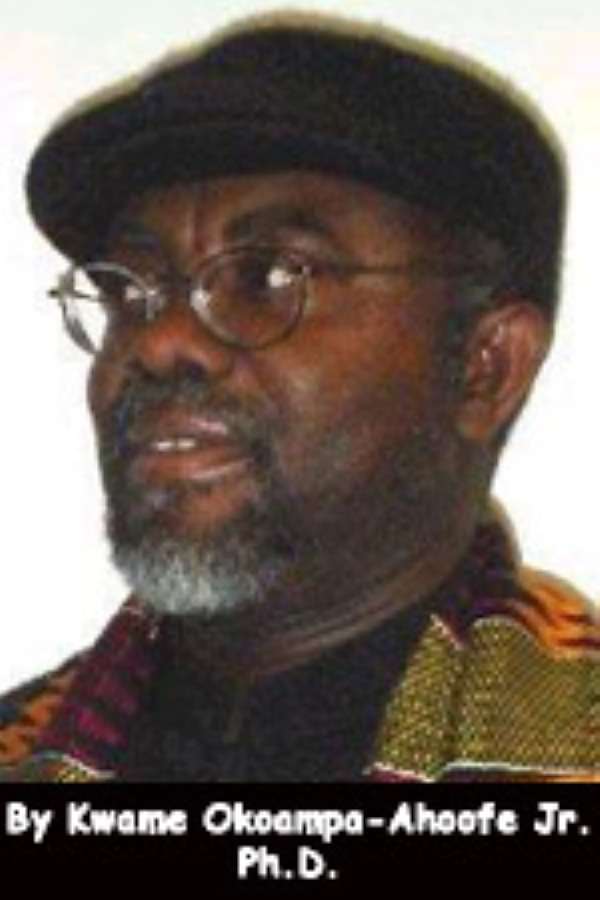 One thing is certain: And it is the fact that warts and all, President Addo Dankwa Akufo-Addo remains Ghana's best bet for the massive and rapid development of Ghana in the first half of the Twenty-First Century. And so far, the former Attorney-General and Minister of Justice well appears to be on the right track. But, of course, it goes without saying that Nana Akufo-Addo needs to crack the proverbial whip by strongly demonstrating that he is, indeed, serious about fighting official corruption, especially corruption among the ranks of his own appointees. This well appears to have been a critical part of the fracas that Mr. Martin ABK Amidu, the former Independent Special Prosecutor, had with Ghana's former Foreign Minister and Minister of West African Integration. The common saying that "Charity begins at home" pretty much applies here.
If you cannot put your own house in order, then you had better not attempt to put the entire village of Ghana in order. The first indiscretion that I want to discuss here is the tired old Ghanaian characteristic of "complacency," a psychological, behavioral and an emotional trait and/or mindset that appears to have afflicted the entire leadership of the New Patriotic Party (NPP) for quite some time now and scandalously appears to be intractable, although it may also very well be an official nonpartisan or cross-partisan Ghanaian leadership weakness, rather than its necessarily being an Achilles Heel that is unique or peculiar to the leadership of the New Patriotic Party. It is unarguably evident that it was this indiscreet spirit and temperament that curiously prompted Nana Akufo-Addo to rather prematurely, inadvisably and smugly claim that the electioneering campaign of Candidate John "Akonfem-Kanazoe" Dramani Mahama had "fallen into the waters of defeat."
This rather shallow and flippant electioneering campaign remark uttered with just about seven days prior to the opening of the polls, may very well have cost the President a significant percentage of votes, especially among the so-called "floating voters." The ill-timing of this remark also clearly indicates that Nana Akufo-Addo has quite a lot to learn about the temperament and pulse of the proverbial average Ghanaian voter. Anyway, the second indiscretion, one that is not directly related to the preceding behavioral or character trait of Nana Akufo-Addo, is, nonetheless, one that is poignantly related to our present discursive protagonist because it was predictably and characteristically and grossly exhibited by a questionable close relative of the President, namely, Mr. Gabriel "Gabby" Asare Otchere-Darko. And it concerns the insufferably crude, offensive and intrusive remark that, somehow, the leadership of the National Democratic Congress was rabidly seeking to take undue advantage of the recent death of former President Jerry John Rawlings in a scurrilous bid to "resurrecting their dying campaign."
There may, of course, very well be some truth to such observation. But it was, nevertheless, rather churlish and boorish for Mr. Otchere-Darko to have so cavalierly presumed to determine for Ghanaian citizens and voters the question of whether the 2020 National Democratic Congress' electioneering campaign was dying or was smack in the throes of a necessary and an inevitable death. Now, as the headache and high-blood-pressure causing results of the fiercely fought 2020 General Election have begun to trickle in, it is soberingly clear that, indeed, Mr. Otchere-Darko was a damn fool for so prematurely presuming the electioneering campaign of the National Democratic Congress to have become comatose and in dire need of final funerary rites and burial arrangements.
This rather inexcusably presumptuous remark that was reportedly made at the campaign launch of Hajia Humu Awudu, the New Patriotic Party's Parliamentary Candidate for Wa-Central, in the Upper-West Region, has poignantly turned out to be the dumbest remark of its kind (See "NDC Using Rawlings' Death to Resurrect Their Dying Campaign – Gabby" Modernghana.com 11/22/20). The fact of the matter is that whether the Mahama Posse was virulently hell-bent on capitalizing on the death of the acclaimed Founding-Father of the National Democratic Congress to secure or garner some sympathy votes from the Ghanaian electorate or not, was none of the frigging business of Mr. Otchere-Darko.
And just why would the former Executive-Director of the Danquah Institute (DI) feel so solicitous about the image, personality and reputation of the perennially brazen half-Scottish waif who once described the then-Candidate Addo Dankwa Akufo-Addo, in the very august courtyard of the Manhyia Palace of His Majesty, The Asantehene, Otumfuo Osei-Tutu, II, as an "unprepossessing dwarf" who did not deserve to be gunning for the Presidency, let alone be elected substantive President of the Sovereign Democratic Republic of Ghana? You see, this is the kind of behavioral treachery to which I have been incessantly alerting progressive-minded Ghanaians for a little over a decade now.
And then, of course, the third indiscretion and one that is of seismic dimensions, is the faith-crushing attempt by Messrs. Otchere-Darko and Kenneth Ofori-Atta, the Finance Minister, to literally sell Ghana's mineral wealth and patrimony, literally down the creek or river, as it were. This is an unforgivable act of criminality on par with the globally infamous and psychologically indelible Trans-Atlantic Slave Trade, for which felonious act of heinous criminality no sane and mature Ghanaian citizen expects Mr. Ofori-Atta to play any officially significant role in the second-term Administration of President Addo Dankwa Akufo-Addo. It may also be one reason why the parliamentary parity of our two major political parties may be opportune for Nana Akufo-Addo's second term. Enough of this inexcusably depraved Akyea-Mensah-esque assassination attempt on the very spirit and soul of the Ghanaian Ship-of-State. Enough is enough already!
*Visit my blog at: KwameOkoampaAhoofeJr
By Kwame Okoampa-Ahoofe, Jr., PhD
English Department, SUNY-Nassau
Garden City, New York
December 8, 2020
E-mail: [email protected]