'I'll Make Economy More Stable in my next gov't' — Akufo-Addo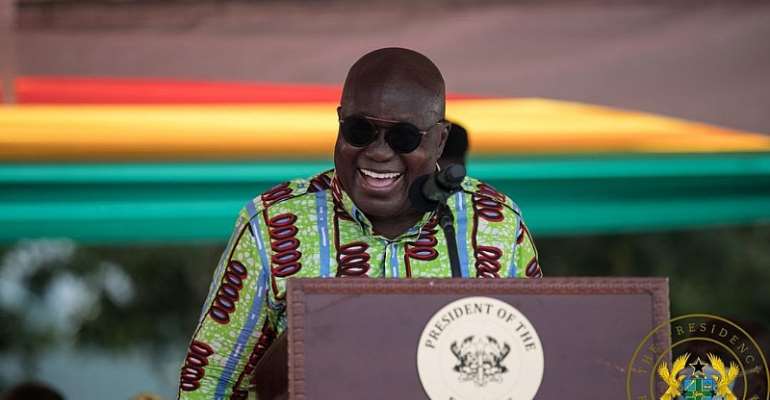 President Akufo-Addo has said his new administration will put in place measures to make the economy more stable.
President Akufo-Addo, who addressed Ghanaians from his private residence at Nima in Accra, said he was committed to making Ghana the beacon of hope for Africa by building a stronger economy.
This was after Jean Mensa, Returning Officer, declared the results of the 2020 Presidential Election.
According to him, the ultimate goal of his second tenure will be to grow the country in all fronts and improve the livelihood of all Ghanaians.
"My immediate task will be to continue with the process of reversing the effects of COVID-19 effects on our economy and on our lives. And put the nation on course for full economic recovery and development," the President said in his victory statement.
"Before the pandemic struck, Ghana in recent years was among the fastest growing economies in the world. I give you my word, we will regain that reputation," President Akufo-Addo emphasized.
The President further noted, "Just as I have been doing since January 2017, I give you my word that I will continue to work very hard to build a prosperous and progressive Ghana for which we are here."
Forecasts
Various economic forecasts by the International Monetary Fund, the World Bank and international research institutions and credit agencies have revealed that the Ghanaian economy will grow strongly at about 4.8% in 2021 despite the expected challenges with respect to the fiscal economy.
This is expected to provide opportunity for the economy to mobilize more revenue to take care of budget financing and repayment of debts amongst others.
President Akufo-Addo won the 2020 elections with 51.59 per cent of the votes on the ticket of the New Patriotic Party (NPP), adding that "the decisive margin of victory in this election constituted for me an endorsement of policies and programmes initiated by my government and put before the electorates. And I am determined to, in all my power, accomplish the task of this new mandate and thereby justify the confidence reposed in me."
He assured all Ghanaians that he would do his best for everyone, and therefore would not let anyone down and urged all Ghanaians irrespective of their political affiliations, ethnic backgrounds, amongst others to support his government to deliver results for all.
---Daily Guide