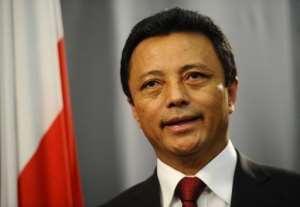 Authorities must immediately and unconditionally drop spurious charges against environmental human rights defender and allow him to do his work without fear of intimidation or reprisals, Amnesty International said today.
Clovis Razafimalala is facing trial on 17 December on old trumped-up charges.
Razafimalala, a well-known campaigner against the illegal trafficking of rosewood and other timber, is facing charges of destruction of public buildings and arson related to a 2016 incident which he was never part of.
Razafimalala spent 10 months in jail between 2016 and 2017 for the related crime but later acquitted after witnesses submitted that he was never part of the said crime.
"These spurious charges against Clovis Razafimalala are a continuation of injustice that we have seen against him since 2016. He is being targeted for his activism work and exposing the illegal trafficking of the country's precious resources, including rosewood," said Muleya Mwananyanda, Amnesty International's Deputy Director for Southern Africa.
"Malagasy authorities must drop these trumped-up charges and stop intimidating and harassing Clovis Razafimalala and ensure that he can exercise his freedom of expression without having to worry about reprisals."
Clovis Razafimalala was charged for allegedly encouraging protesters to loot an administrative building in Maroantsetra – a town on Madagascar's north-east coast, on 14 September 2016, along with seven other people. He was arrested on 16 September 2016, the day after a protest.
The protest called for charges against the town's former mayor to be dropped. He was subsequently charged with rebellion, destruction of public documents and goods, and arson.
He was acquitted on the charge of rebellion and finally released from jail on July 24th, 2017 by the Tamatave Tribunal.
The acquittal happened after several witnesses came forward to say Clovis wasn't even at the protest. However, despite these witnesses' testimony, he was found guilty on the two other charges and handed a suspended sentence.
In the latest attempt to try Razafimalala from the 2016 trumped-up charges, his lawyer has noted irregularities in the trial, amongst which the fact that none of the witnesses requested by Clovis'lawyers were called to testify, and the only witnesses called to testify were stated, prosecution witnesses.
"Since 2016, Clovis has been a victim of intimidation and harassment by Malagasy authorities, with no closure on the case. His life has been turned upside down by this case. The intimidation must stop." said Muleya Mwananyanda.