The Wind of Dumsor Is Not Blowing Back Anytime Soon, Comrade Adjaho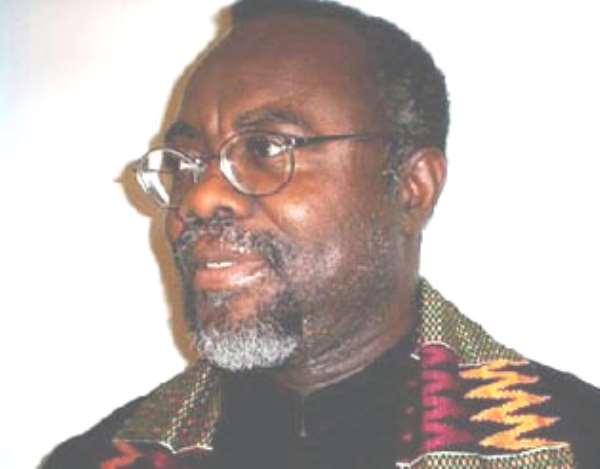 It is quite obvious that former House Speaker Edward Doe Adjaho did not compare notes with the Presidential Candidate of his own political party, the National Democratic Congress (NDC), before deciding to grant his pre-election interview with the Ghana News Agency (GNA) during which he rather curiously claimed that Ghanaians would soon be enjoying "the new atmosphere of change they have long waited for." This is the most absurd statement to be made by any major politician in Ghana in the leadup to the 2020 General Election (See "Election 2020: The Wind of Change Is Blowing – Doe Adjaho" Modernghana.com 12/3/20).
If he had studiously compared notes with Candidate John Dramani Mahama, the former National Democratic Congress' Member of Parliament for Akatsi-South Constituency, in the Volta Region, he would have loudly and clearly heard the former President desperately plead with Ghanaian voters to return him to Jubilee House and the Presidency so that "I can correct the mistakes that I made in my previous government." Is this the MacMillan-type "Wind of Change" that Mr. Adjaho would have his own Akatsi-South constituents and Ghanaians at large buy into? Indeed, I could readily swear that this political reprobate and incurable scam-artist could also be incurably retarded mentally.
Mr. Adjaho, who once barely escaped being voted out of Parliament by his own Akatsi-South constituents, literally by the skin of his teeth, also puerilely claims that President Addo Dankwa Akufo-Addo has tied Ghanaians up in "chains of slavery" from which the most thievish postcolonial Ghanaian politician, in the memorable and immortalized words of the late President Jerry John Rawlings, the Founding-Father of the National Democratic Congress, that is, Candidate John Dramani Mahama, was poised to liberating them.
Indeed, it is inexcusably absurd for anybody to so casually suppose that liberating Ghanaians from an Oti enclave-type of Anlo-Ewe "chains of slavery" could be devoid of the vehement rejection of the leaders of the National Democratic Congress, including the round rejection of Mr. Adjaho, one of the vanguard protesters of the Akufo-Addo-implemented Fee-Free Senior High School System, a salutary and progressive policy initiative that has significantly reduced functional illiteracy in the country and taken at least a half-million Ghanaian youths off our city streets and alleyways, and from the socioeconomically regressive life of crime and grinding poverty.
You see, Dear Reader, for the Western Togoland secessionist likes of former Speaker Doe Adjaho, shamelessly defending Mega-Heister homeboys like Mr. Alfred Agbesi Woyome, by allowing them to keep their loots from our National Treasury, is what the "liberating wind of change" is about, as well as the double-salary creaming of our National Treasury by Mahama cabinet appointees and executive operatives. It goes without saying that only a political party that is chock-full of clinical buffoons and unconscionable nation-wreckers would think of returning a Presidential Candidate whose sole agenda is to "correct my past mistakes" to Jubilee House and the Presidency.
I mean, how can a former President who effectively bankrupted the historically unprecedented John Agyekum-Kufuor-established National Health Insurance Scheme (NHIS) be equated with the sterling and visionary caliber of President Addo Dankwa Akufo-Addo, the man who effectively and progressively dismantled the epic national disaster and embarrassment that was the infamous Unemployed Graduates Association (UGA), and the equally salutary and socioeconomically progressive restoration of the Mahama- and Naana Jane Opoku-Agyemang-abrogated Nurse- and Teacher-Trainee Allowances?
Yes, Mahama is returning to Jubilee House to "redeem Ghanaians from the chains of slavery," indeed! And to imagine that congenital and arrant fools like Mr. Doe Adjaho once straddled the august Ghanaian Horse-of-State could not at once be more disgusting and irrecoverably disconcerting. If, indeed, Mr. Adjaho were really a patriotic and forward-thinking Ghanaian citizen and statesman, he would have since long learned and noticed that the sort of American-type "Wind of Change" that he is talking about actually swept over Ghana's political landscape as far back as December 7, 2016, when over One-Million Ghanaian voters delivered the most opportune and seismic boot to the Mahama-led Dumsor-inflected National Democratic Congress regime.
So, it is rather wicked and criminally minded for any adult Ghanaian citizen and politician to cavalierly suppose that our beloved nation were a beehive of clinical masochists who incurably gloated in being wantonly exploited and perennially tormented and tortured by politically self-infatuated and criminally minded robber-barons like Messrs. Mahama, Johnson Asiedu-Nketia, the putative Bui Dam Woyome, and Samuel Ofosu-Ampofo. God forbid the ugly return of Social Darwinian Kleptocrats like Edward Doe Adjaho, who only see freedom in their own ability to extort and loot our National Treasury with reckless abandon. God Bless Our Homeland Ghana; God Richly Bless President Addo Dankwa Akufo-Addo and the Visionary and Progressive Leaders of Ghana's ruling New Patriotic Party! Osagyefo Oseadeeyo Toaso!!!
*Visit my blog at: KwameOkoampaAhoofeJr
By Kwame Okoampa-Ahoofe, Jr., PhD
English Department, SUNY-Nassau
Garden City, New York
December 3, 2020
E-mail: [email protected]