NPP has given Zongos identity — Tamale Zongo Chief to Bawumia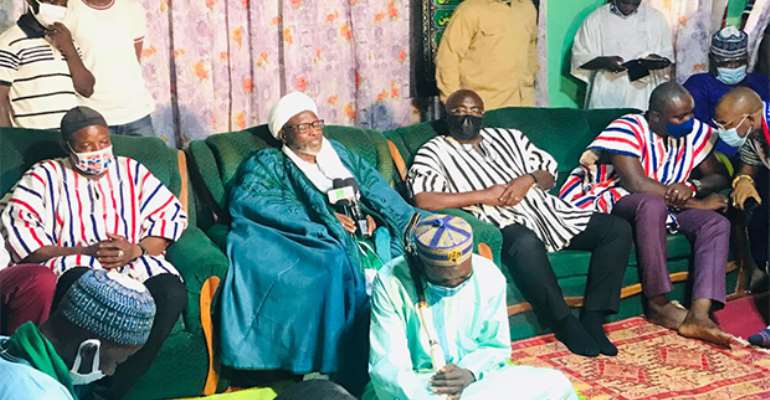 The Zongo Chief of Tamale, who doubles as the Leader of the Shia Community, Sheikh Abdul Mumin Dalhu, has praised the ruling New Patriotic Party (NPP) Government led by President Akufo-Addo for giving, as he put it, 'Zongos an identity in Ghana.'
"The Zongo fund has taken care of the Zongo communities in the country, you have given the Muslims and Zongos in the country an identity and we are proud of that and we can never forget that," he said.
According to the Zongo Chief, the Zongo Ministry and Zongo Development Fund have transformed the Zongo communities in the country.
"The NPP in 2016 made a lot of promises to us, one of which was to give us a Zongo Ministry and a Zongo Development Fund and other amenities. Some persons told us that this can never happen and that it was a political propaganda, but today all have seen it clearly that you fulfilled your promises."
He indicated that the NPP Government has been able to secure scholarships for about forty (40) youth to study medicine in Cuba each year, under a programme to boost medical care in the country.
"This is something highly historic and great and very soon we will have our Zongo doctors with us and this shows how concerned and caring the NPP Government is towards Zongos and we are so much grateful."
In a final campaign tour of Vice- President Dr. Mahamudu Bawumia in Tamale, Sheikh Abdul Mumin Dalhu disclosed that the Zongos in Tamale have not been left out as they have benefited from various developmental projects and school infrastructure.
"The kind of love and care the NPP has for Ghanaians and Muslims and Zongos in particular, I stand on behalf of the Zongo leaders to say a big thank you to Dr. Mahamudu Bawumia and the NPP Government led by His Excellency Nana Addo Dankwa Akufo-Addo and may the Almighty Allah grant your ultimate success."
Dr. Bawumia paid a courtesy call to the various Islamic clergy in Tamale in the Northern Region.
At the Tamale Central Mosque, Dr. Mahamudu Bawumia paid for a debt of GH¢150,000 on behalf of the mosque and pledged to take over the cost of completing the second and third floors.
Addressing leadership of the Tamale Central Mosque, Dr. Bawumia appealed for prayers for the NPP to be re-elected into government to enable it to continue with the developmental agenda across the country.
"December 7 is at the corner and so when you go to the centre on that day, kindly vote for President Akufo-Addo and the Tamale Central Parliamentary Candidate Dr. Ibrahim Anyars for us to do more."
---Daily Guide