Come On, Rawlings Intimidated the Rest of Us for Twenty Years!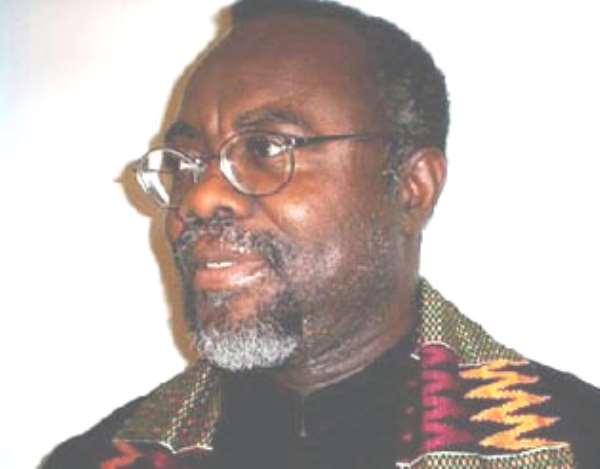 Any region or locality in Ghana that is presently experiencing a relatively higher or heavier deployment of our National Security Forces may very likely be having some elements of its inhabitant or residents engaged in civic conduct that may not be gibing with or in accordance with peaceful and responsible citizenship. In recent months, such exhibition of seditious conduct has emerged disproportionately from certain parts of the Volta Region than from any other parts or regions of our beloved country. We are here, of course, referring to the violent, deadly and patently criminal activities of the military wing of the so-called Homeland Study Group Foundation (HSGF), also known as the Western Togoland Secessionist Terrorist Organization (WTSTO). The so-called, largely Anlo-Ewe-composed, Concerned Lawyers Association of the Volta Region (CLAVR) cannot pretend to be totally oblivious of the virulent and cancerous nation-wrecking activities of both the HSGF and the WTSTO (See "Volta Region: Concerned Lawyers Backs Regional House of Chiefs Call to Withdraw Security Personnel" Modernghana.com 11/28/20).
It logically goes without saying that the deployment of security personnel in any part of the country is strictly based on credible and/or reliable information gathered by the diligent and vigilant operatives of our National Security Agency and/or Apparatus (NSA). It is therefore rather absurd and politically offensive for any group of Ghanaians to be selfishly advocating for the implementation of policy decisions that are clearly aimed at endangering our national security as a sovereign polity. We must also quickly point out that our National Security Personnel (NSP) cannot be evenly deployed across the country, when there is indisputable evidence that all parts of the country are not evenly peaceful and civically stable. This is also rather ironic, that is, the imperious demand by both the Concerned Lawyers Association of the Volta Region and the membership of the Volta Regional House of Chiefs (VRHC) for protective national security deployment in the leadup to a highly charged general election to be aborted, precisely when such national security protection is most needed.
We must also quickly point out that it was in the Volta Region, scarcely 6 months ago, that Candidate John Dramani Mahama made his widely and roundly condemned "Boot-for-Boot Declaration," to the effect that the Eweland-originated National Democratic Congress was indisputably the most violent and politically most lethal establishment in Ghana. Back then, as I vividly recall, the members of the Ghana National Peace Council (GNPC) issued a strongly worded public statement roundly condemning the former President who also, by the way, distinguished himself as the terror-trucking "Shit-Bomber" while Candidate Mahama was the Rawlings-appointed Communications Minister in the 1990s. Back then, quite a number of religious prelates and civil society leaders joined to roundly condemn the use of violent political rhetoric by the former National Democratic Congress' Member of Parliament for Gonja-West, in the Akufo-Addo-created Savannah Region. Surprisingly, however, not a single word of protest or condemnation emanated from the quarters of these self-righteous so-called Concerned Lawyers Association of the Volta Region or the leadership of the Volta Regional House of Chiefs.
So, one can reasonably rest assured that the membership and the leadership of the foregoing establishment are smack in consonance with the violet and nation-wrecking pronouncements of the John Dramani Mahama-led National Democratic Congress. But even more significant must be highlighted the fact that in the runup to the 2016 General Election, a military uniform- and military fatigues-addicted President John Dramani Mahama deployed hundreds of personnel of the Ghana Armed Forces (GAF) to the home-region and political stronghold of the then-Candidate Akufo-Addo. Specifically, the aforesaid troops were camped out or garrisoned in the Eastern Regional Capital of Koforidua. This flagrant act of political mischief and raw intimidation and patent provocation went deafeningly unremarked upon, except for a few of us avid watchers of Ghana's political scene who wrote and published a couple of a dozen articles and media columns in vehement protestation of the same. And yet, the Eastern Region and its capital are well known to be one of the most peaceful areas of our country.
It is also rather ironic for the leaders and elites of a region that has produced a relatively higher percentage of military tyrants and brutal dictators than the size of its population to be virulently protesting the very national security policy for which its leaders are most guilty and notable, if not globally infamous. And just why would voters in the Volta Region be afraid of the very soldiers their own leaders used to protect themselves and the rest of us Ghanaian citizens for at least some 20 years? Why have our brave, patriotic and dedicated soldiers, all of a sudden become intimidators rather than first-responding protectors of their own people? If, indeed, they have been legitimately registered to vote on December 7, 2020, why are these Voltaians so morbidly afraid to come out in their numbers and massively vote for Candidate John "Dumsor" Dramani Mahama and the Rawlings-founded National Democratic Congress, as they have always done? I mean, why are the NDC's World Bank Investors now afraid of their own shadows, as it were, all of a sudden? Come on, Ghanaians need a far better excuse than this.
*Visit my blog at: KwameOkoampaAhoofeJr
By Kwame Okoampa-Ahoofe, Jr., PhD
English Department, SUNY-Nassau
Garden City, New York
December 2, 2020
E-mail: [email protected]