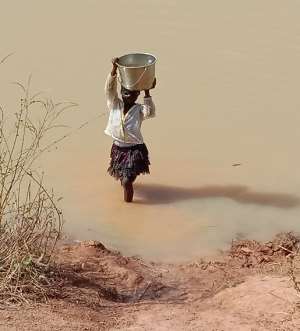 A young girl fetching water from the Dam in the Taha Community
Access to potable drinking water remains the fundamental need for all. This is because water is one most essential commodity for survival and healthy life. The lack of a water source in most communities has resulted in the outbreak of water-borne diseases as residents resort to unwholesome water from streams, rivers and dams.
One such community where the lack of potable water source is threatening the quality of healthy life – impending danger to disease outbreak is Taha. The community is located in the Sanerigu of the Northern Region, with a population of about 1,800 people with 300 houses. The community had benefited from a small town water system where a standpipe connected from the Ghana Water Company Ltd service line, with a reservoir (poly tank) provided to serve residents. However, the breakdown of the facility in 2016 had compelled residents to resort to the dam for water.
The dam which is few meters away from the community is the only source of water nearby for their farm animals such as cattle, goats and, sheep. The community members have no alternative source of water than the polluted dam. Women and children, in particular, have to compete with their animals daily for drinking water. The water has become the source for bathing, drinking, washing and, cooking.
In discussions with residents on how they cope with COVID- 19, they revealed that the Sanerigu Assembly had provided them with a 1000 liter tank for hand washing. However, the lack of portable drinking water had made all households to fetch the water into their homes. They added the slow pace in practising handwashing as a precautionary measure against COVID- 19 had let the Sanerigu District Assembly stop the provision of water. An attempt to get them a borehole facility was never fruitful because experts have made attempts but could not get good water.
Residents are living in fears and are appealing to INGOs, NGOs, government and, Philanthropists to come to their aid. They bemoaned the lack of portable drinking water is fast becoming a threat to their survival. The community is classified as a Disaster Prone and for that matter the urgency to help provide a potable water source or rehabilitate their damaged small-town water system is non-negotiable.
Author; Tahiru Lukman
Youth Activist, Dev't Consultant & Pan- African Author