Otumfuo Condemns Open Defecation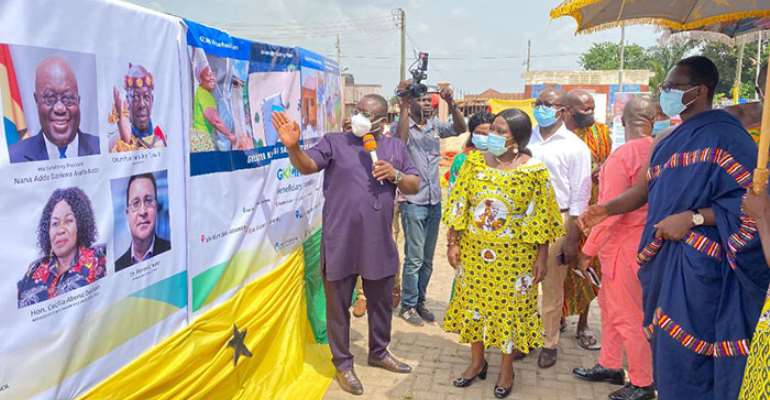 THE ASANTEHENE, Otumfuo Osei Tutu II, has strongly condemned open defecation and other acts that have the potential of destroying the environment.
He has consequently admonished the citizenry to collectively work together so that the environment will be tidy at all times to stop the spread of diseases.
Otumfuo, particularly called for attitudinal change of the populace, notably on matters about sanitation, so that the environment would look beautiful at all times.
"The populace should have attitudinal change on matters about sanitation. Negative acts such as open defecation and the dumping of refuse in drains should stop," he said.
This statement was delivered by the Apagyahene, Oheneba Owusu Afriyie, on behalf of the Asantehene during a public event at the Jubilee Park in Kumasi.
The occasion was the official launching of the Greater Kumasi Metropolitan Area Sanitation and Water Project, a programme which had four major components.
Otumfuo said government's huge spending to improve sanitation in the country would go down the drain if the people did not change their attitude towards sanitation.
According to him, the media should make it their duty to always use their medium to preach about good sanitation practices to help change the mindset of the people.
Ing. George Asiedu, the project Coordinator, said the project would ensure the provision of toilets in 42,000 households and 150 school/healthcare sanitation facilities.
According to him, about 120 kilometres of pipeline would be laid, and 10,000 new households would be connected to Ghana Water Company Limited (GWCL) among others.
In total, eight assemblies including KMA, Asokwa, Oforikrom, Old Tafo, Suame, Kwadaso, Ejisu and Asokore Mampong will benefit from the project for four years.
Sanitation Minister, Cecilia Abena Dapaah, said the New Patriotic Party (NPP) administration had done more than enough to improve the sanitation situation in the country.
The Minister of Education, Dr. Matthew Opoku Prempeh, aka 'Napo', pledged his support for the programme, saying "the provision of toilets will stop the open defecation menace."
Kumasi Mayor, Osei Assibey Antwi, announced that his administration had helped to improve the sanitation situation in Kumasi, thereby beautifying the city in the process.
---Daily Guide