Election 2020: Let's maintain the peace in Bawku — Bissa Youth as they petition Bissa Chief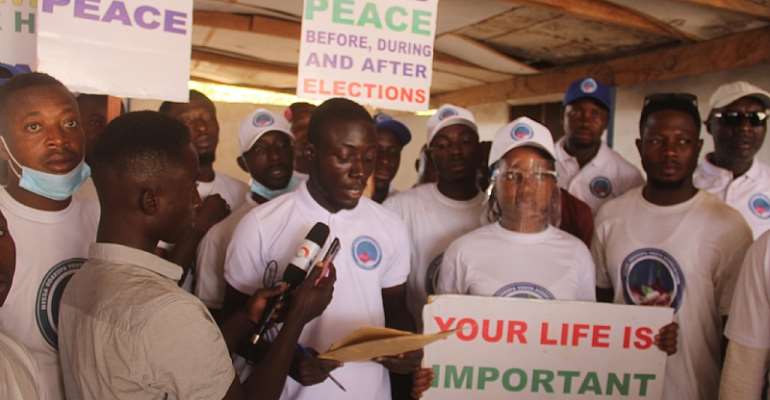 Bissa Odakupa Youth Association (BOYA), a non-partisan association in Bawku in the Upper East Region has called on youth groups in the area and the nation as a whole to commit themselves to peace before, during and after the 2020 general elections.
The youth group said this during singing, drumming and dancing through the principal streets of Bawku municipality.
The Vice president of BOYA, Ali Hassan Yourda urge the various stakeholders including traditional authorities, politicians, opinion leaders and the general public to give peace a chance in Bawku.
The Association presented a petition to the Bissa Chief in Bawku on the need to promote peace among the tribe in the area.
The Bissa chief representative urged the youth not to allow themselves to be used by any violent politician to cause mayhem.
Miss Upper East Contestant, Miss Nihad Ayobi who was part of the meeting appealed to her colleague youth in Bawku to desist acts that will undermine the peace Bawku is currently enjoying.
She however said Bawku is the only home they have and must remain peaceful before during and after the election.
She pleaded with the Bissa communities to vote for her to become to win her contest with shot code *858*1*1#
Zebilla
In a related story, the security agencies in Bawku West District also marched through the principal streets of Zebilla town to create awareness and to assure it preparedness of providing maximum protection at all polling stations.
The Divisional Commander of Bawku West District, Assistant Commissioner of Police, Yao Tettegah cautioned officers not to quaff any alcohol during election duties.
He called on the officers to be in their prescribed uniforms and also discharge their duties professionally.