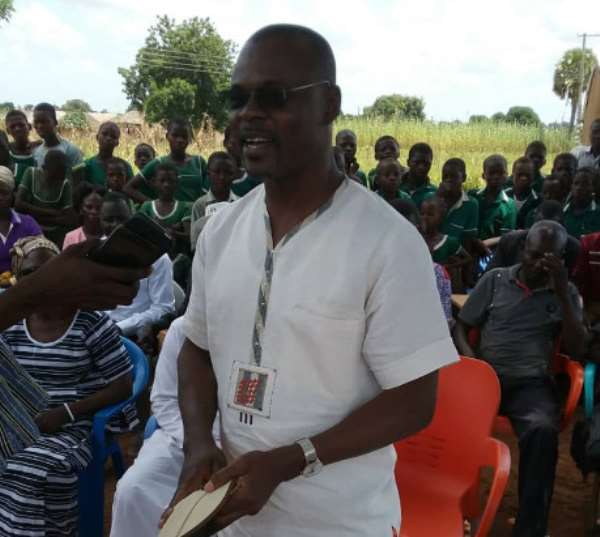 The former Medical Director of the Greater Accra Regional Hospital Dr. Thomas Anaba has called on Ghanaians to vote for improved and quality free senior High School by giving the National Democratic Congress (NDC) and John Dramani Mahama the nod come December 7.
Dr. Thomas Anaba at a durbar of chiefs and people in the Western Region town of Waasa AKropong on a campaign trail reminded voters that the NDC under the leadership of John Mahama gave Ghanaians equal distribution of the state resources. He emphasized that John Mahama championed the needs of farmers and determined to do more when elected President on December 7.
He noted that the second coming of John Mahama will see the full and effective implementation of its promise to provide free primary health care to all Ghanaians. This, he added will bring to end health care disparities as well as the downstream system approach in health delivery.
"With the second coming of His Excellency John Mahama, primary health care will be free. Our wives and children will get free access to health care. There will be no traffic light style of free Senior High School. Double track will be a thing of the past," he stated.
He bemoaned the falling nature of the local currency, adding that it will only take an NDC government noted for its serious, productive and effective style of governance to reverse the wanton hiking of the local currency against major trading currencies, especially the dollar.
He called on electorates to ensure that peace prevails by staying away from any act that has the potential of disrupting peace-before, during and post-election. Dr. Anaba reminded voters of their civic responsibility to go out in their numbers and vote to former President John Mahama.
The opposition National Democratic Congress has blamed the Nana Addo led government for what it described as insecurity, corruption, winner takes all, family and friends government, unbearable hardship among others and has thus called on Ghanaian electorates to vote the New Patriotic Party (NPP) out of power.
Dr. Anaba was among former NDC government appointees who had their appointments abrogated during the coming into power of the Nana Addo led NPP government. He was appointed as a Medical Director of the Greater Accra hospital and was later terminated during the early days of the President Akuffo Addo. This generated a heated debate as the National Democratic Congress maintained that President Akufo-Addo as a political witch hunter.
Ghana goes to the polls on December 7, to elect presidential and parliamentary contenders. The contest is centered between the NDC and the NPP.