17th UG Students' Parliament Inaugurated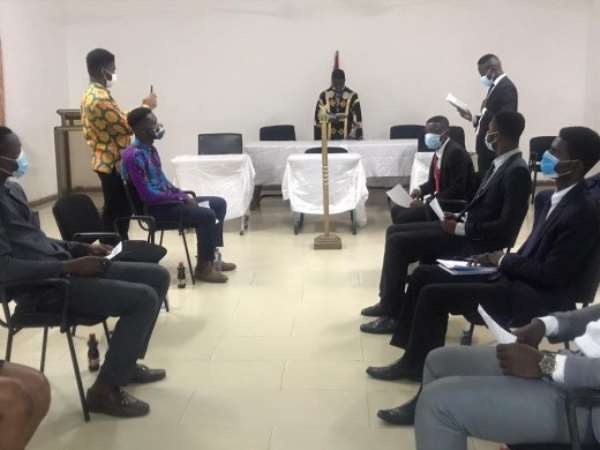 The University of Ghana (UG) Students' of Parliament has been inaugurated with a call on Members of Parliament (MPs) to eschew lateness and embrace togetherness.
The event was held last night at the Students Representative Council (SRC) Union Building auditorium located at the University of Ghana main campus in Legon, Accra.
The new Speaker, Rt. Hon. Amenyona Yaw, who said this during a handover and swearing in ceremony, indicated that he would strictly enforce the Standing Orders of the House, particularly on lateness and advised members to acquit themselves in order not to fall foul of the parliamentary rules.
"I will enforce strict obedience to the Standing Orders, especially in the area of lateness to the House", he said.
According to him, they are not going to wait for school to resume before they start their parliamentary sittings, alluding to the fact that if were are able to write exams online then they can equally do same with the parliamentary sittings online, until such time when school resume in-person.
He added that, the 17th Parliament is going to be a new age where all and sundry must work in unison to achieve a common goal.
"The new parliament is going to be the hope of students to solve problems in the university, the community and the country at large and we need togetherness to succeed as a house".
The MPs were led by the new Speaker Rt. Hon. Amenyona Yaw to take the oath office. This was after the new Speaker had been sworn into office by the outgoing Speaker, Rt. Hon. Godsway Obro-Boateng.
The outgoing speaker congratulated the members on winning their seats and charges the incoming leadership to raise the standards, averring that "It is my hope the new speaker will be able to bring all onboard and run an all-inclusive administration and not the speaker deciding on matters and pushing it down on the other leaders. Because, that's the only way to get everyone to help you to achieve your goals" He expressed optimism in the new parliament to do better.
The SRC President, Master Kwame Amo Ntow Fianko, congratulated the Speaker and student MPs on their elections and inauguration. He assured the House that his administration will support the house in all its activities.
He advised the house to stay united and forge ahead to be able to achieve a common goal.