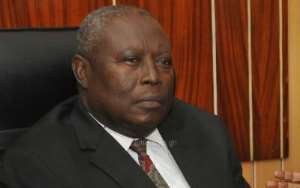 On Friday, 27th November 2020 at 10:22 p.m. I received the following short SMS message from an unknown SIM card telephone number 024 495 4900:
"We will all Maddy (sic) the water."
The true caller application disclosed the name of the person to be one IVAN NANA ADU. I sent back an SMS message in the following words:
"Ivan Nana Adu, go ahead. My safety is in your hands now that you have revealed yourself. Good night with regards in Jesus name."
The 1992 Constitution enjoins every Ghanaian to defend it and that is what I am doing now as a citizen of Ghana with my advocacy on the President's official response to me personally as an ordinary citizen after officially accepting my resignation from my previous office on account of the Government's reaction for professionally conducting the Agyapa Royalties Limited Transactions Anti-Corruption Assessment Report. Come what may, I shall not be intimidated from defending the 1992 Constitution. Ghana First!
Dated at Accra this Sunday the 29th day of November 2020
MARTIN A. B. K. AMIDU
(CITIZEN VIGILANTE)