Corruption Has Significantly Reduced Under Akufo-Addo Gov't – Bawumia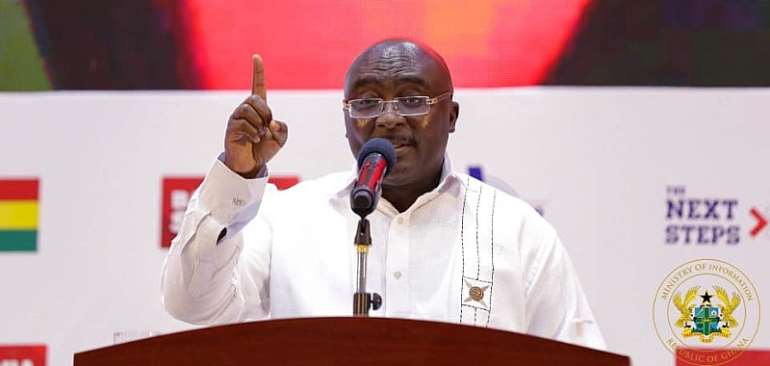 Vice President Dr. Mahamudu Bawumia says the Akufo-Addo administration has been peerless in showing strong commitment in the fight against corruption.
Although there have been questions over Nana Akufo-Addo's determination to nip corruption in the bud, Bawumia said corruption has reduced significantly under the Akufo-Addo government since 2017.
According to him, he can "confidently state that this government is the first in years to demonstrate an uncommon boldness and commitment to fighting corruption."
Dr Bawumia further outlined some initiatives the government has so far taken to fight corruption.
"Why do I say so? Over the last four years, we have strengthened the regulatory and legal framework to fight corruption, by implementing several digitisation initiatives as well as passing into law, several pieces of anti-corruption related legislation including the Witness Protection Act of 2018, the Office of the Special Prosecutor Act of 2018, and the Right to Information Act of 2019, to unearth public sector corruption," he indicated."
Speaking on Ghana's economy during the government's Nations Building Updates on Thursday, November 26, 2020, Dr. Bawumia said under Nana Akufo-Addo's administration, "corruption has significantly reduced in places such as the Ports, DVLA, Passport office, NHIS and so on."
The Nation Building Updates is a weekly event organized by the government under the auspices of the Ministry of Information to provide updates on key government projects, policies, and interventions.
Thursday's event was held on the theme: "The future of Ghana's economy".
Dr. Bawumia used the opportunity to tout the government's achievement in every sector of the economy.
The Vice President said Ghana, under Akufo-Addo's administration, has seen the lowest depreciation of the cedi since 1992.
He said, in less than four years, the Akufo-Addo government has created two million jobs in the formal sector.
The Vice President noted that the New Patriotic Party (NPP) government apart from stabilising the economy is transforming same.
On the financial sector clean-up, Dr. Bawumia said the NPP government has so far spent GHS21 billion to settle customers.
---Citinewsroom