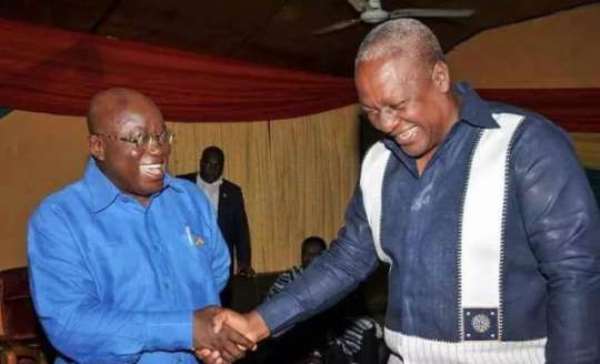 According to Albert Einstein, the definition of insanity is, "doing the same thing over and over again and expecting a different result."
Ghanaians have been shuffling between the National Democratic Congress (NDC) and the New Patriotic Party (NPP) since 1993, always expecting different results.
I believe it is time to give a third party the chance to prove to the NPP and the NDC that, they cannot take Ghanaians for a ride.
Both the NDC and NPP know that Ghanaians are torn between them and to this end have formed a cartel that results in the suffering of only the ordinary Ghanaian.
Looking at the current happenings in Ghana with the Special Prosecutor, I have come to the conclusion that, both the NPP and the NDC do not have the willpower to fight corruption.
Corruption is one of the ravaging problems in Ghana and Africa that is exterminating lives. This has been the case because we have leaders who only think of themselves and not the ordinary Ghanaian.
The time for Ghanaians to stop voting based on tribes is now. The opportune time to vote on issues is now. This is the time to tell politicians that, we have the power and not them.
Think twice if you want to vote for either the NDC or the NPP.
Think twice if you want to harm your brother because of the NPP or the NDC. The politicians do not have you at heart, so, do not kill anyone or destroy anyone for them because they will use you to only serve their purpose.
Let us break the cycle and vote for another party. A party that will put the interest of the nation and its people first. Let us examine the Presidential Candidates based on Good Will. Let us make use of our powers as citizens and make Ghana great and strong.
TOGETHER WE CAN!