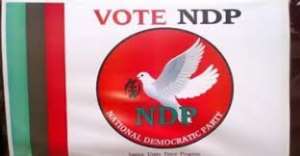 Press conference by National Democratic Party (NDP)
Introductory remarks
Friends of the media, ladies, and gentlemen, I would like to begin by thanking you all for honouring the invitation to cover this press conference.
This is a time of great sorrow for our party, the NDP. As you are all aware, His Excellency Flt. Lt. Jerry John Rawlings passed away on November 12. He was the longest serving President in the history of Ghana, the founder of the 4th Republic and the spouse and life partner of Mrs. Nana Konadu Agyeman Rawlings, former First Lady, founder of the December 31st Women's Movement and presidential candidate of our party, the NDP. May I request you, respectfully, to kindly rise as we observe a minute's silence in honour of the former President, our fallen hero, please.......
......Thank you. May his soul rest in perfect peace.
In the wake of President Rawlings' demise, his family has asked for privacy as they prepare to put him to rest. However, this press conference of the National Democratic Party has become necessary by the for three main reasons.
First, to offer our support to Mrs. Rawlings, spouse of the late President.
Second, to set the stage for true cadres and believers of Rawlings to reflect on his ideals and legacy.
And third, to remind Ghanaians and those who loved Rawlings and stood with him all through the years, through thick and thin, to beware of those who turned their backs on President Rawlings when he was alive, and yet shockingly now seek to generate political advantage from his demise.
Support for Mrs. Nana Konadu Agyeman Rawlings and the family
Ladies and Gentlemen of the media, with the passing of President Rawlings, our supporters and sympathizers have been asking the Executives of our Party whether our Presidential Candidate has the strength to continue as flagbearer considering her natural state of distress. We the Executive, have not broached this discussion with her as we know and understand that she needs time and space to grieve and it would be insensitive to have opened up this topic. We intend to meet with her before the end of this week to have this conversation with her and we will inform our members, supporters and the general public of the outcome in due course. However, it is our wish that she would gather the strength to lead our Party. We would like to inform the general public that our campaign is still ongoing and our Parliamentary Candidates are out there canvassing for votes and our Regional and Constituency Executives, as well as supporters and sympathisers, are still campaigning and should remain resolute.
Friends of the media, the story of Jerry John Rawlings is inseparable from that of
his wife and our leader, Nana Konadu Agyeman Rawlings. She is the mother of his children. She is his love, his friend, his soulmate, his partner, his pillar, his counsellor, his defender. And he too was all these and more to her. Their hopes and their fears were shared, and together they shaped his political life and his impact on our dear country. She believed in him and he believed in her. They believed in and held on to each other without reservation. Their loyalty to each other was there for all to see.
They began their lives together as teenagers at Achimota school almost 60 years ago. They embraced each other in spite of any shortcomings they might have seen in each other. Over the years, some people came and went. Some went and came. But through it all, Nana Konadu stood by Jerry John Rawlings. They survived near-death experiences during the tumultuous periods of Ghana's political history.
She stood by him even in the darkest moments of May 1979 when President Rawlings came close to being executed. She was with him throughout the events of the June 4th 1979 uprising. She stood by him through the 31st December 1981 revolution which culminated in the birth of the PNDC. And she was also right at the very centre of the founding of the NDC. If Jerry Rawlings is the father of the NDC, then indeed Mrs. Rawlings is the mother.
The 31st December Women's Movement which she founded became a formidable women's group that helped to propel the NDC to victory both in the 1992 and 1996 general elections. Indeed, if there was ever anyone who embodies Jerry John Rawlings' essence in his absence, it is none other than Mrs. Nana Konadu Agyeman Rawlings. And so, we mourn with her in this separation. Therefore, now more than ever, Mrs. Rawlings needs the support of all true cadres of the Revolution, believers of the enduring principles of Jerry John Rawlings and all well-meaning Ghanaians.
We in the NDP commiserate with our leader and the entire Rawlings family, on their loss and assure them of our unflinching support in these difficult moments. Our party structures across the country will fully participate in the national events to be outlined in celebration of the life of this great Statesman.
Attempts to desecrate Rawlings's Legacy before his death
Ladies and gentlemen, some curious events in the past few days have come to our attention which show clearly that there are attempts by some elements to desecrate the legacy and name of President Rawlings even upon his demise. These acts are being perpetrated by persons who have shown a desire to constantly humiliate Jerry John Rawlings and his family even when he was alive.
It is worth noting that these deliberate orchestrations to humiliate the Rawlings family began long ago. It began right from the period when certain individuals, many of whom were direct beneficiaries of the revolution that Jerry John Rawlings led and the party that he formed at the peril of his life, felt the need to use their temporary hold on the leadership of the NDC to relegate him to the background in order to capture the juicy fruits borne from his sacrifices; they've tried to harvest where they have not planted.
For the past decade, these elements led principally by the Ahwois and the Mahama group within the NDC, orchestrated a series of coordinated attacks aimed at destroying the legacy of Jerry John Rawlings. This, they did, by sponsoring political neophytes JJ himself aptly described as 'babies with sharp teeth' to unleash barrages of insults and spew damning political rhetoric on the persons of Mr. and Mrs. Rawlings. Even the eventual ostracization of Mr. and Mrs. Rawlings from the NDC was inadequate to appease them. As recently as this year, Prof. Jane Naana Opoku Agyeman, the running mate of the NDC wrote the foreword of a book by Prof. Kwamena Ahwoi which was aimed at destroying the legacy of Jerry John Rawlings. Indeed, in the weeks leading up to his demise, President Rawlings made it clear to all those he had meetings with that he was extremely heartbroken that neither the leadership of the NDC nor the Executives had made any statements in defence of the Founder nor to correct the lies in the book.
Today, the political henchmen who were utilized for such diabolic assignments have been rewarded with high positions in the NDC under John Mahama and those who picked up the baton are also expecting big posts under a Mahama government. Those who produced forewords of books that cast the founder of the party in bad light are hoping to occupy the highest positions in government on the ticket of the party which was formed through the sweat and blood of Jerry John Rawlings.
What did Rawlings do to warrant such disrespect from the NDC under the leadership of John Mahama? All Rawlings did was to be a voice of conscience reminding them of his enduring principles of probity, accountability and anti-corruption- creeds the NDC under John Mahama blatantly disregarded when they assumed the reins of power. As a result, they sought to silence him so as to prevent him from publicly repudiating them for their unprecedented levels of corruption.
We are troubled that some of these same persons, upon the demise of President Rawlings, now seek to lead in mourning the man; they have begun to shed crocodile tears. They spent thousands of dollars to sponsor videos made in Washington DC by one Kelvin Taylor, who is tipped to be information Minister in the event of a Mahama comeback, to insult President Rawlings in words, some of which we dare not repeat, and posted them all over the world through Facebook, WhatsApp, and other social media platforms. With the apparent endorsement of John Mahama and the NDC leadership, Kelvin Taylor said, and I quote, "Rawlings is a modern-day Judas and a hypocrite. He and his sleazy wife are greedy. He behaves as a lapdog to the NPP government and always kisses the ass of Nana Akufo-Addo anytime he gets the opportunity to speak about corruption." He also went on to say and I quote, "JJ Rawlings is not God, he is bad news and a modern-day Judas… and such a man does not even deserve to be a Statesman." "JJ Rawlings is a coward… [you are] a hypocrite and a disgrace on the lap of a midget".
These actions were deliberate and orchestrated by the Mahama-led NDC to hurt Jerry Rawlings and kill his soul even when he was alive. And now, the NDC which was fighting over a Book of Condolence ended up restating their contempt for President Rawlings by using a reception logbook as a book of condolence at their party office.
We want to serve notice, that the NDP will make it a point to expose those who are making feverish attempts to rewrite their despicable opinions about President Rawlings and readjust their abhorrence for the man after all the sacrifices he made for them. And now, upon his demise, they are seeking the limelight for more personal political gain! How dare they! If John Mahama managed to profit from the death of President Mills, he should not be allowed to do same with the demise of our beloved President Rawlings and Ghanaians should not and will not oblige him that.
The hypocrisy of the NDC
When Jerry Rawlings was alive, John Mahama so desperately wanted to silence him. And now that JJ is no more, John Mahama finds it expedient to utilize his death to galvanize support for his weakening base within the NDC rank and file and the country at large to salvage his 2020 campaign which is going nowhere.
Suddenly, these individuals in the NDC under the current leadership of John Mahama who publicly vilified Jerry John Rawlings have rediscovered a new voice proclaiming themselves to be the true adherents of his ideals. Those who publicly described JJ using unpleasant words such as calling him "a barking dog' are now hailing him. Why?
In what was widely reported by media outlets in Ghana, John Mahama, during the NDC's unity walk in Ho in 2018, was on record to have labelled JJ Rawlings as a 'Volta god' who did not deserve to be worshipped by Voltarians. In fact, he is quoted as saying, "We have worshipped the Volta god for so long. It is time to build the party beyond individuals. No sacrifice would please him." This was a classic situation where John Mahama made a futile attempt to turn Voltarians against their hero.
It did not end there. Voltarians who felt they were going to be safe under the leadership of John Mahama were given the shock of their lives when Mahama deliberately sponsored candidates to remove all Voltarians from the leadership of the NDC during the national executives' elections. Today, there is not a single Voltarian elected to a substantive position, not as a deputy but as a national executive in Mahama's NDC.
Today, the same Mahama who admonished Voltarians against what he claimed as "worshipping of the 'Volta god' is frantically exploiting the death of the same 'Volta god' to salvage his failing political ambitions. It is too late!
The most unfortunate aspect of this development is that in an attempt to unduly benefit from his demise, the leadership of the NDC are embroiled in a desperate battle against the State and the Rawlings family over who has the right to conduct the funeral rites of the late President. What they do not know or perhaps have deliberately overlooked is the fact that they are robbing the late President of a befitting send-off. Or maybe that is what they want. They desperately want to reduce his send-off from a befitting state burial to a party funeral just so they can benefit politically.
The wishes of President Rawlings
This brings us to the point where we examine the wishes of President Rawlings. It is an important exercise that true believers of his ideals must conduct; because honouring his wishes in his absence is precisely what is needed to honour him and his legacy.
In doing so I will ask a few questions that should get us to ponder over the man and his wishes.
Would JJ have wished for the current crop of NDC leaders to conduct his funeral rites? The answer is no because in Keta for his mother's burial, he was visibly pained and made his hurt known to John Mahama and the NDC for turning the solemn ceremony into an NDC event. This was all captured on video.
Would he have wished for Voltarians to support a leader who said Voltarians were treating him as if he's the 'Volta god'? The answer is no.
Would he have wished for the cadres of the revolution to support a running mate who edited and produced a foreword of a book that desecrates his legacy and by extension, the legacy of all those who sacrificed for our nation? The answer is no.
Would he have wished for Mahama to continue leading the party and driving it further away from the principles and values on which he built the party? The answer is no.
JJ in an interview with Kwaku Sakyi Addo on Asaase Radio, on 12th July, 2020, categorically stated that he voted for his wife Nana Konadu Agyeman Rawlings in the 2016 Presidential Election.
When he was alive, he chose not to be a part of John Mahama's 2020 campaign and it would be disingenuous to seek to make him a part of the campaign now that he is gone.
So, ladies and gentlemen, the 2020 elections are due in a matter of weeks. But JJ is gone. However, ask yourself as a cadre or as a comrade: ask yourself as you mourn his passing; ask yourself as someone who shared the pain that Mahama and his supporters inflicted on JJ when he was alive; ask yourself as someone who believes in what JJ stood for: would JJ want you to vote for a candidate that he thought was not fit to lead the party that he JJ founded?
As a matter of fact, Jerry John Rawlings was eager to see Mahama lose in the 2020 elections because he believed Mahama and his cohorts had departed from the very ideals of probity and accountability upon which the NDC was formed. When Mahama was elected as the flagbearer of the NDC for the 2020 general elections, JJ was blunt about Mahama's intentions. According to JJ, Mahama's intentions are not to win the 2020 general elections. His intentions are to simply hijack the NDC with his money in an attempt to show up again as the party's flagbearer in 2024.
Ladies and gentlemen, we can foresee NDC losing this election and 2021-22 ushering in a new era for the soul and control of the NDC. That fight is inevitable. John Mahama has, ironically, themed his 2020 campaign a "Rescue Mission." This is ironic because many diehard activists, who mean well for the NDC are waiting for an opportunity after John Mahama's defeat two weeks from now, to begin, in earnest, the mission to rescue the NDC from John Mahama and the Ahwois.
Our message to all those true Rawlings loyalists and disgruntled disciples of probity and accountability is this: join the NDP now and let's work together to honour what JJ believed in.
Ladies and Gentlemen, clearly, if you are a true believer in JJ, you cannot honour his memory by choosing a candidate who together with his backers, sowed discord between JJ and the party he founded and worked hard to discredit Mrs. Rawlings, his lifelong defender, partner, counsellor, pillar, friend, confidante, comrade and soul-mate.
As promised, we will call you again to update you on our Presidential bid.
Finally, we would like the entire members of the Rawlings, Agbotui and other affiliated families in Accra and Keta to know that they are in our thoughts and prayers. We wish to thank them and his wife and children for sharing JJ Rawlings with the whole country and the NDP. We thank him for his support for our Party. Our final message goes to Mrs. Rawlings. We say stay strong as JJ would have liked you to be. As always, his soul will continue to protect you.
Thank you
God bless you
Long Live the Legacy of Rawlings
Long live the revolution
Long live our leader
Long live the NDP