How Honourable are the Honourable Title Holders in Ghana?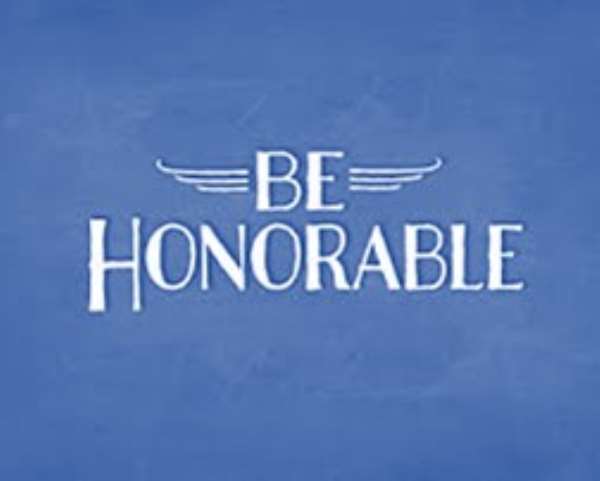 Synonymously, the word honour or honourable refers to highest respect, admiration, reputation, nobility, great esteem, principled, morally correct, right-minded, decent, full of integrity, venerable, virtuous, trustworthy, truthful, distinguished, and many more.
Aside the foregoing, Honourable is used globally as a title for certain high officials, the children of certain ranks of the nobility, and Members of Parliament (MPs).
In Ghana, the title Honourable has become a wholesale designation for politicians at various echelons of the governance system. Methinks it is the most abused title one can think of in political circles in Ghana. In local phraseology, one may refer to the title Honourable as a dogoomi title. It is become too common in use. Ideally, he who bears the Honourable title must comport himself and make the title a deserving designation. However, the title is seemingly losing its value in Ghana. This is what the article seeks to portray.
Honourable Title Holders in Ghana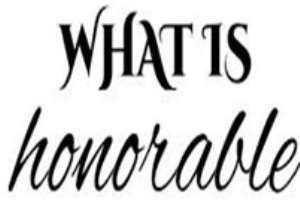 As indicated earlier, the Honourable title is widely used in Ghana and its use has become widespread especially in the Fourth Republic, which began effectively on 7th January, 1993 when Flt. Lt. Jerry John Rawlings was inaugurated as the first President of the Fourth Republic.

Initially, the Honourable title was used by Members of Parliament (MPs), sector Ministers, Ministers of State and Regional Ministers. The usage of the Honourable title then metamorphosed until District/Municipal/Metropolitan Chief Executives (D/MCEs), Presiding Members of the District Assemblies and Assemblymen or Members are using it. Now, some Unit Committee Members also prefer to be addressed with the Honourable title. There is another title called Right Honourable. Only one constitutional office holder- the Speaker of Parliament uses it. He or she is addressed as Right (Rt.) Honourable Speaker. For now, no one else uses that title.

Until I read Mr. Martin Amidu's letter of resignation from the Office of the Special Prosecutor, I did not know that the Chief of Staff at the Office of the President also uses the Honourable title.

Whereas some people think misleadingly that the Honourable title is enshrined in the Constitution, 1992, I dare say that the Constitution has not created such a title. The word honour appears in the Constitution only once and it can be found under article 270 (2) (b) where it is used as an adjective to qualify the chieftaincy institution.

The Dishonourable Behaviours of the Honourable Title Holders

It is a societal expectation that those who use the Honourable title should be people who comport themselves and behave in ways that are reputable. By expecting them to lead reputable lives, no one expects them to be angelic or pious but that they must live beyond reproach. However, what we see or hear they do or say deviate significantly from that societal expectation of their conduct in the public office that confers the Honourable title on them. Do you remember the Tweaa DCE who got angry and shouted at a public function incoherently? He carried the Honourable title too and I would not be surprised if he still does.

That aside, we hear of some Honourable title holders being corrupt in many ways yet they continue to win elections through vote buying and other dubious means. Some divert public funds for personal gain while others are overly involved in nepotism. They have engaged in mere propaganda as well as dirty tribal politics that have come to extremely polarise our country. How Honourable are these people who take so much delight in the Honourable title use?

They engage in open insults on Tv and on radio while some contribute significantly to the galamsey menace that has come to destroy farmlands, forests, rivers and other water bodies as well as other cherished natural resources. Be that as it may, the nation has nothing valuable to show for the galamsey business. The Honourable men have worsened the illegal mining situation. In general, they rather do dishonourable things to destroy rather than develop the nation.

As if the foregoing is not enough, some Honourable titleholders lord themselves on the masses even on the roads. They fix siren on their vehicles and make the ordinary road users in Ghana give way to them even in thick traffic. The traffic is often thick because the same Honourable title holders failed miserably to construct dual roads. They use their positions to torture rather than liberate the people.

Methinks that the Honourable titleholders are not even aware that the title places numerous responsibilities on them to be upright and offer their obligations to society. He who puts on the Honourable title must behave honourably.

It is so surprising that those at the helm of governmental affairs were still Honourable titleholders when the GYEEDA scandal happened, when the bus branding scandal occurred, when the SADA scandal took place. Other scandals are BOST GHC15m worth contaminated fuel, the cash for seat saga at the Ministry of Trade and Industry, the missing galamsey excavators, the PDS scandal, misuse of the GETFUND, the Agyapa deal etc. Honourable titleholders initiated and/or supervised all these scandals.

The foregoing are just few examples of dishonourable behaviours of the Honourable titleholders in our public offices. What type of Honourable persons do we have in Ghana? They use the Honourable title for personal, crony and family gains to the neglect of the larger society.

The Honourable Title as an Obsession

Strangely, some of these elected and appointed officials who use the Honourable title insist that people should address them as Honourable and they virtually fight those who fail to do so. It is as if the Honourable title was something they were born with them. The title has become an obsession or a possession.

At functions and even in private, some of the Honourable titleholders such as DCEs, MPs, Ministers and Assemblymen prefer to be addressed with the title. Especially Assemblymen, they seemingly suffocate if you take the title away from them. It is obvious that the Honourable titleholders are oblivious of the responsibilities the title places on them. The title is only used for fun.

Honourable for Life

Another twist to the Honourable title usage is that once an Honourable, always an Honourable. Even after they had left office, they prefer to be addressed as Honourable. The title is for life and even at their funerals, the bodies are referred to as Honourable. To this extent, I do not blame them at all. I blame the masses who are naively led to the slaughterhouse with the Honourable title.

Conclusion

The masses hold in a very high esteem, the Honourable titleholders despite the fact that some of the titleholders deviate the nation from its development trajectory to the detriment of the masses. It brings to focus the Turkish proverbial assertion that goes, "The forest was shrinking but the trees kept voting for the Axe, for the Axe was clever and convinced the Trees that because his handle was made of wood he was one of them."May be it is a matter of time. Few trees standing will later realize that the Axe is a deceptive Honourable figure after all.

~Asante Sana ~

Author

Email: [email protected]