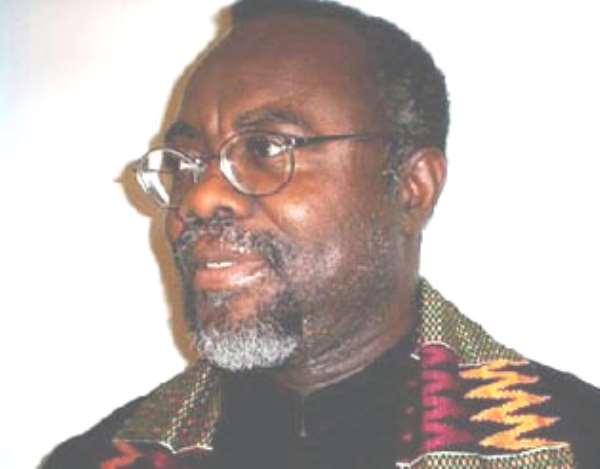 I am in perfect agreement with the Editor-Publisher of the New Crusading Guide that if, indeed, the recently resigned Independent Special Prosecutor smelled a heinous act of criminality in the Agyapa Mineral Royalties Deal, Mr. Martin ABK Amidu ought to have stayed rock-solid put at his post in order to get to the bottom of what he considered to be a first-class act of criminality until he was able to bring all the prime criminal suspects to book (See "Why Quit When You Have a Chance to Prosecute Officials in Agyapa Deal? – Kweku Baako Asks Amidu" Ghanaweb.com 11/18/20). Bringing the prime criminal suspects in the Agyapa Royalties Deal before a legitimately constituted court of adjudicature would also have constituted the proverbial jewel in the crown of the Special Prosecutor, who has been virulently accused of having achieved a diddly little to absolutely nothing during the two years in which he served as Ghana's Number One Anti-Corruption Watchdog or Tsar.
As well, if he truly felt that his life was in danger primarily because of his very "independent" decision to conduct an anti-corruption risk and corruption assessment of the Agyapa Royalties Deal, Mr. Amidu should have publicly appealed to both the Presidency and Parliament to beef up his personal security. He would equally have petitioned the Inspector-General of Police (IGP), Mr. James Oppong Boanuh, for protection, and then Ghanaians would have been genuinely let onto the fact that Mr. Amidu was really serious about fighting official corruption in the country, and not merely attempting to lamely, albeit conveniently, find a prime scapegoat in President Addo Dankwa Akufo-Addo and those of his well-known relatives who actively participated in the apparently criminal crafting of the Agyapa Royalties Deal.
As well, since he had the statutory powers of an Appeals Court Judge, Mr. Amidu could have rest assured that the primary objective for which his appointment was predicated would not be compromised. Now, as it stands, it clearly looks as if Mr. Amidu was on a personal missionary crusade to vengefully malign the man who appointed him to the job. It is also ironic that the man who bitterly complained in reams of media epistles about the deliberately calculated and systematic persecution of his person by elements of the Mahama regime of the National Democratic Congress, for doggedly going after Mr. Alfred Agbesi Woyome, as a direct result of which he had been summarily expelled from the cabinet of President John Evans Atta-Mills, as Attorney-General and Minister of Justice, had never categorically made any public demands or unleashed the sort of S-O-S warnings that he recently launched against President Akufo-Addo.
This strange behavior may very well have informed the intemperate characterization of Mr. Amidu by former President John Dramani Mahama as "a stupid and cowardly man," shortly after the former had publicly acknowledged that, indeed, Mr. Mahama was the one who has been identified as "Government Official Number One" in the European Airbus-SE Bribery Scandal. In that instance, it is significant to note, Mr. Amidu categorically stated that he absolutely had no intention of putting Candidate Mahama under his investigative radar, while Little Dramani was vigorously campaigning to be nonconsecutively returned to the Presidency so that "I will be able to correct my past mistakes." Now, this maintenance of a double-standards attitude towards the two scandals tells the Ghanaian public more about the caliber and personality profile of Mr. Amidu than it tells us about Nana Addo Dankwa Akufo-Addo, who the recently resigned Independent Special Prosecutor claims to be threatening his life and very existence.
Now, Mr. Amidu has the prime opportunity to both call for the immediate prosecution of the alleged criminal suspects who rigged up the Agyapa Royalties Investment Deal and pledge to testify against the criminal culprits. Another sardonic irony here inheres in the fact that Mr. Martin Amidu is widely known to belong to the National Democratic Congress, a political party whose leaders are known to be even far more prone to official corruption than the leaders of the Akufo-Addo-led New Patriotic Party. You see, many of us were of the quite understandable but, in retrospect, grossly mistaken view that Mr. Amidu had, somehow, been thrown out of the executive echelons of the Atta-Mills and Mahama gravy train regimes of the National Democratic Congress, because "Abongo Frafra" was hermetically relentless and uncompromising in his self-proclaimed anti-corruption fight. Now, it turns out that Mr. Amidu may, after all, be just another pedestrian make-believe choreographer of the anti-corruption fight.
*Visit my blog at: KwameOkoampaAhoofeJr
By Kwame Okoampa-Ahoofe, Jr., PhD
English Department, SUNY-Nassau
Garden City, New York
November 21, 2020
E-mail: [email protected]