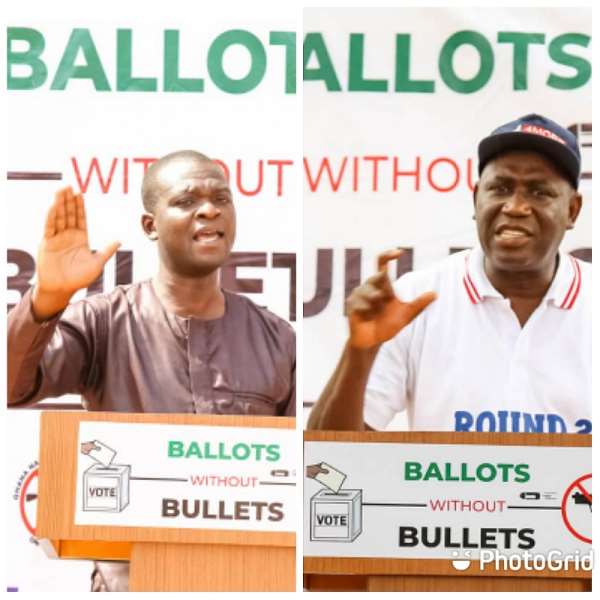 The National Commission for Small Arms and Light Weapons under the Interior Ministry, is embarking on a crusade to avert possible electoral violence by the use of arms and ammunition during this electioneering in parts of the country.
The project dubbed 'Ballots without Bullets' targetted only the identified hotspots constituencies for the upcoming general elections getting NDC and NPP PC's to pledge their commitment to peace before, during and after the elections.
Offinso North constituency which has been sighted for a possible electoral violence in a recent report by the Ghana police servce following pockets of violence during the registration of voters ID cards amongst others have been earmarked by the commission for the mission.
The commission in Offinso North Constituency interacted with two parliamentary candidates, Hon. Collins Ntim for NPP, Hon Ofosu Acheampong Caesar, NDC to pledge to the general public, especially constituents never to allow their followers to use weapons as means of electoral dispute resolution.
Hon Acheampong O Caesar at the party's secretariat in Akumadan assured and pledged for peaceful discourse.
"NDC is a party which believes in peace because if violence claims the lives of citizens, who are you are going to govern after you win power?"
"therefore I Ofosu Acheampong Ceasar on behalf of Offinso North NDC that I lead, and myself, I pledge for peace before, during and after the elections and I will do all I can to ensure violent free and non-usage of guns for any misunderstanding in the process"
Hon Caesar was, however, quick to add that, in spite of the peace advocacy being carried out, "we must also preach for equity! Because, any form of intimidation or cheating in the process may not guarantee peace", Ofosu Acheampong Caesar, NDC Parliamentary candidate for Offinso North.
Incumbent Member of Parliament Hon. Augustine Collins Ntim commended the commission for that great initiative and threw his support and assurance towards the success of the program.
"There can never be any development without peace and for that matter, on behalf of the good people of Offinso north and my good self, I pledge that I am going to ensure that we have a peaceful election, we have a peaceful campaign, before, during and after the elections"
"and also pledge that I am going to organise all my supporters to really commit to peace because we are committed to developing the district in such a way that it benefits the good people of Offinso North and without peace, there can never be any meaningful development"
"and so we are going to ensure a BALLOTS FREE WITHOUT BULLETS", Hon. Augustine Collins Ntim, Deputy local government minister and NPP PC for Offinso North.
In order to furnish the campaign, the commission extended its interaction with the District police command and the electoral commission to ascertain their preparedness as stakeholders in helping to achieve a peaceful election.
Superintendent Twum Barima, district police commander assured that his outfit was leaving no stone unturned to maintain law and order during the period. " we have ordered for more personnel, equipment, and logistics, and all related items are in stock", the police commander disclosed.
On behalf of the district director of the EC Mr. Eric Gyamfi Boateng., the director in charge of Techiman municipal Mr. Samson Ofori Gyamfi explained that, since the electoral commission's duty is not discretionary, the commission from regional to district levels are in strict adherence to the clearly spelt of procedure into its activities to "provide level playing ground for a free, fair, transparent and credible elections".
The Offinso North has been identified as one of the hot spots in the country leading and fin lowed by the Asawasi constituency in the entire Ashanti Region.
---CruzNews