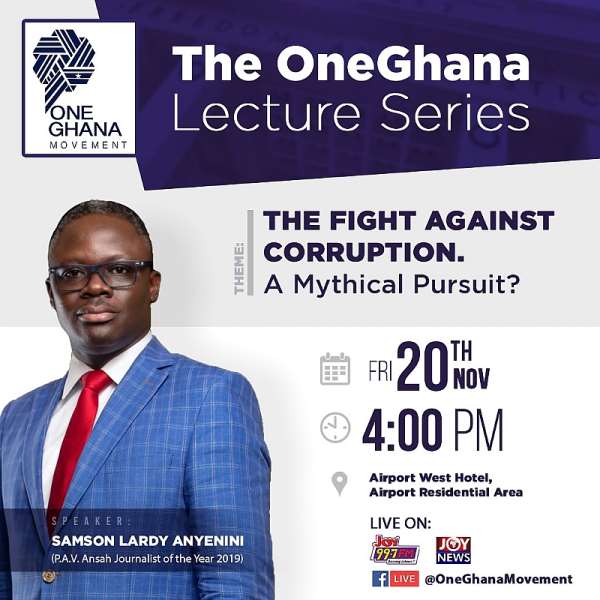 The OneGhana Movement is set to hold the first edition of the OneGhana Lecture Series tomorrow Friday, November 20.
The event which is under the theme, "The Fight Against Corruption. A Mythical Pursuit?" seeks to interrogate pertinent national issues of concern to the citizenry and to encourage them to pursue accountability from public officials for actions and inactions that are detrimental to the development of the country.
Beyond this, the lecture series also strives to reinvent and reignite a sense of patriotism among the populace, and especially among the younger generation as there is a glaring lack of the ethos of good citizenship and basic propriety in public and private lives.
OneGhana Movement noted that it is imperative to consciously build or rebuild these values in the upcoming generations to ensure that they are collectively equipped and capable of surmounting the challenges the country is currently plagued with.
The speaker for the maiden edition is Samson Lardy Anyenini, P.A.V Ansah Journalist of the Year 2019.
The event will be held at Airport West Hotel, Airport Residential Area from 4:00pm to 6:00pm.
OneGhana is a thought leadership and social action not for profit organization that seeks to promote public policy accountability, promote citizen responsibility and promote the prioritization of the national interest over partisan politics.