Amidu May Have Been More Fiercely Sabotaged by His Own NDC Associates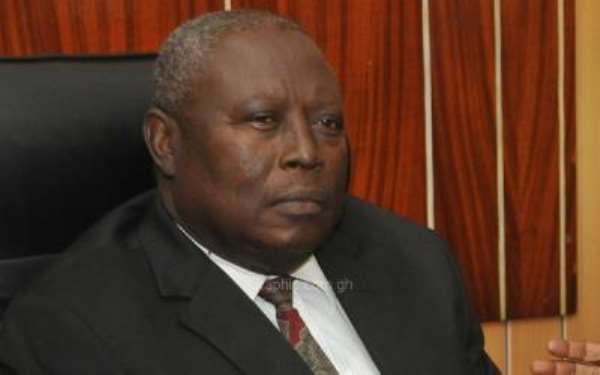 The incontrovertible fact remains that warts and all, President Addo Dankwa Akufo-Addo is far better poised to tackle rank official corruption than his main political opponent and challenger going into the 2020 Presidential Election, namely, Candidate John "European Airbus-SE" Dramani Mahama, the former President, who, unlike Nana Akufo-Addo, has been vigorously campaigning on the pathologically self-serving electioneering-campaign platform of being returned to Jubilee House, or the Presidency, in order to "Correct my past mistakes." But even as His Majesty, The Asantehene, Otumfuo Osei-Tutu, II, poignantly observed when Candidate Mahama and his equally politically spent force of a Running-Mate, Prof. Naana Jane Opoku-Agyemang, paid a courtesy call on the most powerful traditional Ghanaian ruler at Otumfuo Osei-Tutu's Manhyia Palace, Candidate Mahama has a bounden obligation to explain to Ghanaian citizens and, in particular, the electorate precisely what he intends to do this nonconsecutive second-time around that is apt to be any significantly different from the first time around.
What Otumfuo Osei-Tutu's counsel to Candidate Mahama clearly means is that Ghanaians overwhelmingly and/or massively voted to democratically oust Mr. Mahama some four years ago, because the man who just about a year ago brazenly impugned the credibility and integrity of Otumfuo Osei-Tutu vis-à-vis the fact of whether, indeed, it was The Asantehene who had personally prevailed on the then-President Mahama to promptly and publicly concede defeat to the then-Candidate Akufo-Addo, or it was the thoroughly vanquished President Mahama who had done so of his own volition or accord, has decidedly nothing very significant or refreshingly new in his political trick-beg to offer Ghanaians the second time around. For the simple reason that the former President's most significant claim to fame is his smug and cavalier presiding over Dumsor, the perennially erratic energy supply that resulted in the effective collapse of at least half of all privately owned Ghanaian businesses during the four-and-half protracted when he held the reins of governance.
But what was, of course, even more inexcusably insulting to the intelligence of the proverbial average Ghanaian citizen and voter was the Mahama-issued edict that absolutely no other Ghanaian citizens were legally or constitutionally qualified to either presume to impugn or criticize his abysmal job performance. For Mr. John Dramani Mahama, only two living Ghanaian leaders could be aptly described as his "peers and political classmates" and therefore qualified to criticize his abjectly poor job performance, namely, former Presidents Jerry John Rawlings, recently deceased, and John Agyekum-Kufuor who turns 82 years old next month. Well, with former President Rawlings having joined his ancestors, it well appears that it is only Mr. John Agyekum-Kufuor who, in the imperious and haughty estimation of Candidate Mahama, qualifies to criticize the latter.
Now, you, My Dear Reader, may be wondering precisely where yours truly is carrying the burden or thrust of this column. Well, it is very simple – and it is the fact that under the tenure of the National Democratic Congress or the pathologically payola prone Mr. John Dramani Mahama, the seminal, albeit politically wobbly, post of the Independent Special Prosecutor would never have been established, and our self-proclaimed Citizen Vigilante would never have gotten a second chance to prove his mettle in the very critical anti-corruption portfolio of the Independent Special Prosecutor. You see, contrary to what airy-fairy eggheads like Prof. Ransford Yaw Gyampo would have Ghanaians believe (See "Didn't Amidu Know Some People Are Untouchable? – Gyampo" Modernghana.com 11/18/20), even here in the United States, where our democratic tradition and political culture is over two-hundred years old, the sort of executive tug-of-war, or push-and-pull, that Mr. Martin ABK Amidu bitterly complained in his parting shots at President Akufo-Addo, does routinely occur.
Indeed, had he been sedulously following events in the Trump government, Prof. Gyampo would have since long learned about the curt and abrupt firing of former Attorney-General Jeff Sessions and dozens of other senior officials in the United States' Justice Department and other allied security agencies, such as the FBI, CIA and NIA. The fact of the matter is that what recently transpired between President Akufo-Addo and the recently resigned Independent Special Prosecutor is absolutely nothing new. To be certain, it is decidedly more in the conventional realm of the norm than the aberration. And Prof. Gyampo and his Akufo-Addo-bashing associates had better wake up and smell the proverbial coffee. Under the tenure of former President John Dramani Mahama, his family, relatives, kinsfolk and clansmen and women would very likely have recovered the corpse of Mr. Amidu somewhere in the Gonja Savannah or even the Achiase Jungle Warfare Training Camp.
I mean, whatever happened to Peter Kenyenso and President John Evans Atta-Mills? The fact of the matter is that the politically worst of Nana Akufo-Addo, Agyapa Gold Investment Deal Scandal and all, is still light years ahead and far better than the best political performance of "Government Official Number One," in the forensically authoritative words of Mr. Martin ABK Amidu. How about the following tsunami-tantrum snarl from the Gonja-Mafia Generalissimo: "Stupid Amidu Abongo Frafra!"? Now, which of the leaders of our two major political parties, that is, Nana Addo Dankwa Akufo-Addo, of the ruling New Patriotic Party, or Mr. John Dramani Mahama, of Ghana's main opposition National Democratic Congress, sounds like he is more capable of carrying out a homicidal threat against the life and person of the former Independent Special Prosecutor?
*Visit my blog at: KwameOkoampaAhoofeJr
By Kwame Okoampa-Ahoofe, Jr., PhD
English Department, SUNY-Nassau
Garden City, New York
November 19, 2020
E-mail: [email protected]