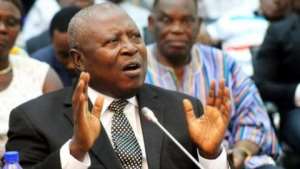 By and large, the name Martin Amidu had gained prominence in our body politics since 2009. Mr Amidu first shot to prominence when he was appointed the Attorney General by the then Mills-Mahama administration. The great Woyome scandal became a playing field for Mr Amidu and his citizen vigilantism won him admiration from many sections of the public.
Down to 2018, Mr Amidu again gained prominence when he was appointed as a Special Prosecutor by the Akuffo Addo's led government. After spending barely three years in office, his assessment of the Agyapa Royalty necessitated his resignation as he blatantly accused the President of interfering in his job. Even before his letter will get to the doorsteps of the president, it is being discussed vehemently in the media.
It's evident that Mr Amidu despite his quality as an astute lawyer and someone with strong principles for fighting corruption and maleficence in the society, it is very important we assess his general attitude and character of his persona and professional behaviour. We will all recall that, as an Attorney General, Martin was reported to have disrespected the president (Professor Mills) by refusing to take instructions from him to bulge. He went ahead to release what became known as 'epistles' and tried to portray to the general public that some elements in his party are trying to resist his work as the government's lawyer. Since then he gained the accolade 'the citizen vigilante' and single-handedly pursued the Woyome scandal in court.
Prior to his appointment as a Special Prosecutor, Mr Amidu was thought by many to have retired from public service. Though his appointment was challenged in court due to his age, he was willingly appointed by the president to help fight corruption. The last straw that broke the camel's back was when he undertook a risk assessment on the Agyapa Royalty. After receiving backlash from the general public about his handling of the sixty-four-page report on the Royalty for including matters of irrelevance such as 'the government official one' and others, Amidu eventually became pissed off and out of anger turned in his resignation riddled with heap of accusations perhaps out of shame. Before then many people had accused him of doing nothing with the capacity of the office at his disposal.
It is very important as discerning citizens not to be too quick to praise Amidu on any grounds that he is an anti-corruption crusader. The man has a serious deficit of attitude, character and ego. First and foremost, Martin's encounter with the then late Professor Mills was an incidence of serious ego and bossism that has characterized his attitude. He is definitely a man full of sentiments, resentment and self-willed and clandestinely inviting the general public to hail him on such a weird character. You can also recall that attempts to even restrain him in his so-called 'epistles' failed since he appears to be a master of himself and servant of none.
His recent attitude and demeanour counting on the Agyapa Royalty and his spontaneous resignation is a repetition of his self-willed, sentimental and resentment attitude and character deficit in his interpersonal relationship with people. This bizarre behaviour of his knows no bounds and he can unleash it on any person that he so wishes.
Amidu has serious attitudinal problems which are affecting his relationship with others including high profile personalities like the president. It is about time that someone told that lawyer to exhibit a good professional attitude since his conventional or orthodox ways of handling public office do not suffice with modern administrative work. He is a mere puppeteer who would want to get the attention of the public to discuss his attitude and character displayed in his own self-willed judgment of issues. He should not forget that he is infallible and can equally be subjected to checks. There are many instances he has lost cases in court for getting things wrong. I will advise every well-meaning Ghanaian who does not want to reap political capital out of someone's weird attitude, to be wary of Martin Amidu. He needs serious tutelage on professional conduct in modern administrative work. He must as well exorcise himself from the PNDC tenets and revolutionary cadre mentality that can only grind smoothly with a military government.
Modern Ghana does not fight corruption with sentiments but with the law and we must all embrace the law for such a course.
Isaac ofori