Jerry Rawlings And The Challenging Spirit Of New Africa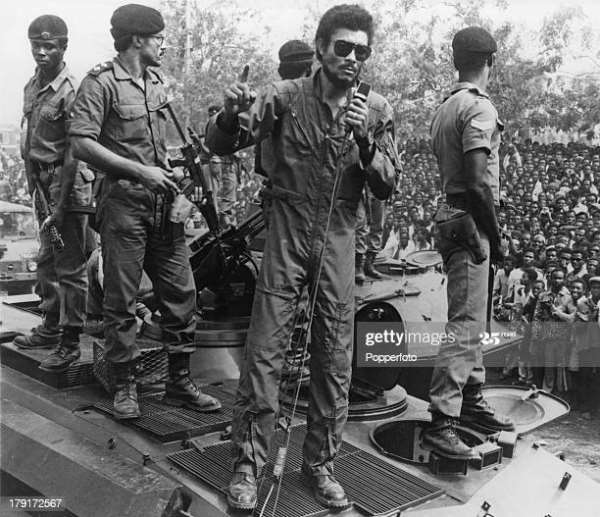 The death of former President of Ghana Jerry Rawlings is a loss for Africa. In judging the legacy of Jerry Rawlings, it is justifiable to look beyond the man and focus on his vision and record as a public servant. I say public servant instead of leader studiously.
His approach to leadership qualified as a public servant not a monarch, a dictator, an autocrat, an Alibaba or a blood merchant per se although he shed blood for a purpose. And it is on this later attribute that his detractors have focused to rate him adversely.
The public execution of some of Ghana's past leaders such as Fred Akufo, ,Ignatius Kutu Acheampong, Akwai Amankwaa Afrifa may be deemed controversial by some persons and even condemned but it must not be considered or even compared to the criminal bloodletting which African dictators have legitimized as a sesame to stifle opposition and eternalize power for the sake of power.
Some have argued that the executed leaders themselves swam to power on the sea of blood of their fellow country men and women and on the wings of treachery of the founding architecture of modern Ghana. Others have strongly opposed this allegation stating that Akufo laid the foundation for democratic elections which occurred three months and did not deserve to be executed, the allegations of corruption no matter how credible did not want his execution. They point to the fact that Acheampong killed no one. No one defended the accusation of murder against Afrifa.
The allegations of murder made against Acheampong and Akufo appear to be premised on the alleged suffering and possible death of some Ghanaians that was occasioned by the alleged widespread corruption overseen by these two leaders, which Jerry Rawlings presented as the justification for his brutal overthrow and takeover of the government. Strong sentiments against the execution of these leaders and others without due process will outlive the death of Jerry Rawlings. Similarly, the assault on the judiciary, the humiliation and execution of judges and the public flogging of persons accused of alleged economic sabotage has left an enduring open wound on some victims and their families.
Notwithstanding these violations, Jerry Rawlings seized power with a vision and a promise to right significant wrongs that challenged the existential foundation of his country. Over the years, and even before Acheapong and Akufo, corruption was a celebrated form and purpose of governance while the people suffered in poverty. Jerry Rawlings applied a harsh elixir of public executions to rid the Ghana of the endemic systemic Alibaba governance-by-blood and impunity.
Although his vision and intentions were clear and focused on attaining the public good, he encountered serious challenges and floundered at times but remained resolute on realising his vision of providing goods and services to his people in a stable and prosperous Ghana. To instil discipline, he banned political party activities, confronted corruption in the judiciary, the military, and all sectors of governance. The Chieftaincy institution which is a revered bedrock of stability and justice in Ghana's cultural and traditional governance was alleged to have become a willing tool of oppression and corruption.
It regrettably was co-opted by colonialists to oppose the independence of Ghana and became a willing horse for oppression and tyranny in the hands of brutal corrupt leaders. Jerry Rawlings encountered serious challenges from many chiefs and the institutional power structures, which he confronted with brutal efficiency. The success with which he confronted the vampire of corruption endeared him with the citizenry but elicited the disdain of the corrupt enterprise, their foreign masterminds and sponsors.
His close relationship with revolutionary leaders such Colonel Moamar Gaddafi, El Commandante Fidel Castro and Thomas Sankara and the ideological orientation they espoused unsettled the ghost of neo-colonialism which unleashed missiles of economic devastation hoping to bring Rawlings and Ghana on their knees. The Breton Woods economic structural adjustment program and its conditionalities devastated Africa's industrial and economic baselines and helped the West to repurchase Africa for Western ruthless exploitation.
This may be characterized as an economic pandemic that was unleashed to cripple and destroy Africa. Like the Covid 19, embola, Hiv-aid, it inflicted a humiliating toll on the existential architecture of the continent. It devastated Africa's economies and established neo-colonial puppets to oversee the exploration and exploitation of the economies of African countries by proxy for erstwhile colonial economic predators.
So-called democratic constitutionalism became a catchphrase for enslavement and the eternalisation of neo-colonial governance. Jerry Rawlings refused to fall into this neo-colonial entrapment. He declined the Breton Woods poisoned chalice and turned to Ghanaians to invoke their creative ingenuity, humanity and dignity of labour to develop their country and save it from prying wolves baying for their blood, their independence and their individual and collective dignity. I was in Washington DC when Jerry Rawlings appealed to the Ghanaian diaspora to come home and take control of the development needs of their country.
He had retaken power from Hila Liman a democratically elected leader after he stepped down, because, according to him, Hila Liman had led the country to economic ruin and turned "hospitals into graveyards and clinics into death transit camps where men, women, and children die daily because of the lack of drugs and basic equipment ".
The Breton Woods poisoned chalice came to complicate a dire existential crisis in Ghana. He stood out as a genuine warrior fighting for the soul of Ghana and Africa. He established a series of economic measures aimed at encouraging the Ghanaian diaspora to invest in their country. He reasoned that the Ghanaian diaspora might not become millionaires in foreign countries but might become millionaires in their ancestral country of birth improve the living conditions of their countrywomen and men..
He established a moratorium on imported industrial equipment, vehicles and others good of ten years or below and liberalized the investment and economic procedures. Ghanaians poured in hundreds of millions, billions if you may, and went back to effectively save their country from economic collapse and thus laid a strong and enduring foundation of economic independence, development and democratic stability.
Jerry Rawlings established a foundation for democratic stability and a strong institutional stable democratic tradition which is operational in Ghana. In his first Africa visit after his historic election as the first black President of the United States of America, President Obama from Ghana reminded Africa to strive for governments of strong institutions and not of strong men. Jerry Rawlings indeed was the article of this form of government that President Obama recommended for the rest of the continent.
I was in Accra during the 50 anniversary of the independence of Ghana and went to the tomb of Osagyefo Dr Kwame Nkrumah to salute his vision for Africa and the black race. I had the opportunity to talk to many of the delegates who attended the historic anniversary. There was a general agreement that the economic vision of the Osageyfo for Ghana that was interrupted by neo-colonial forces and their puppets, among them General Ankrah, Afrifa, Kotoka and others, was realized by Jerry Rawlings.
The opposition to the Structural Adjustment neo-colonial Trojan horse, the establishment of a stable democratic architecture, the Ghanaian spirit of enterprise and patriotism and the refocus on Ghana as the prized laboratory for African unity, independence and humanity, readily stand out as a commendable startling record of achievements by a visionary public servant. Living by example, he accumulated no wealth. He lived the life of ordinary Ghanaians and was a living symbol of their sacrifices, their contributions to the development of their country, their faith in their country, in Africa and in God the Creator.
Despite, his chequered legacy, history will judge retain that he made serious errors which may not be trivialized or ignored but he emerged from his error to establish an enduring democratic foundation for Ghana which is permanently challenging the spirit of new Africa. Ghana and Africa are truly indebted to him for this legacy.
He has left behind unfinished business. The genocide in the Southern Cameroons-Ambazonia preoccupied him significantly. Before his very eyes he saw the African Union which Osageyfo Dr Kwame Nkrumah was the architect and that of independent modern Ghana reduced to the status of a potential enabler organisation while the genocide is executed with reckless impunity.
It will not be enough for Ghana, Africa and the rest of the world to honour this great public servant and great son of Africa and the progressive world, without initiating robust actions to abate the genocide, crimes against humanity and war crimes hold the masterminds to account and address the root causes of the conflict which are rooted in international law, the UN Charter obligations and the international rule of law. This will be an honest and dignified manner of honouring the memory of a distinguished public servant.
Chief Charles A. Taku is an international law and the immediate past President of the International Criminal Court Bar Association.