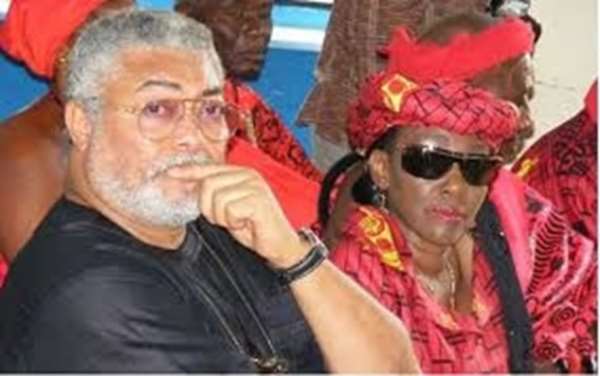 In the absence of former President Jerry John Rawlings evidentially uttering or authoring his last wishes as regards where and how his funeral be conducted on his death, his family must have the final say. His family in this sense implies his extended family, based on the Ghanaian culture and tradition. However, there could be amicable agreement between them and his nuclear family, thus, wife and children, on the best decision for a befitting send off for him.
At the time of writing, the news in the public domain is that the family are deciding to inter him in his ancestral place of birth in the Volta region, after conducting the agreed State burial for him of which President Nana Akufo-Addo and his NPP government and the family are consented principal partners.
Nonetheless, the NDC leadership with some of their supporters are viciously agitating that they must rather have the inalienable right to organise the funeral of the late former President Rawlings, since he was their party's founding father. I can't get my head around this preposterous decision by the NDC people.
Had they not disrespected and ostracized Rawlings since the ascent of the late President Atta Mills to the presidency, until his demise, for their own selfish reasons? Why this turnabout today, now that he is dead? Their doubtful show of love for him, now that he has been called to meet his Maker and to rest in peace, is suspicious. You can't hate one while he/she is alive but show him/her love on their death. This is not right, but total madness.
The family must please bear in mind the frosty relationship between Rawlings and the NDC hierarchy or party, since his departure from the presidency. How they mocked him and did not value him as a member of the party any longer, let alone, its founding father.
Clearly, one's misfortune is another's blessing. John Mahama with people like Asiedu Nketiah, Samuel Ofusu-Ampofo and Sammy Gyamfi, just to name but a few, want to make capital gain from the death of former President Rawlings. They want to be the ones to organise his funeral in order to court sympathy votes for the upcoming 7 December 2020, general elections.
Superstitiously, could the NDC not have a hand in his sudden death no matter how it occurred? Why are they rushing to take a principal role in the organisation of his burial, but not accepting the one known to have been agreed between President Akufo-Addo and his NPP government on one hand, and the family of the late President J. J. Rawlings on the other?
Why is that ugly and famished-looking Johnson Asiedu Nketiah, the General Secretary of the NDC, vociferously claiming that the NDC faithful and party are those to organise the funeral of the late President Rawlings but not his family and the NPP government? Why is he showing affection to him now that he is dead? Was he not the very typical village individual brought from Seikwa in the Brong-Ahafo region to Accra by Rawlings himself, who once told the Ghanaian public that the NDC have put the barking dog in a cage, and locked him away? It was an insinuation obviously directed at Rawlings. Why should this person be allowed near the funeral of Rawlings, let alone, playing a principal role in the organisation of the funeral?
Then President Professor Atta Mills died suddenly suspiciously to pave way for John Mahama, his Vice, to become President. Vice President Kwesi Amissah Arthur died about two years into the NDC going into opposition, to probably avoid taking him as his Vice Presidential-running mate in any future elections, for reasons only best known to him.
Now that Rawlings is gone, the NDC are proposing to confirm John Dramani Mahama as the party's founder and leader even before the remains of Rawlings is interred. What is going on within the NDC, and by the seemingly occultist John Dramani Mahama? Why is John Mahama so avid for power amid suspicions of resorting to spiritual means? Is he scared of his own freaky shadow about to grabbed and taught it a lesson by Hon. Martin Amidu, the Special Prosecutor, any time soon from next year when he loses the impending 7 December 2020 election?
The extended family members of the late former President Rawlings are hereby entreated to consider and value the wishes of his wife, Mrs Konadu Agyemang Rawlings, and her children, in this difficult time of arranging a befitting send off for their beloved husband, father, and family member, J. J. Rawlings, the fallen mighty tree.
Why would John Mahama and his bunch of liars, disrespectful entities awash in corruptibility, want to sign the open National Book of Condolence in memory of the late former President Rawlings? What are they going to write in there, with regard to how they scornfully treated him as a Mr Nobody, although he was the party's founding father.
Why are the NDC going to open their own party Book of Condolence for Rawlings? Was Rawlings of any value to them if yes, why did they insult and hate him that much unto death? The NDC must be mad! Shame on them!
Rockson Adofo
Sunday, 15 November 2020