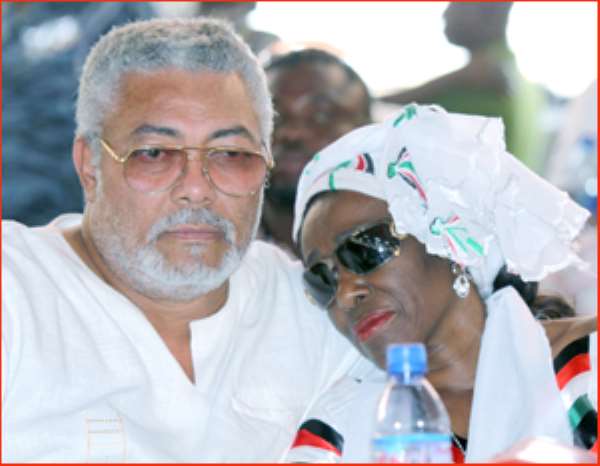 Many Ghanaians thought the onslaught of COVID 19 would be the biggest thing to remember but the greatest quiver to have hit Ghana in the year 2020 is the death of His Excellency Jerry John Rawlings, first president of Ghana's 4th Republic. As a former President, his death has left the country in a state of shocking bewilderment, perplexity and disorientation.
Ghanaians all over the world are mourning the death of Papa J., but our only consolation is that death is not the end of life. When one dies, it's certainly not the end of his life. Instead, it's a short end of life on earth and a transition to the next world. The most significant lesson from the demise of President Rawlings is that power, wealth, fame, praise, beauty, money, houses, lands, glory and popularity are all vanity. Vanity upon vanity equals to vanity.
Ghana will remember J.J. for the good, the bad and the ugly. Still, Ghana cannot overemphasize his contribution to our modern democracy. The last days of Papa J. was definitely a blueprint of statesmanship. Politicians must take lessons from the life of Mr Rawlings. It will be a great Ignominy and inexcusable offense to continue in the exchange of squabbling and hate speech flavoured with propaganda and diabolism.
It is public knowledge how the New Patriotic Party (NPP) vehemently opposed political actions and decisions of Rawlings. Arguably, the attitude of the NPP towards Mr Rawlings whiles he was President and a few years after he had left office was understandable and can be rationalized. It was just politics as usual. However, I still struggle to imagine how the NDC, a party Rawlings founded could turn against him the way they did. He was vilified, defaced, sidelined and was almost an outcast in his party. Puppies with arsenic sharp teeth were often sent after him. Yet, this man remained steadfast and unshaken. I salute you, Sir.
I know Rawlings loved his family so much and I cannot by any stretch of imagination postulate what the children and particularly Mrs Rawlings are going through. I have been thinking about how Nana Konadu will feel attending Public events without Papa J. Their public display of affection was simply awesome and infectious.
The people who chained the "barking dog" will be present to mourn the Founder of NDC, the largest opposition party in Ghana. This hypocrisy of our culture is something that must be discussed at the appropriate symposium. I will be interested in reading Nana Konadu's tribute to her husband. I have a simple request for you. Madam former First Lady, forgive my uncultured rudeness for this request at this time of your life. Please, your tribute must not fall short of something reminiscent of what Mrs Matilda Amissah-Arthur read at the funeral of her husband, former vice president of the Republic, Mr Amissah-Arthur. The kind of tribute potent enough to pierce into the bones and marrows of ungrateful and unrepentant hypocrites.
Papa J. transitioned this country into our current democracy, and a peaceful general election will be the most befitting honour to the memory of President Rawlings.
Rest well, Efo Rawlings.
James McKeown
Helsinki, Finland [email protected]