Jerry John Rawlings: Saint Or Sinner? The Legacies Hang On…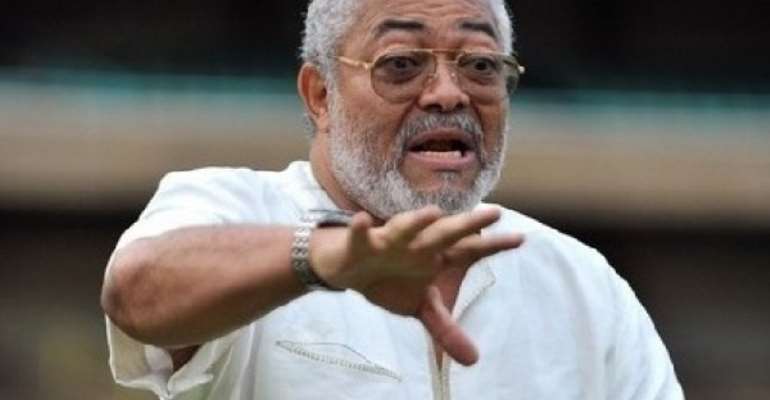 His posters were shared and we were happy to use leftover TZ to have it pasted in front of our houses. In my community, every household will have a poster of Jerry John Rawlings. We were born in an era that his name had already become a household. Though the revolution was born long before some of us, I had fond memories of hoping to have a handshake with Chairman Rawlings in a campaign trail in Bawku in 2000. His simplified life and ability to connect to children and the masses allowed us to break protocol and got near his car. The news of Rawlings shaking children's and adults' hands along the Bawku main road as he heads to Garu / Tempani got to my peers. I remember how I described the tender nature of his palms to my parents who both admires his qualities and sense of charisma.
The name and admiration of Jerry John Rawlings were inscribed in our minds and hearts; we grew in the early 90s loving his charming look, courageous voice, and appreciating his socio-economic and political contributions to mother Ghana. Rawlings was a symbol of hope, a person of charisma and selfless leader.
Haven gain admission to Bawku Senior High School in 2001 to study General Arts, the choice of my academic enterprise offered me the opportunity to appreciate the most loved, charismatic and well-discussed iconic figure; Jerry John Rawlings. Draw lessons from Arabic text that forbids blood sharing; I was always taken aback as to why someone will get a lot of people out of the way just to clinch on power. I was tempted to appreciate the bitterness of some families and person who were made to pay the price of the revolutions haven been made orphans.
However, as a full-grown adult in 2000s, I have come to terms that, the once toughed sinner had to make sacrifices at the time Ghanaians needed hope, inspiration and a saviour. He came to the scene and a Ghana was reborn. His revolutionary traditions, principles and hate for corruptions and nepotism immortalized him as one of the greatest leaders of all time in Ghana and beyond.
Rawlings; your stand for probity and accountability were the guiding principles. You succeeded in building a generation of old and young who move along with your tenants. We are witnessed in your quest of building an inclusive society and your desire to break the development barrier between the North and South. The extension of Electrification, creation of University for Development Studies, Road infrastructure, the creation of the Upper West Region, and so on demonstrate you were a leader who had empathy and care for the underprivileged. You gave us more than we bargained for.
You saw corruption as an enemy to development; you saw discrimination as a barrier to inclusive society; you saw nepotism as a tool to divided us; you saw young people as the future of our society; Your quest for freedom and justice made you speak for the vulnerable, save the nation from wreckers, instill discipline in our society. You were not born privileged as others, but gave us hope and a secured future for prosperity. Your charisma was as a result of a young man who sacrifices all he could have acquired and rather remain ordinary and save your nation.
It is sad that as a nation we have thrown yours believes, ideology and principles. All that you stood and fought for, we have thrown it to away. We have become divided than before. We have become too greedy than before; we have become too selfish than before; we have become too corrupt than before; we have become more polarised than before; we are in a state of retrogression. It is because the Ghana you gave birth to died? compelling you to also join her?
You were not only the president of Ghana, rather a global icon. You send your men in uniform to save the Rwandan genocide; You were there for Liberia and Sierra Leon during their civil wars; you were there even as a former president when famine hit Somalia; you saw human development as pivotal to nation-building. Rawlings, you had unparalleled legacies, integrity and your charisma would remain the most memorable.
From Kaneshie Market to Kaneshie interchange; Sunyani Hospital to Cape Coast Region Hospital; establishment of SSNIT flats to investment agriculture; The creation of District Assemblies' Common Fund, the GetFund, the Road Fund, the EDIF and the Energy Fund to the establishment of memorials (Nkrumah and Dubios); Constructed the Kumasi-Sunyani asphalt road; the Kintampo-Tamale-Bolgatanga-Paga Faso asphalt road. Your socio-economic, environmental and political achievement cannot be over-emphasized.
Jerry John Rawlings; My president I believe you have transited just to become an ancestor. Your name is inscribed in our history books; some vilified you, other families hated you, while some media houses described you as a sinner. To me, Ghana, and the whole globe; you had made choices to rebuild a nation that needed direction. You have made sacrifices that no leader could. While others refuse to respect the voice of change in else, you did and democracy was born once again.
We thought death was not near, we thought you will be living longer than grandmother Victoria, we thought you were going to be there for a long time.
We have become empty because who will speak for the voiceless?
Who will 'buuum' again?
Who will make us smile?
Who will stand for us again?
Can we continue your legacy?
Rawlings might have died and gone; however, the legacies shall continue to shine. You have become an embodiment of knowledge and theories. You have become an institution. You are the greatest legend in Ghana. We are celebrating you because you gave us more. Death is wicked and we are living in a sinful world.
Jerry John Rawlins; President, Statesman and Global Icon.
Rest in Perfect Peace!
Author; Tahiru Lukman
Youth Activist, Dev't Consultant & Pan- African Author
Email: [email protected]
Tel: 0209154057 / 0551018778