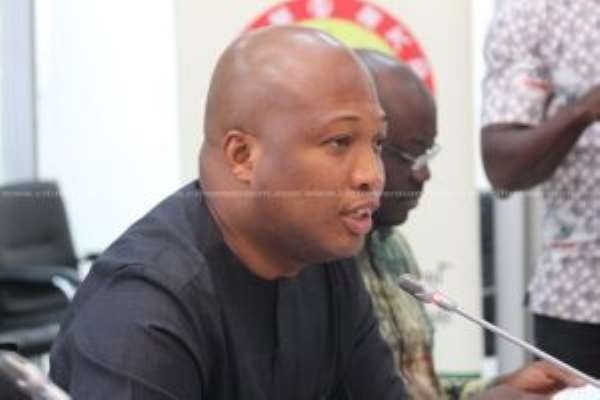 They may be banking on the short memories of Ghanaian voters, but the stark fact of the matter is that absolutely nobody can deceive Ghanaian citizens about the short-shrift and Trumpianly rude manner in which former President John "Akonfem-Kanazoe" Dramani Mahama treated them under the National Democratic Congress' created and deliberately nurtured perennial blight of Dumsor – the erratic supply of electricity – and the very politically, socially and professionally responsible manner in which President Addo Dankwa Akufo-Addo has handled the seismic global pandemic that is COVID-19 or the Coronavirus Massacre of Millions of humans around the world.
Which is why it comes as rather rudely absurd for Mr. Samuel Okudzeto-Ablakwa, the Mahama and Naana Jane Opoku-Agyemang point man who canceled the age-old Teacher-Trainees' Allowances, to be cavalierly insulting the intelligence of the citizens and inhabitants of the newly Akufo-Addo-created Oti Region, to the effect that had the most progressive and visionary postcolonial Ghanaian leader not liberated this multiethnic group of virtual hostages from Anlo-Ewe slave masters like the North-Tongu National Democratic Congress' Member of Parliament, somehow, former President John "Airbus-Embraer" Dramani Mahama would have created Oti Region. One only has to investigate the intransigent stance taken by Anlo-Ewe paper tigers like Togbe Afede, XIV, and the rest of the Trokosi Nationalist Hoodlum Pack, to give the lie to this brazen and inane Ablakwa Myth.
You see, we are talking about Candidate Mahama, the man who swore under oath to retrieve every pesewa stolen from our National Treasury by Mega-Thief and Scam-Artist Alfred Agbesi Woyome, but by the end of his 4½-year tenure had actually spent much more of the Ghanaian taxpayer's money in merely running comical rings around the biggest postcolonial individual faux-official thief. We have yet to find the point-blank assassin of the Mahama-appointed Mr. Peter Kenyenso, then the District Chief Executive Officer of Nkwanta-South, presently the Akufo-Addo-elevated Nkwanta-South Municipality, and then to have Mr. Ablakwa literally add salt to injury by telling the good and hardworking people of the Oti Region that the Mahama-led National Democratic Congress would, somehow, have done what these Cash-and-Carry politicians never even once thought about, let alone even pretend to implement.
It is also nothing short of plain abominable for politicians who have never had any use for human-resource development – remember how the NDC's hoodlum pack of copycat leaders fiercely fought against Nana Akufo-Addo's fee-free Senior High School Policy Initiative – to be criticizing the man who literally took about 200,000 of Ghanaian youths off the streets for intellectual nurturance and vocational skills training for not having done enough to develop Oti Region. What nerve! It is almost as if to say that the psychical and psychological liberation of "Otians" was sheer chimera. Now, if such boorish accusation and criticism do not represent the very height of arrogance, one does not know what else they represent.
It was also rather obscene for Mr. Ablakwa to have so ignobly and shamelessly paraded his former boss and Teacher-Trainee Allowance Extortion Scam-Artist, Naana Jane Opoku-Agyemang, before the good and well-meaning people of the Oti region, with empty promises of creating the very infrastructure resources that successive NDC governments never provided them, namely, a viable National Health Insurance System and Health Insurance Card, motorable roadways, ferries, pontoons and potable drinking water, as a direct result of the abject lack of which Nana Akufo-Addo created the Oti Region as a major point of light or target of national development. You see, a Presidential Candidate who is busy promoting Galamsey, that is, the wanton destruction of our lands, waterbodies and forestry resources, can also definitely not be expected to be a credible promoter of environmental hygiene and a good sanitation system.
That is the Trumpian Ideology being doggedly promoted by the Mahama Posse. And Ghanaian voters had better take care not to be fooled into electing political suicide over socially responsible leadership and purposeful and meaningful national development.
*Visit my blog at: KwameOkoampaAhoofeJr
By Kwame Okoampa-Ahoofe, Jr., PhD
English Department, SUNY-Nassau
Garden City, New York
November 9, 2020
E-mail: [email protected]