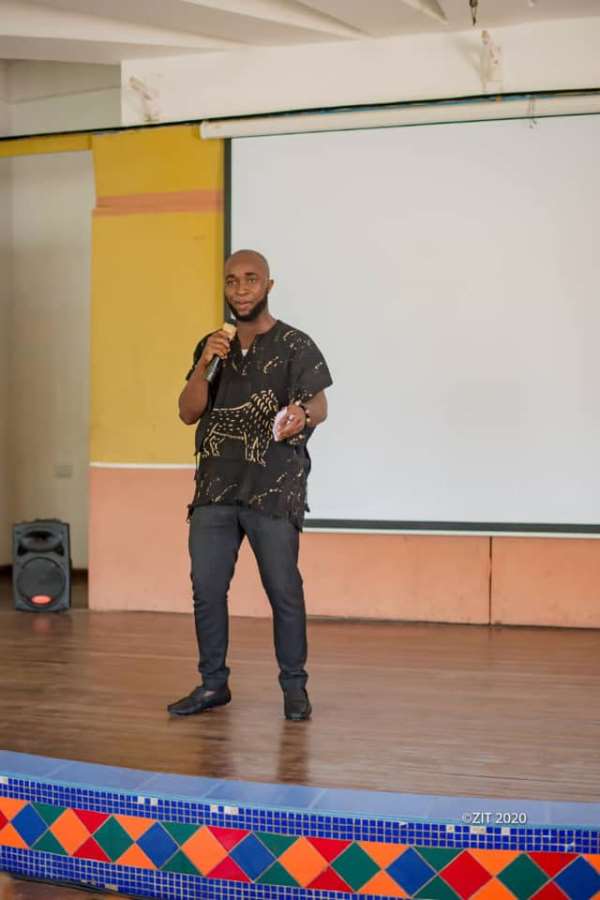 A few weeks ago, I spoke to a group of Senior High School leavers at the Zongo Inspiration Team's Guidance and Scholarship Opportunities Seminar at the Nima-Maamobi Community Library. The seminar was organized with the expectation of equipping young graduates with information and tools to make informed decisions about their future career aspirations as well as scholarship opportunities available.
As the first speaker, my job was to speak to the young ones on cultivating good reading habits towards their development noting the importance of reading to achieving one's long term career goals. Considering the paucity of time and the loaded schedule for the day, I decided to speak to them about five tools they will need as they journey the road of life and how reading is most likely to provide them with those tools.
I began by letting them know how essential it is for them to embrace reading, writing and partaking in productive programmes at their age. I told them about Francis Bacon who opined that "reading maketh a full man, conference a ready man and writing an exact man…" I then narrated a bit of my story and explained why they should take the programme very serious.
Sixteen years ago, I completed Junior High School and had distinction in Integrated Science. It was concluded then that I am cut for General Science in Senior High School and that is all about it. At O'Reilly Senior High School, the first person to realize I was in the wrong class was my Social Studies teacher, Mr. Joseph Aidoo. He suggested I move to the Arts class the following year but I was pig-headed to his advice.
The second person who even began to lure me to his Economics class was the one who took over Social Studies from Mr. Aidoo. I shrugged all of them off and moved on to complete with a satisfactory performance and proceeded to the Accra Technical University.
To further compound my woes, I enrolled for the Science Laboratory Technology program. I never graduated. As a matter of fact I was dismissed in my third year for academic non-performance. I needed neither scientist nor soothsayer to explain things to me. Afterall it was stated by the author of The Seven Habits of Highly Effective People, Stephen R. Covey that " if the ladder is not leaning against the right wall, every step we take just gets us to the wrong place faster."
Thus, I exhorted the young ones to take the programme serious in order not to take more time to pursue something that needs less time and effort. I ended up spending eleven years for something I was supposed to use four years. A year in the life of man is very significant and a terrible thing to waste. It was reported that this year alone, Jeff Bezos's net worth increased by 24 billion dollars.
And this is the year the International Monetary fund had predicted that the worst economic downturn since the Great Depression will happen due to the Covid-19 lockdown. So a year is very significant and a terrible thing to waste. I then decided to touch on the main issue for the day. The five tools needed to navigate through life as young people in the community they find themselves in. The first thing I talked about is Greatness.
Greatness
I began by reminding them that greatness is not the preserve of a group of people with a perfect set of teeth or particular type of inheritance. Greatness is for everyone. And each and every one of them must have a deep belief that they are going to be great in life. And I reminded them that I am yet to see or come across any great man in the real sense of the word who had or has nothing to do with reading or learning or knowledge or its acquisition. Jesus Christ was reported to have cursed a people without knowledge. He stated that "for lack of knowledge, my people will perish."
The Bible time and time again reminds us that we have a duty to be intelligent. Prophet Muhammad was put on his mission with a divine command to read. And his greatest miracle remains the glorious book. For the materialists, the richest men on earth tell us we do not read much. These are people who consume books. You can follow their book blogs to learn more. All the great political leaders one could mention were voracious readers. Mandela, Obama and the greatest of the all, Nkrumah were great because they worked for and with knowledge. I let them know that to be great in life, they have to embrace books and they could reach anywhere in the world since "in the law of God, there is no statute of limitations" as stated by the author Robert Louis Stevenson in his Strange Case of Dr. Jekyll and Mr. Hyde.
Organization
I reminded them that as young as they are they will need to organize their lives for the benefit of themselves. As a youth, this is the time they will face a whole lot of distractions. This is the time when the peer pull is very strong. This is the time the craving to fit in will be in its severest wave. Therefore they will need to organize themselves, their friendship and their time. Not everybody should they take as friends. They should have friends that will be of value to them. I reminded them that "God gives us our neighbors, but we choose our friends. And we, not God, will suffer the consequences of any bad choice we make."
Time, I reminded them is something they must make use of. This is the prime of their lives.
They therefore have to make use of this time in order to secure their future. The poet says "do not be a no-nothing plant in the spring and see what a harvest the summer will bring." And they can learn massive organization from various books written. Biographies of great men will show them how those men navigated through their teen-ages and university days. Kwame Nkrumah stated that the book that gave him that great organizational acumen is The Opinions and Philosophy of Marcus Garvey. I concluded organization by touching on prioritization. I reminded them that "things which matter most must never be at the mercy of things which matter least" as opined by Johann Wolfgang von Goethe.
Confidence
Confidence is the next tool I believe the youth should have. I recounted the story of a dog that was able to escape the wrath of an angry and hungry antelope by exhibiting deep thinking, astuteness and overwhelming confidence. As young as they are, they will come up against naysayers, they will face rejection, they will have their convictions tested and ideas challenged. Many will be frustrated by intra-family comparisons and competitions and a whole gamut of negativities. What can keep their heads afloat is confidence.
They will need confidence to survive the turbulences of life. I told them about Marcus Garvey and ended with his wise statement that "if you have no confidence in yourself, you are twice defeated in the race of life. With confidence you have won even before starting." Reading is one thing I believe that boosts the confidence of a person. The reason we mostly fear is because of ignorance. And I reminded them that ignorance comes from the word 'ignore". Hence you become ignorant when you ignore something you should read and know. Reading makes one knowledgeable and opens many doors.
Hope
I did not end without reminding the young ones about our challenges as Africans, Ghanaians and interestingly as people from the Zongo community which represents a tall order for them to work hard to overcome. They will need a strong gale of hope to move along. They badly need hope to survive. They need hope to chase their great ambitions. They need hope to rise when they stumble. They need hope to help them face the turbulences and pestilences of life. They need hope to rekindle their spirit, reinvigorate themselves, and rejuvenate their souls and much more importantly to regain their lost energy. Reading ensures this hope.
I suggested they read the lives of people who shook the world. Books of lives legendary lived. And their hope will be sustained. I reminded them that in their readings, they will come across people who grew up in far worse situations than theirs yet were able to stand tall in the world.
I narrated the story of Iyanla Vanzart, one great lawyer whose story I read in a book 'Interiors: a black woman's healing-in progress.' Her parents gave birth to her in the back of an old abandoned taxi. By the time she left her teen ages, she suffered abuses, broken into pieces and later left her abusive husband with her three children.
Yet she was able to transform herself into a household personality in the United States of America. Now you read such a story and more alike and you realize there is hope for the transformation of whatever situation you find yourself in. Without hope, I told them, "life is a broken-winged bird that can't fly" as stated by the venerated poet Langston Hughes.
Collapsing the timeline.
I explained this point to them by taking a cue from the book Ghana: The Autobiography of Kwame Nkrumah. The first President stated that "what other countries have taken three hundred years or more to achieve, a once dependent territory must try to accomplish in a generation if it is to survive. Unless it is, as it were jet-propelled, it will lag behind and thus risk everything for which it has fought."
In the context of our discussion, I told them, if the President of Zongo Inspiration Team took thirty years to establish a very successful Forex business and writes about his struggles, the tactics he used, how he hired his great team, how he rose after he fell etc., a young person who comes years later should not use thirty years to build his business. He should collapse the timeline.
He can use just five hours to grasp the thirty years of work from the book. Books of how great people live will serve as blueprints for them to go through without necessarily repeating the mistakes of the great men because the written lives provide a clear path to them to collapse what will have been a longer time to a shorter time in achieving something.
In conclusion, I exhorted them to read more because the more we read, the more we learn. And the more we learn, the more we enlarge the lens through which we focus the world.
Inusah Mohammed
NB: The Writer is a Youth Activist and the Executive Secretary of the Success Book Club.