December 7th Elections: Ghanaians Must Show Maturity—NDC Diaspora Supporters Women's Wing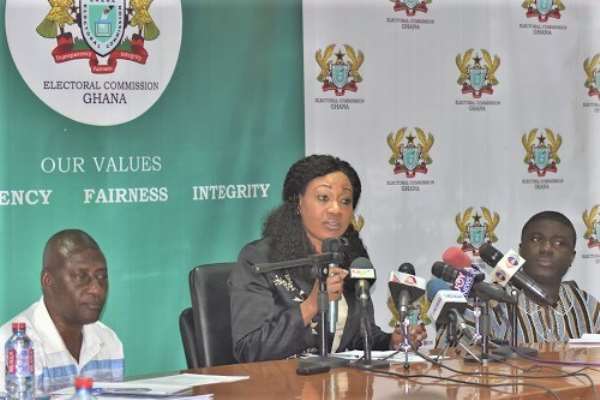 The NDC Diaspora Supporters Union is calling on Ghanaians to observe a peaceful posture as the country goes to the polls on December 7th polls to elect a new president; former President John Dramani Mahama and 275 Member of Parliament.
This was contained in a statement issued by the women's wing of the NDC Diaspora Supporters union signed by Rosemary Ama of UK and Ms. Nana Afua Agyeiwaa Abakomah of Italy, saying "Ghana, in 1996, conducted its general elections peacefully.
We the Women's Wing of the Diaspora Supporters Union (DSU) have watched a video documentary on YouTube (https://youtu.be/959XIs2PAQU) of some polling stations in Accra where electorates were enthusiastic, joyous and hopeful of their votes counting. In that video documentary, electorates were seen in their numbers thronging polling stations in a happy mood without any heightened environment".
They said "Unfortunately, as the years pass by, elections have become more dangerous for our country. Our people have consistently, and progressively, election after election lived in fear of the unknown. Whereas we should rather be blissful of our progress and allow that progress at elections since 1992 to guide us into relaxing the tensions in our elections, the opposite is the case. Politicians have consistently ventured into comments and actions that raises the political temperature".
They said "In the end, the ordinary citizens are those recruited to perpetuate their desires at the polls. For the past years, flashpoints have consistently been announced ahead of elections. This year, the figures have gone up. Several peace groups and individuals have made calls for peaceful coexistence among our people before, during and after elections".
"Then Odododiodio came, we got the actors committing to peace. Before now, there were several incidents that did not speak well of us, and the experience we have in conducting elections".
They also lamented about the bad signals from the Ayawaso West Wuogon violence, and those that came along with the registration exercise without anyone having been fully punished, a lot more needs to be asked of the commitment from the current President, Nana Akufo-Addo to ensuring a peaceful election. Particularly that this same man saw the passage of the Vigilantism Act.
"It is important to remind the sitting president and the government that security is important. On election day, so much is expected of us as a nation. No matter the disagreements we see today in America, no one takes up arms. The systems have been designed to work".
"If in 1996, we saw elections going "well", relative to the peculiar situations at the time, we demand nothing that would take us the path of violence".
In conclusion, they called on the outgoing President Akufo Addo to truly and genuinely superintend over elections understating that it's the people who give a mandate, and that mandate cannot be secured through any force. The will of the people must be allowed to stand, and must stand because the people want it so, and not be directed or dictated by power from any individual".